When you think of ballet, you probably don't think of either Elvis Presley or Johnny Cash. But that's what Public Energy is bringing to Showplace Performance Centre in Peterborough on Saturday, March 12, 2016, with Elvis and The Man in Black from Coleman Lemieux & Compagnie.
Whether you've never been to a ballet before or you're a long-time fan, this double bill of two dance pieces — Looking for Elvis by Laurence Lemieux and The Man in Black by James Kudelka — promises to be an intriguing departure from expectations.
In The Man in Black, dancers trade their pointe shoes for cowboy boots in a celebration of working-class grit as embodied by the gravelly voice of Johnny Cash.
Renowned choreographer James Kudelka (who was appointed an Officer of the Order of Canada in 2005) originally created The Man in Black in 2010 for BalletMet in Columbus, Ohio, as part of a triple bill featuring the music of Johnny Cash, Sammy Davis Jr., and Stevie Wonder.
It went on to become a hit and was subsequently performed by several dance companies in the U.S., as well as by the National Ballet of Canada in 2011.
Created for three male dancers and one female dancer, The Man in Black features dances set to six cover songs that Cash recorded later in his career, including the traditional folk song "Sam Hall", Ian Tyson's "Four Strong Winds", Gordon Lightfoot's "If You Could Read My Mind", and Trent Reznor's "Hurt".
The dances, all performed in 4/4 time, are heavily influenced by country-western line and square dancing — but with lots of kicks and lifts.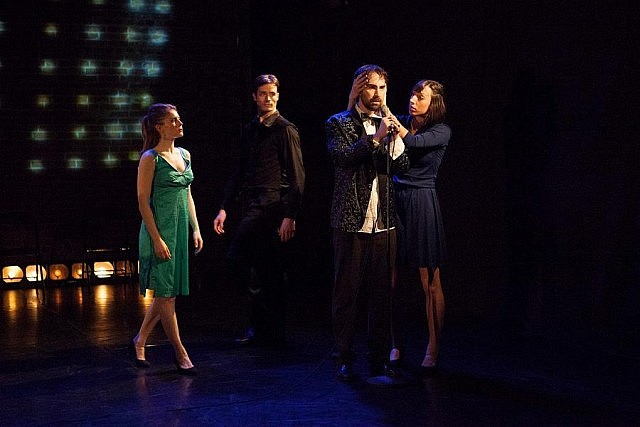 For Looking for Elvis, choreographer Laurence Lemieux was inspired by a biography of Presley and a trip to Graceland in Memphis.
"It was really tacky and touristy, but when I went into the house I was overwhelmed by how comfortable I felt," she says in an interview with NOW Toronto magazine. "I didn't expect to feel so happy there. And I came back listening to Elvis's music a bit more. I felt like there was a little connection that was nice and sort of special."
Looking for Elvis isn't as much a celebration of Presley's music as it is an intepretation of how his public persona eventually affected his personal life. The performance is interspersed with clips from early audio interviews with the King.
"There's something about the act of giving in performance that takes stuff out of you and you're a little depleted as a result," Lemieux tells NOW. "Elvis would have to fly all around the world, and he became lonelier and emptier, and people would want more and more."
Choreographers Kudelka and Lemieux have worked together in the past: she often dances in his pieces, and her company often produces work by Kudelka, who's also artist-in-residence with Coleman Lemieux & Compagnie.
Prior to the March 12th performance at Showplace, Lemieux will be available in the Nexicom Studio for a pre-show chat. There will also be a post-show reception in the lobby with the performers.
Elvis and The Man in Black runs for 90 minutes, with a 15-minute intermission. Tickets are $37 general admission or $23 for seniors, students, and the un(der)waged.
For more information about Public Energy's current season, visit publicenergy.ca.
---
Excerpt from The Man in Black