February brings a mix of group and solo shows at various galleries, behind-the scenes-events at the Art Gallery of Peterborough, and membership benefits and volunteer opportunities at both of our artist-run centres.
---
Gallery in the Attic: new group show opens February 5 and Newbie Nights in the darkroom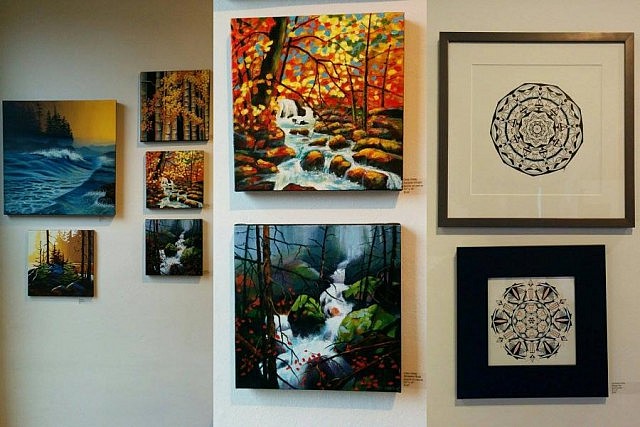 Gallery in the Attic (GITA) and the Peterborough Darkroom Project (PDP) are reopening after a couple weeks of closure with the launch of a new website at www.galleryintheattic.com, a new group show, and the return of "Newbie Nights" in the darkroom.
A hybrid space, GITA and PDP focus on presenting visual art by regional artists, intimate performances by local and touring musicians, and maintaining film-based photography production in the historic Roy Studio darkroom.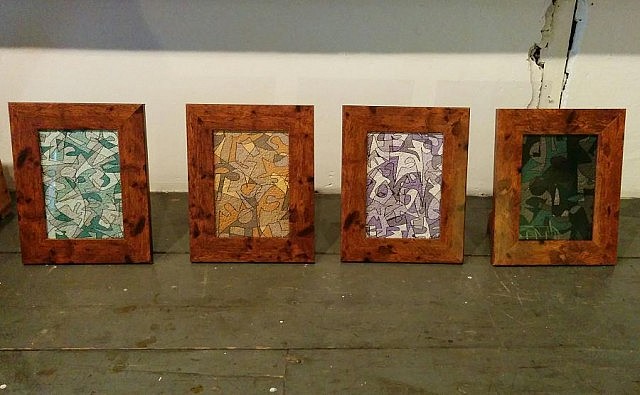 All three elements will be on display on Friday, February 5th as another group show opens featuring dozens of pieces by local artists (including film photography), alongside musical accompaniment by the eclectic acoustic duo of Latchford & Greig. Featured artists on display till the end of this month are: David Brown, Jamie Campbell, Angie Chapman, Elizabeth Dell, Holly Edwards, Judith Graham, Chey Greig, Rob Hailman, Gwyneth Fischer, Gail Nicholson, Paul Oldham, Mary Scheller, and Joe Stable.
For those interested in (re)learning about film-based photography, "Newbie Nights" are being held one Thursday of each month, starting February 11th and scheduled till April (fyi, this writer is leading the March event). Led by Darkroom Project members, these drop-in sessions are introductions to historic film photography processes and Canada's longest continuously operating darkroom. Space is limited to half-a-dozen people, so if you're interested in attending, contact galleryintheattic@gmail.com to secure a spot, or take your chances and drop-in between 6:30 and 9:30 on February 11th, March 3rd, or April 7th.
GITA and PDP offers free admission, and is located up two flights of stairs at 140-1/2 Hunter St. West, 3rd floor, in Peterborough. Parking is available on either Water or George Street. Open hours are Tuesday to Saturday from noon to 5 p.m.
---
Art Gallery of Peterborough: behind the scenes, curatorial talk, and new exhibits featuring Wayne Eardley, Arthur Shilling, and Rebecca Padgett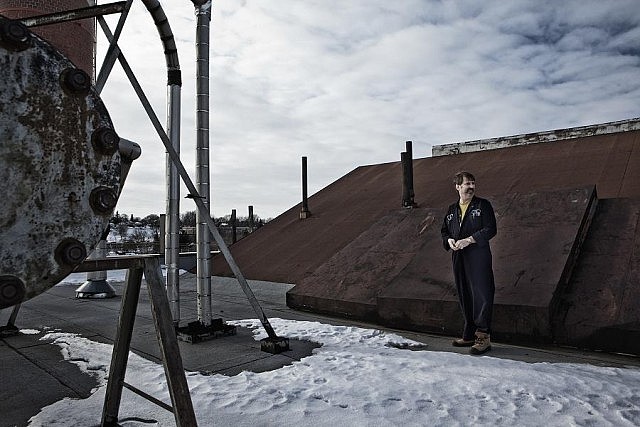 The Art Gallery of Peterborough (AGP) has a full month ahead, with changeover between their current and upcoming shows happening mid-month and a smattering of talks and tours coming up.
Your last chance to get an inside perspective on the current exhibitions from the permanent collection happens on Saturday, February 6th from 2 to 4 p.m., when curator Fynn Leitch will give a talk about the messages behind the show and a peek into the recently renovated vault.

On Thursday, February 18th at 2 p.m., visitors to the gallery will be in for a treat as the behind-the-scenes exhibition tour coincides with the take-down/installation process. The installation process for "Power Play" and its ramp companions required scissor lifts and many skilled hands to install works ranging in scale from epic to tiny. If you're curious about the nuts-and-bolts of gallery display, this is a rare opportunity to see how art exhibits come together.
The current shows will then give way to three new exhibits opening Saturday, February 20th at 2 p.m. and running until May 22nd: Wayne Eardley's "Caribou I", a touring exhibit by the AGP curated by William Kingfisher entitled "Arthur Shilling: The Final Works", and Rebecca Padgett's "Mud and Stardust".
Wayne Eardley is an established photographer from Peterborough who shoots all over the world. He was recently granted access to the General Electric (GE) plant while they undertook the demolition and repurposing of several older buildings on the historic site. "Caribou I" is the first suite of images released from the year-long documentary project, featuring portraits of the workers involved in Project Caribou — the name GE gave to the demolition process. Eardley's photographs will be at the AGP till May 22nd. On Friday, April 22nd from 7 to 9 p.m. he will give a talk about the work as part of SPARK Photo Festival.
Shilling (1941-1986) was an influential artist from the Rama Reserve in the Orillia area, known for his unique vision and use of western painting techniques combined with Anishnaabe imagery. His life and work was the subject of a 1977 NFB film The Beauty of My People which illuminated the richness of indigenous culture and identity to an entire generation.
A catalogue of the exhibit is scheduled to be produced in English, French, and Anishnaabemowin, with essays by William Kingfisher, Robert Houle, and Wanda Nanibush. The exhibit is also scheduled to tour to Thunder Bay at the end of 2016, and Barrie's MacLaren Art Centre in 2017.


Rebecca Padgett is an emerging artist from the Peterborough area whose abstract works are gaining increasing recognition for their confident use of colour and powerful intuitive composition. Some may be familiar with her earlier efforts, seen at Gallery in the Attic in 2013, from when she was still balancing life as a day-jobbing stylist with the creative life of an artist.
Since then she's made the leap to full-time artist, and invested considerable time pursuing her craft — going as far as New Mexico to learn from mentors in the field of intuitive painting. This will be Padgett's first solo exhibit at the Art Gallery of Peterborough.
The Art Gallery of Peterborough offers free admission, barrier-free access and a Gallery Shop located at 250 Crescent Street in downtown Peterborough. Parking is available in the Del Crary lot. For more information call 705 743 9179 and visit www.agp.on.ca.
---
Artspace: Sheena Hoszko exhibit til February 25 with curatorial talk on February 9, Book+Zine Fest on February 27, and member access to the Media Lab
If you yet haven't seen Artspace's current exhibition, "Central East Correctional Facility" by Sheena Hoszko, you have until Thursday, February 25th. Through minimalist sculptural installation, drawings, and text, Hoszko's exhibit addresses incarceration and immigration detention in North America and poses the question "What would a world without prisons look like?"
If you missed the curatorial talk about the exhibition on Feburary 9th, Artspace is hosting a discussion with Hoszko at the Peterborough Public Library (345 Aylmer St. N., Peterborough) on Saturday, February 20th at 7 p.m.
At the free discussion, moderated by Artspace Director Jon Lockyer, Hoszko will discuss the development of her current work, including collaboration with End Immigration Detention Network Peterborough and broader issues of immigration detention in Canada. There will be an opportunity for audience questions following the discussion.
A reception at Artspace will follow the talk, with refreshments and a cash bar.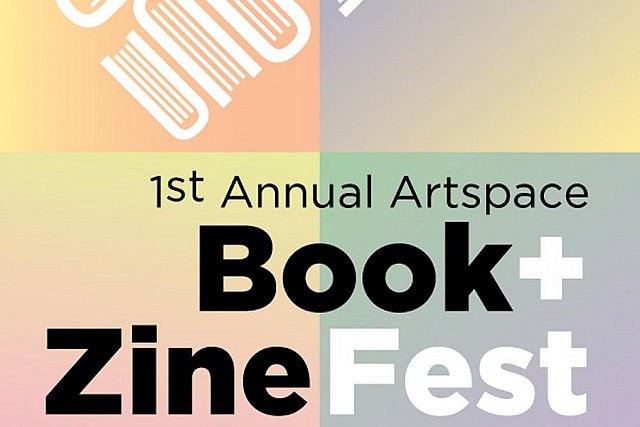 On Saturday, February 27th, Artspace will host its first annual Book+Zine Fest from 10 a.m. to 5 p.m. The event will feature artist-made zines, comics and graphic novels, letterpress prints and cards, the work of small presses, woodcuts, screenprints, handmade books, and other types of book and paper arts. All proceeds of sales will go to the artists.
More than 25 artists from Peterborough, Burlington, Toronto, Kingston, and other cities across Ontario will be participating. Also attending are the Canadian Bookbinders and Book Artists Guild and George Hill & Co., suppliers of bookbinding supplies. Some of the notable indie artists, small presses, and print collectives include Greyweathers Press, Jackson Creek Press, Kingdom of Dog, Peterborough Poetry Slam Collective, Vincent Perez, Everlovin' Press, Graphic History Collective, William Joel Davenport, Thee Hellbox Press, and Justseeds.
Admission is free to the public, and there'll be a cash bar. Workshops in various book arts techniques will also take place in Gallery 2. The workshops will be $10 per person and will include materials.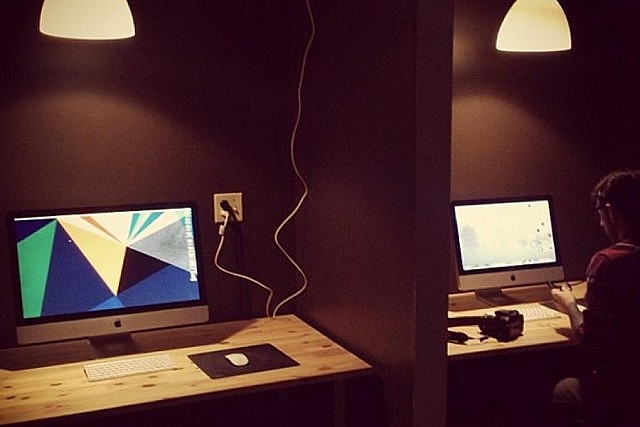 Something else to be excited about at Artspace in 2016 is their updated membership policy, which now includes free access to the Media Lab!
If you are a digital artist — or just an artist without access to digital tools — the cost of membership is well worth having access to the lab, which includes two Apple computer workstations with Adobe software (Premiere, AfterEffects, Photoshop, Illustrator, InDesign), as well as rental access to a host of digital filmmaking tools.
Artspace is located at 378 Aylmer Street in downtown Peterborough and offers barrier-free access (to all but Gallery 2, formerly known as the Mudroom) and free admission during regular open hours: Tuesday to Friday from noon to 6 p.m. and Saturday from noon to 4 p.m. Parking is available in the municipal lot on Hunter Street between Aylmer and George.
---
Evans Contemporary: ongoing solo show by Joel Davenport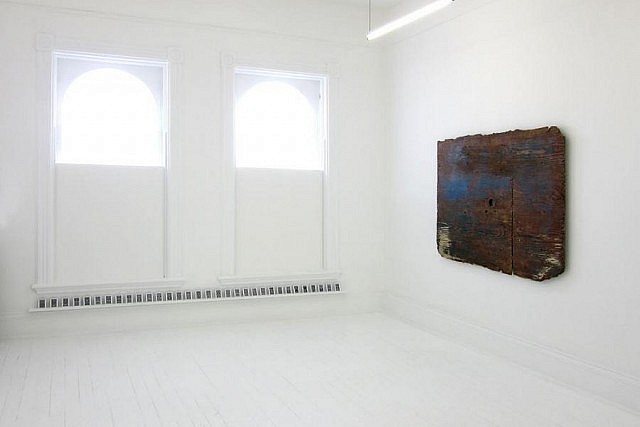 Evans Contemporary's ongoing exhibition by William Joel Davenport, entitled "Clams on the 1/2 Shell & Roller Skates Roller Skates", runs until February 27th. The exhibit is a compilation of paintings, prints, sketchbooks, zines, card games, and textiles.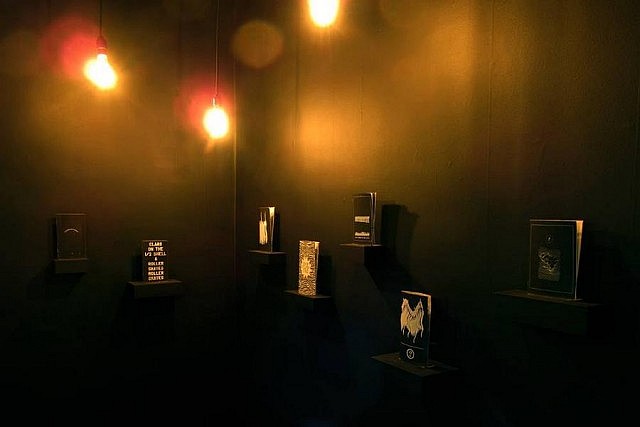 Evans Contemporary is located on the 3rd floor at 129-1/2 Hunter Street West in Peterborough. Open to the public on Saturdays from noon to 6 p.m., viewings can also be made by appointment by contacting the gallery at
evanscontemporary@gmail.com
.
---
Christensen Fine Art: ongoing group exhibit
Christensen Fine Art has a lively group show up at the moment, featuring works by Peer Christensen, Sarah Gibeault, Emma Hesse, Anne Renouf, Susan Scott, Harry Stooshinoff, Shannon Taylor, Jane Zednik. and others.
Located at 432 George Street in downtown Peterborough, the gallery is open Monday to Friday from 10 a.m. to 5:30 p.m. and Saturdays from 10 a.m. to 4 p.m.

As well as free admission to their public gallery, Christensen Fine Art offers professional art services including framing, restoration, and art photography/documentation. Pay parking is available along George Street.
---
Art Gallery of Northumberland: Royal Academy of Arts exhibit and talk by Ron Bolt on February 10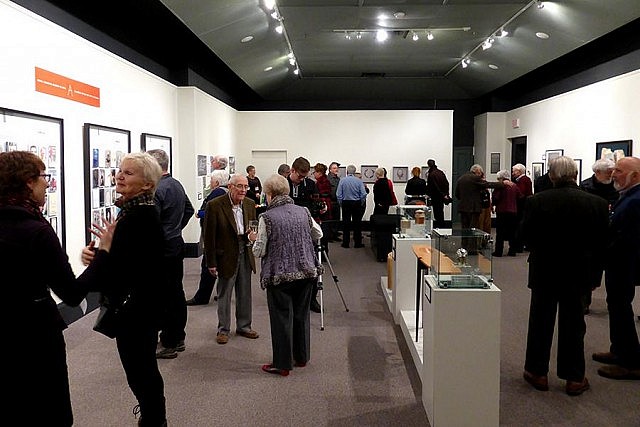 The Art Gallery of Northumberland (AGN) is honouring the Royal Academy of Arts (RCA) this month, with a multidisciplinary exhibit featuring award-winning designers and artists in over 20 mediums. With works from the gallery's permanent collection, as well as loans from private collections, the exhibit of RCA members includes works in ceramic, textile, printmaking, glass, costume, and photography.
Ron Bolt served as the 27th President of the RCA, and as such is amply qualified to give a talk on its 136-year history on Wednesday, February 10th, from 7 to 8 p.m. The talk is free for AGN members and only $5 for non-members. It will be given on the third floor in Victoria Hall (55 King St W, Cobourg).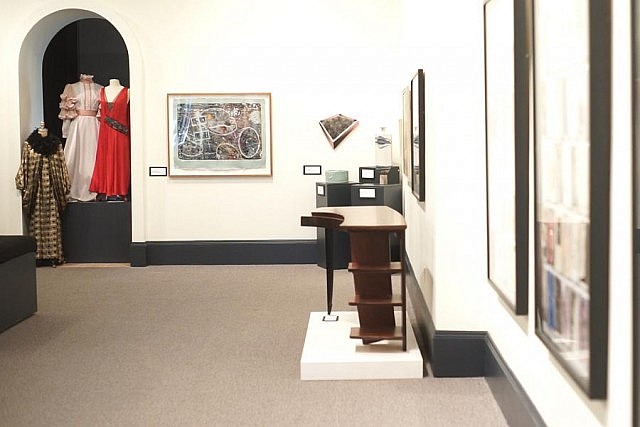 The AGN has locations in Cobourg and Port Hope. The Cobourg location at 55 King Street West is open Wednesday to Friday from 10 a.m. to 4 p.m. and Saturday and Sunday from noon to 4 p.m. The Port Hope location at 8 Queen Street is open Wednesday to Saturday from 11 a.m. to 5 p.m. and Sunday from 1 to 4 p.m.