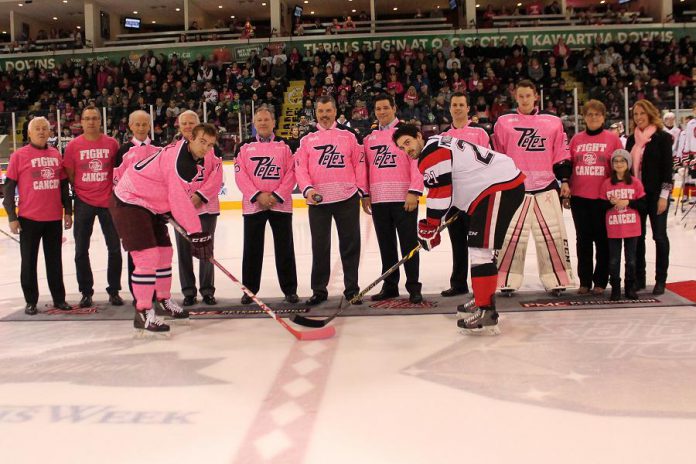 A record-breaking $97,035 was raised during the seventh annual Pink in the Rink campaign, which culminated last night when the Peterborough Petes played the Ottawa 67's at the Peterborough Memorial Centre.
The previous campaign record was $92,000 set in 2013. Over the past seven years, the Petes and the Canadian Cancer Society Peterborough & District Unit have raised over $460,000 in the fight against various cancers through the Pink in the Rink campaign.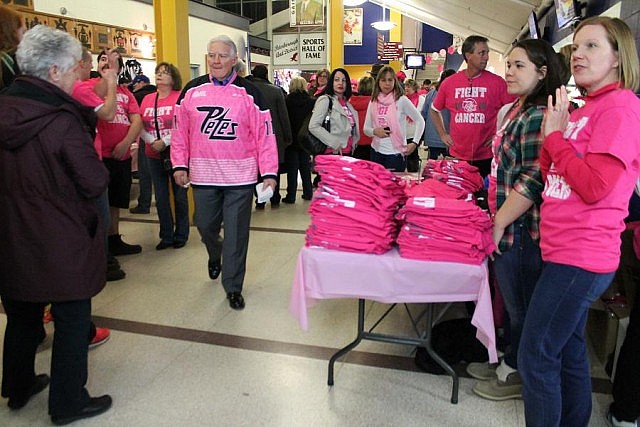 Before, during, and after this year's game, the Petes and Canadian Cancer Society volunteers and staff coordinated several fundraising initiatives that included:
Chuck-a-Ball, raising $1,600
Silent Auction, raising $5,825
Game-worn jersey live auction, raising $17,465 (Eric Cornel's jersey was the highest seller at $1,100)
Bucket pass, raising $4,500
Honourary Co-Chair fundraiser, raising $30,545
T-shirt & scarf sales, raising $20,200.
The 2016 Pink in the Rink campaign featured seven honourary co-chairmen representing seven decades of Peterborough Petes hockey, including Pat Casey (1956-59), Wayne Boddy (1957-61), Greg Theberge (1976-79), Jody Hull (1985-88), Steve Webb (1993-95), Jeff MacDougald (2002-05), and Dylan Wells (2014-present). Preceding the Petes' game against the Ottawa 67's, the alumni chairmen joined Dave Czarnik and Donna Annett for the ceremonial puck drop.
At Saturday night's game, which was attended by more than 3,400 fans, the Ottawa 67's shut out the Petes 3-0.
The next Petes game is at 7 p.m. on Thursday, February 11th, when arch rivals the Oshawa Generals come to town. Tickets are available at the PMC Collins Barrow Box Office (151 Lansdowne St., Peterborough), online at memorialcentre.ca, in person, or by phone at 705-743-3561.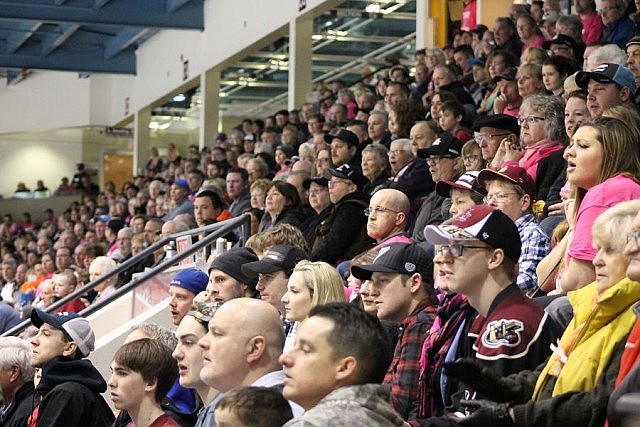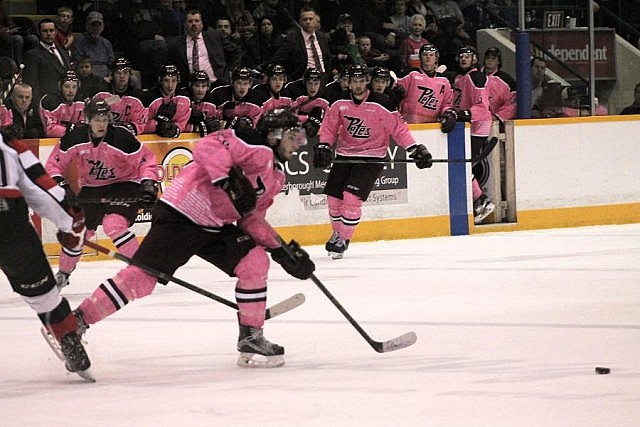 All photos courtesy of the Peterborough Petes.