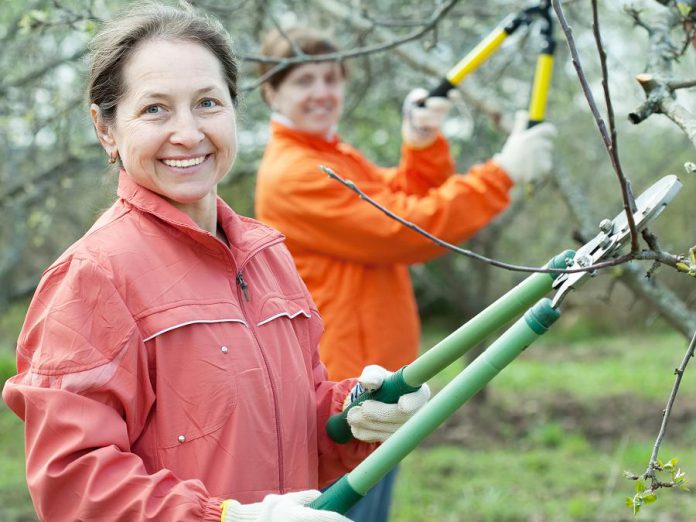 This time of year, many gardeners dream of stepping our bare feet onto fresh grass and sinking our hands into warm soil. If you just can't wait to get out in the garden, you'll be happy to know that winter is actually the best time bundle up and get outside to prune your fruit trees, and to learn some new skills about how to prune effectively.
GreenUP and Orchard People have teamed up this winter season to offer new fruit tree growers a deal.
Enroll in Orchard People's online course "Beginner Fruit Tree Care". After completion, you can bring in your course certificate to GreenUP Ecology Park this spring and you will receive a fruit tree, for free!
In winter, when fruit trees lay dormant without leaves, you are easily able to see the shape of the branches and make improvements to increase the health of the tree and the fruit you will harvest.
Why is it important to prune fruit trees? Some fruit trees, such as peaches, grow their fruit on the new wood growth that pruning encourages. Other fruit trees, such as apples, grow fruit on old wood growth but pruning is still important during winter months to help invigorate the tree's growth during the upcoming warmer seasons. Summer fruit tree pruning actually stunts tree growth (but is sometimes used to dwarf and shape trees).
Some other great reasons to prune in winter are:
To remove dead, broken, rubbing, and sucker branches
To increase fruit size; more water, minerals, and oxygen will go to fewer fruit
To increase air flow between branches, which reduces moisture and fungal diseases
To increase access to sunlight for lower branches.
Care must be taken to prune fruit trees and shrubs properly or your tree may not recover in the spring. If you've never participated in any fruit tree care training, you may want to consider taking the online training course to ensure you are pruning efficiently for the health of your tree and the harvest.
Common fruit trees such as apple and pear can handle approximately 25% of their canopy pruned, whereas peach trees can be pruned much more, with up to 70% of their canopy pruned. Grapes and primocanes such as raspberry and blackberry can handle up to 90% pruned to stimulate new spring growth and to improve their harvest.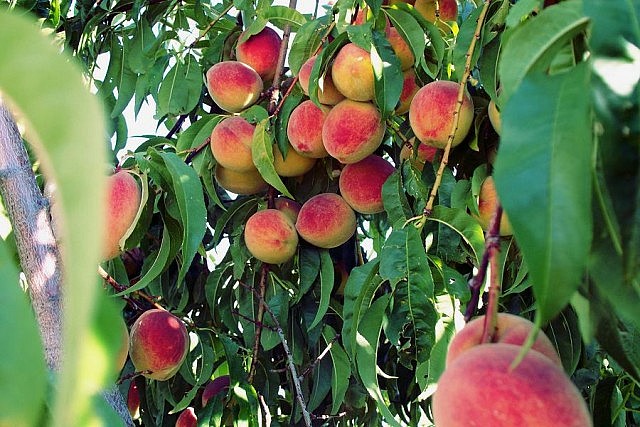 There are several helpful tips and reminders to keep in mind if you are embarking on winter pruning of your fruit trees.
Always use disinfected tools when pruning. Many diseases linger on the surface of garden tools and can find their way back into your trees. Use a clean cloth and rubbing alcohol to wipe the blades of your pruning saws and shears before going out into the garden. Clean off your tools consistently between moving on to the next tree or shrub.
Use quality, sharp tools to prune your trees and shrubs. If your tools cannot produce a clean-edged cut, the tree can be vulnerable to disease and might not grow back they way you anticipate it to. Tools require regular sharpening so take them into a tool sharpener or learn to sharpen them yourself. There are some great how-to videos out there!
Branches should be pruned diagonally with the shears at about a quarter inch above the outward facing buds. Cutting diagonally allows water to run off the branch instead of remaining on the fresh cut, which can produce rot and harbor disease. When choosing where to cut, visualize fruit-filled branches growing outwards from the trees towards greater sunlight and air, and for ease of picking.
Growing your own fruit trees can be a rewarding and delicious endeavour.
Learning some key pruning skills now can bring a bountiful harvest to your trees. Or if you've been thinking about getting your first fruit tree, register now for the Orchard People's "Beginner Fruit Tree Care" online course and receive a free fruit tree from GreenUP Ecology Park this spring (up to $65 value).
To register, visit www.greenup.on.ca. Enter the special promotional code Greenup2016 when registering. For more information, contact Marcy Adzich at marcy.adzich@greenup.on.ca or 705-745-3238 ext. 212.