The Peterborough Theatre Guild ends their regular season this month with a production of David French's Of the Fields, Lately. Directed by John and Nora Martyn, Of the Fields, Lately is a family melodrama set in Toronto dealing with a range of emotions including grief, loss, pride and the fragility of family bonds.
Written in 1973, Of the Fields, Lately is the second of five plays David French wrote about his characters, the Mercer family of Newfoundland. The first play, Leaving Home, was produced in Toronto in 1972 and became so popular that it quickly spread throughout Canada regional theatres and had an off-Broadway run.
The response to Leaving Home was so great that French noted he was continuously being asked what happened next to the Mercer family, which propelled him to write Of the Fields, Lately.
Although it's a sequel, the play has enough clues as to what happened in the previous play so that audiences do not need to see the first show; Of the Fields, Lately become its own coherent stand-alone piece.
Of The Fields, Lately won the Chalmers Award in 1973 and would be adapted on CBC television and have a successful run on Broadway. In all, French (who died in 2010 at the age of 71) would write five plays about The Mercer Family.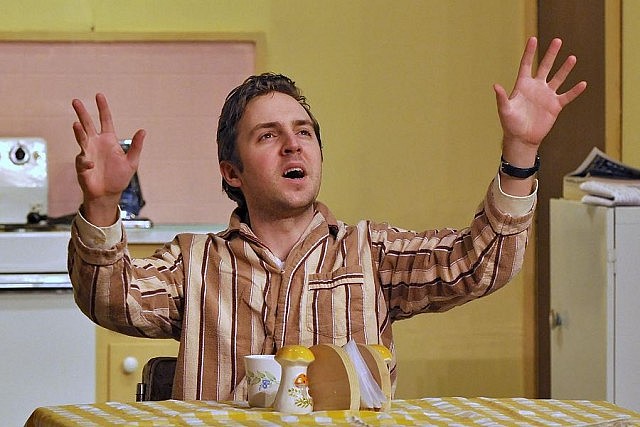 Of the Fields, Lately picks up two years after the end of Leaving Home. When Ben Mercer (Myles Chisholm) returns to Toronto to attend the funeral of his Aunt Dot, he finds his parents much older than when he left them. Having left home after a violent confrontation with his father Jacob (Rob Steinman), Ben finds the old wounds are still unhealed.
He discovers that his mother Mary (Linda Driscoll) had hid his father's poor health and her fear that his return to work after a near fatal heart attack will end his life. Ben must choose between what is best for his family or his future. Meanwhile, the family is supporting Dot's husband Wiff (Steve Foote) in his grief for his departed wife, adding more emotional tension to their lives.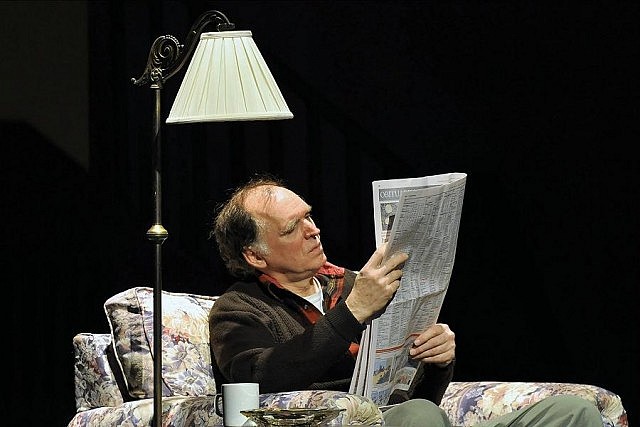 While listening to comments about the show by an unusually packed preview audience, I noted many people were expecting Of the Fields, Lately to have more comedy in it. They seemed to be looking for some humour that just wasn't there.
While there are some funny lines, for the most part Of the Fields, Lately is a melodrama and there isn't much to laugh about. But not all shows are going to make you laugh, and Of the Fields, Lately is intended to invoke a much different set of emotions.
I will admit that it took me a while to figure out what the show was really about, but once I did it worked for me.
First I was searching for meaning in the conflict between Ben and Jacob Mercer but, while they seem to always be on the edge of exploding, that climatic conflict never comes to the forefront. Then I thought perhaps the show was about the loss of Aunt Dot and Wiff's grief, but Dot's death only acts as a backdrop to the production.
By the second act it occurred to me that Of the Fields, Lately is a study of Jacob Mercer in the twilight of his life. It's a look at a man who is no longer middle aged but not yet old, who is clinging onto his pride and sense of masculinity while looking into the face of his own mortality.
With this realized, Rob Steinman gives a moving performance of a man who's been brought up with a simple philosophy: that a man works to support his family and, once he can no longer do that, he's no longer relevant.
What seems to motivate Jacob Mercer is his own pride. Giving into his health problems is a sign of weakness, not being able to work is a sign of failure, and his conflicts with his son Ben seems to happen because he knows no other way to communicate with him. He is not a man comfortable with others making decisions for him — the source of much of the conflict in the show.
Steinman brings a once strong but still proud man to the stage, reminding the audience of the best and the worst of their own fathers, creating an emotional impact as the show winds to an end.
Myles Chisholm, a newcomer to the Peterborough theatre community, gives a capable and likable performance as Ben, the estranged son who has returned home. Coming home after two years to find his parents aged creates a sense of guilt and enflames his loyalties as he tries to figure out how to support his family during this difficult time.
How can a man return home to live under the roof of his once alpha-male father, when he has carved out his own destiny after two years away? It's an eternal problem in the relationship between a father and son that the play delicately examines.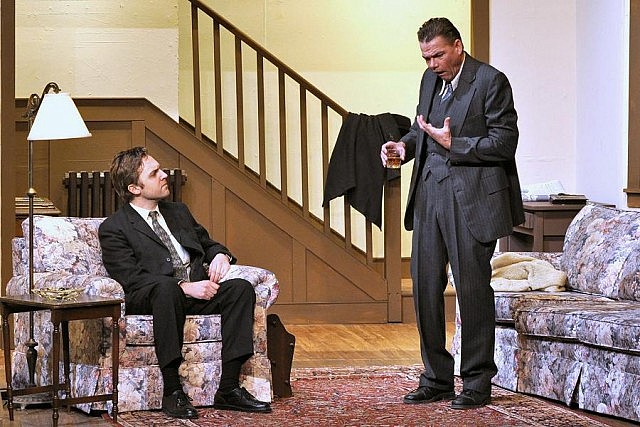 Steve Foote gives an emotional character performance as Wiff Roach, the widowed brother-in-law of the Mercer family. Although originally presented as a drunk, his grief eventually cuts through via some well-placed monologues about his relationship with his deceased wife. These are some of the most poignant moments of the show.
But it's Linda Driscoll as Mary Mercer who's the backbone of the show, as much as her character is the backbone of the family. Driscoll presents Mary as a strong woman who plays referee to the men in her house, and tries to always do what is best for everybody. She is tough, no-nonsense and doesn't mince her words.
While the show may revolve around the men, Driscoll is the glue that holds it all together with a strong performance from a fine actress.

Special mention goes to Ian Burns and David MacRae for their beautiful set, and Andy Duncan for the lighting design that can only be described as moving and haunting.
Of the Fields, Lately is a show that should resonate with everyone who ever had a complicated relationship with their father, a relationship that fell somewhere between respect and resentment. The show asks just how much you understood your father, and perhaps it was the things that went unsaid that were the most important.
Of The Fields, Lately runs at the Peterborough Theatre Guild from February 19th to March 5th (Editor's note: Performances on February 19 and 20 have been cancelled due to illness). Shows start at 8 p.m. Tickets are $20 for adults, $18 for seniors, and $11 for students, and can be ordered by calling the box office at 705-745-4211 or online at www.theatreguild.org.