The City of Peterborough has reversed its initial decision to refuse an anti-abortion advertisment from appearing on Peterborough Transit buses.
The Canadian Centre for Bioethical Reform (CCBR), an anti-abortion advocacy group, recently sought judicial review of the City's initial decision to decline CCBR's request to run a specific advertisement on City buses.
The ad shows three circles containing images of unborn babies at seven weeks and 16 weeks over the words, "growing, growing" and finally just a field of red containing the word "Gone", followed by the words "Abortion Kills Children" and the website link endthekilling.ca.

The City of Peterborough initially refused the proposed ad on the grounds that it could be divisive or controversial and might undermine transit ridership. After learning of the decision, CCBR filed a Charter of Rights complaint against the city, citing the 2009 ruling by the Supreme Court of Canada that the Canadian Charter of Rights and Freedoms protects political advertising on public transportation.
"The City of Peterborough violated our Charter rights, plain and simple," said Nicholas McLeod, legal co-ordinator for CCBR.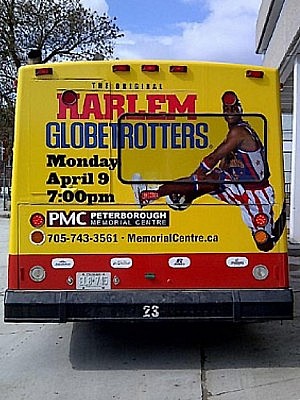 After further review and discussion with CCBR, the city agreed that advocacy advertisement is expressive speech entitled to protection under s. 2(b) of the Charter, "subject only to such reasonable limits prescribed by law as can be justified in a free and democratic society."
In a media release, the city states it "must respect the freedom of expression rights of those seeking to advertise on City property, including on City buses."
The city also states that, while it does not endorse nor advocate any position put forward by outside advertisers, it has no legal authority to decline advertising content as long as the advertisements comply with the Canadian Code of Advertising Standards, the Canadian Criminal Code, and other applicable laws.
The city encourages customers who have concerns or complaints about a particular ad to to contact the advertiser directly.
In its media release, the city provides the telephone number and email address of CCBR: 403-539-2227 and email@endthekilling.ca.
CCBR has also applied to 11 other municipal transit authorities to run the ad. Several have refused, but Peterborough is the first city against which CCBR has taken legal action.