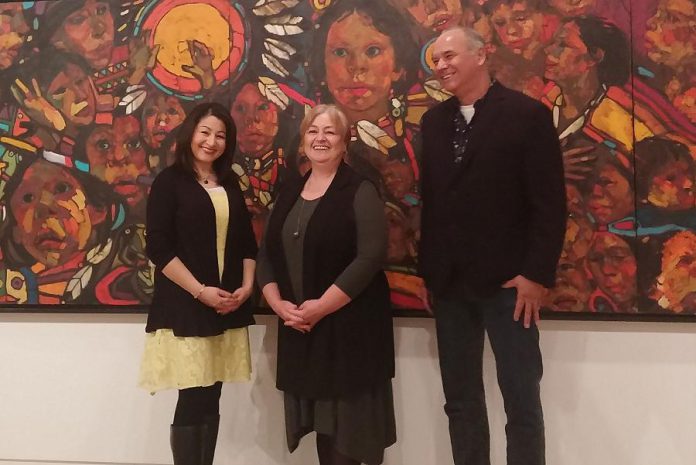 Peterborough-Kawartha MP and Minister of Democratic Institutions Maryam Monsef today announced $440,000 in funding for upgrades to the Art Gallery of Peterborough building.
Minster Monsef made the announcement of the funding, provided through the federal government's Canada Cultural Spaces Fund, on behalf of the Honourable Mélanie Joly, Minister of Canadian Heritage.
"Culture is the expression of Canada's story," Minister Monsef says. "Local art is not only the expression of local spirit, but also a way to capture the history of a place and its people."
"I am proud that our government supports projects and organizations that provide spaces for our local artists to showcase their work, and where residents and visitors can experience their local cultures."
The funding supported a large-scale refurbishment project to prolong the life of the historical building that hosts the gallery, to enhance staff and visitor safety and accessibility, and to improve storage and management of the gallery's collections.
"We are excited and grateful to receive this funding from the Department of Canadian Heritage," says Celeste Scopelites, Director of the, Art Gallery of Peterborough. "It is critically important that we act as good stewards for our exhibitions and permanent collection. This support allows us to maintain appropriate environmental standards throughout our gallery and vault, and brings recognition to our role as a collecting institution."
The Art Gallery of Peterborough is the only public art gallery serving Peterborough and the surrounding area. Its mandate is to collect and display contemporary Canadian art, as well as Aboriginal art.
The gallery is currently showing exhibitions of the work of three local artists: painters Arthur Shilling and Rebecca Padgett, and photographer Wayne Eardley. The exhibits continue until Sunday, May 22, 2016.