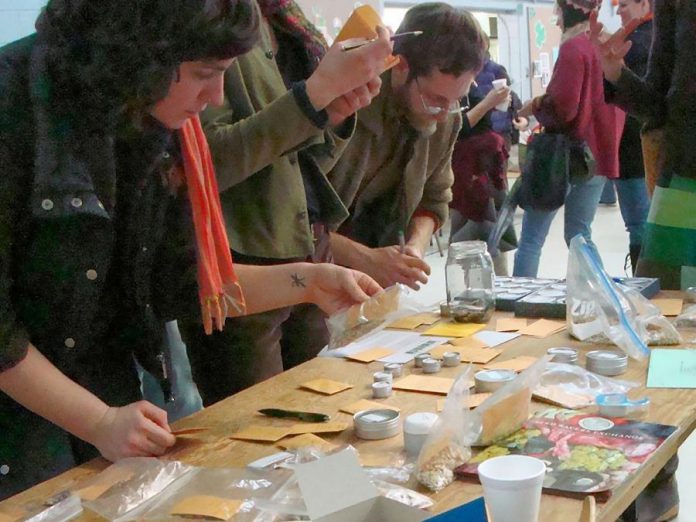 There have been so many snow days and ice storms over the past few weeks that it's hard to imagine spring is just around the corner. This time of year is full of possibilities and is actually the perfect time to start planning for the upcoming growing season.
This is a great time to sort through the seeds you have, make up a garden plan, and thumb through seed catalogues to make a list of all the great things you are hoping to grow this season.
The number one tip for growing a great garden is to start with great seeds. Peterborough's local Seedy Sunday is the place to buy locally grown and adapted, heirloom seeds for your garden! On Sunday, March 13th from 1 to 5 p.m., Seedy Sunday Peterborough will host its 11th annual event at George Street United Church (534 George St. N., Peterborough). For many, this popular event is the unofficial launch of spring.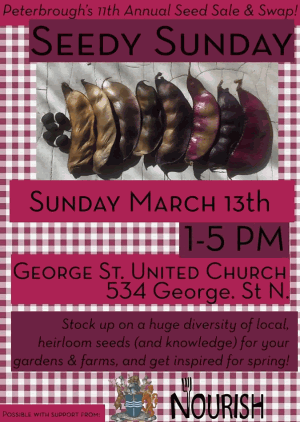 Seedy Sunday is a great place to buy high-quality locally adapted seeds that will grow well in your gardens. Ten amazing seed companies will be in attendance, offering a huge diversity of heirloom seeds for virtually everything you can dream of growing this season.
If you are a seasoned seed saver or looking for something extra unique, our infamous Seed Exchange Area will be open for seed swapping. If you would like to bring seeds to swap, please label envelopes with the name of the plant, the date harvested, number of seeds, and other helpful growing information.
Why is it important to start with locally grown heirloom seeds when planning your garden?
Heirlooms are seeds that have a history. They can be grown out, enjoyed, and — if the seeds are saved correctly — they will produce the same crop variety each year. Heirloom seeds represent a huge diversity of crops that can add colour, flavor, and history to your gardens. They are also adapted to our local environmental conditions, making it easier for you to grow productive, fantastic gardens!
Seedy Sunday also offers workshops for those who want to learn about growing their own food. There will be three free workshops offered throughout the afternoon: Growing Great Soil, Growing for Pollinators, and Low-Water Gardening.
There will also be several community groups at the event including Nourish, GreenUP Ecology Park, Peterborough Master Gardeners, and Seeds of Diversity Canada. These organizations will be there to offer gardening advice and support, and get you inspired for spring!
Once you have picked up your seed collections, it will be time to start thinking about getting those seeds started. Some seeds such as tomatoes, and peppers, appreciate a head-start indoors. Starting seeds indoors, ahead of outdoor planting can seem daunting, but with a few simple tips and a bit of dirt under your nails, you too can grow great seedlings.
Firstly, you need to be aware of what your seeds require. When starting seeds, it is best to use a soil-less medium, which can be picked up at most hardware or gardening stores at this time of year. It is light and fluffy and will help your seeds to thrive, right from the start.
Place the mixture in trays and then moisten; you can also re-use materials around the house such as egg cartons, and juice containers instead of purchasing plant trays. Make small divots in the moist mixture and plant one or two seeds per section. The general rule is to plant seeds twice as deep as they are big. Then place your trays in the sunniest, brightest window that you have, or under a grow light. Be sure to label your trays so that you remember what you planted.
It should take about seven to 10 days for your seeds to sprout. During the first few weeks a seedlings life, be sure to keep the soil moist and not too wet. You can rotate your trays to keep them growing nice and strong. In about three to four weeks, they will start to outgrow their pots. At that time, you can transplant them into larger pots and give them some compost to help them grow big and strong!
A pro's tip: set up a fan to blow lightly on your seedlings. This will help them adapt to wind and strengthen their roots before they go outside for the season. For more tips on seed starting and growing your own food, check out the Nourish blog at nourishproject.ca/blog.
If you are looking for a great place to grow this season, contact Nourish at growing@nourishproject.ca to find a community garden near you.
Seedy Sunday would like to acknowledge the support of the City of Peterborough Community Project Grants, Nourish, and our many amazing volunteers who make the event possible each year.
Seedy Sunday is a free event, and all members of the community are welcome. For a full list of vendors and community groups, see www.urbantomato.ca. Visit the Facebook event Seedy Sunday Peterborough for ongoing updates, to post your own wish lists, and to share your excitement for the upcoming growing season.
If you would like further information about Seedy Sunday, please email Jill Bishop at urbantomato@gmail.com.