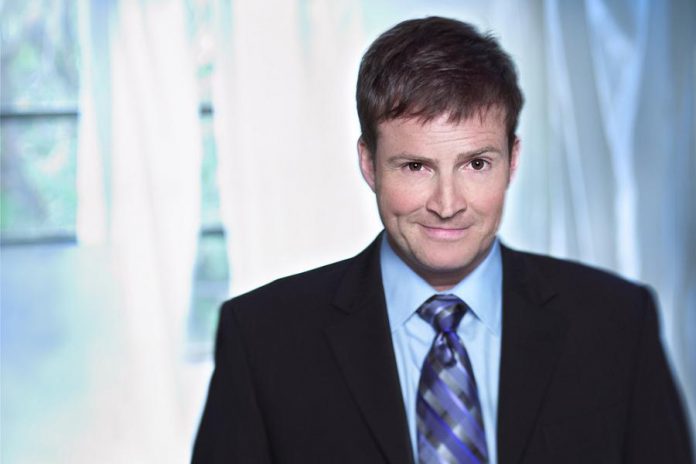 When Steve Patterson performed at one of the two Just for Laughs Montreal gigs hosted by comedic icon Steve Martin in 2010, much has been made of Martin's post-Patterson quote: "If I'd known he was going to be THAT good, I would have cancelled him."
Impressive indeed … but even more impressive, one might argue, were the unrehearsed responses from Martin as the applause for Patterson ripped through the St. Denis Theatre: "Wow! Whoa! Whoa! Fantastic! You killed!"
Patterson, named Canada's Best Male Standup Comic for both 2011 and 2013, takes it all in stride.
"You put more into it as a stand-up when your gala is being hosted by a legendary stand-up comic, so it was really nice to do well on that," Patterson says. "Not that it wouldn't have been nice to get a 'that was good' from Pamela Anderson, but it meant more coming from Steve Martin."
Trust a comic to inject a punch line into an interview answer. But Patterson — who is revered not only for his comedic chops and thorough preparation but also for sounding just the right notes for a corporate audience (he's a popular host and speaker) — knows where the boundaries are and just how far he can push them.
He has the opportunity to do all that and more on The Debaters, the wildly popular CBC Radio One property that Patterson has hosted for the majority of the show's 10 seasons, and exclusively since 2007. The show comes to Peterborough on Tuesday, May 17th for a live taping.
For the uninitiated, The Debaters showcases two guest comics squaring off against one another on topics ranging from the serious to the bizarre, with Patterson moderating. Winners are gauged at the end of the segment by audience applause.
Funnyman and This Hour has 22 Minutes regular Shaun Majumder hosted the first season in 2006, with the format switching to a series of revolving hosts for much of Season Two (Patterson was a player in two episodes). Subsequently offered the role of permanent host, Patterson hasn't looked back.
It's proven to be the perfect vehicle for the well-read comic, who brings a quick wit to about 700,000 listeners across the country each week, moderating a fast-moving show that could easily come off the rails, given the triumvirate of comics at the fore.
"I do feel it takes a stand-up comic to work with other stand-ups," Patterson says, adding that stand-up comics have a respect and an understanding for one another. "The show's creator is Richard Side, and to his credit he knew that a stand-up had to host this show."
---
Episode #124 of The Debaters with host Steve Patterson
---
The Debaters, which Patterson describes as about as unique a vehicle for standup comedy as you will find, is part script and part improv. Guests have about a month with their topic to prepare and write their opening and closing arguments. For the remainder, all bets are pretty much off.
Starting with the Bare Knuckle Round, "it all goes sideways," Patterson says, "and as any good comic should, they incorporate what happens during the show and call it back at the end — and in that way there's a lot of unscripted lines that come out."
"Even stuff that's scripted is being delivered for the first time," he adds. "That's why it's got that feel of discovery about it, that everyone in the audience is in on the joke. Even the radio audience can tell, I think, when something is being made up on the fly."
That includes Patterson's spontaneous reactions to the debaters.
"I don't listen to the debates beforehand," he says. "I want to be hearing them for the first time, along with the audience."
Here's a bit more intel for fans of The Debaters: most of the puns used as segment introductions and fictitious sponsors are crafted by a team of writers (who may moonlight on As It Happens), which are then "shaped" by Patterson to fit his own particular voice. Some he comes up with on his own, but the majority are scripted.
"I was actually really against them at the beginning," Patterson says. "But the writers take such great pride in making these puns so gawd-awful that they become good again. I've learned that the secret to a good pun is to be so bad that it's good. It can't be sort of good, because then it's bad. They've got to be bad to be good."
At one point, CBC attempted to adapt its hit radio property to the TV screen — but the transition to television didn't work, and it lasted just a single season in 2011. Patterson explains that the various adjustments made to the show to better suit television just didn't seem to work.
"I think it could still work on television, but it would have to be approached a bit differently," he says.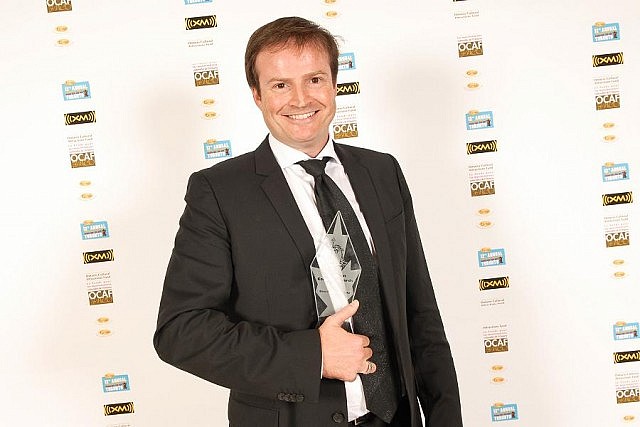 Patterson emerged as a stand-up comic from the creative bowels of an ad agency, where he briefly churned out advertising copy after graduating from London's Western University with a degree in business in 1994. Gifted with a natural sense of humour, Patterson had been goaded onto the stage through a dare from his dorm mates while a freshman. He honed his comedic chops part time, while churning out ad copy during business hours.
That job lasted two years. Suddenly finding himself unemployed in 1996, he made the leap from part-time stand-up to full-time comic and has never looked back. Known primarily for his work on The Debaters, Patterson nonetheless finds it amusing when listeners approach him after a stand-up appearance and ask how this "comedy thing" is going, unaware that he was a full-time comic for a decade before taking the reins on The Debaters.
But Patterson is more than a comic and radio host. In 2015, he hosted I Wrecked My House, which aired nationally on HGTV.
Also popular as an event host and corporate speaker, Patterson is no stranger to Peterborough, given his stand-up performance at Showplace last April and his involvement with the Gainey Foundation fundraisers.
And in the fall, Patterson becomes an author with the release of The Book of Letters I Didn't Know Where to Send, based on material that has proven a popular aspect of his standup act.
"I like to include letters either to people who need a 'talking-to,' or sometimes about topics or inanimate objects," he says.
Approached by a publisher, he compiled the material into a book.
"Every letter has a relevant point to it," he adds. "I think it's going to be a good read for people who like my stand-up."
---
Steve Patterson at the 2012 Winnipeg Comedy festival
---
Meanwhile
The Debaters
, which produces about 33 episodes each season, continues to entertain radio audiences and those lucky enough to secure tickets for the live tapings across Canada.
Patterson and the crew will be doing two shows (12 debates in total) at the Winnipeg Comedy Festival, before heading back to Ontario for the Peterborough show on May 17th, which will feature six debates (we don't know the topics yet).
"It's so much fun going to a radio taping because it's about a two-to-one ratio of what is said at the taping versus what actually makes it on the radio," Patterson says. "So if you're thinking, 'Oh, I'm not going to come to the taping because I can hear it on the radio', you'll miss out on a lot."
Patterson likens it to a comedy gala, with a host of different voices and performers.
"It's a really fun night of comedy."
If you haven't got your tickets for the taping at Showplace, don't delay. As of this story, there are only a few tickets left. You can get yours by calling the Showplace Box Office at 705-742-7469 or online at www.showplace.org.
If you can't make it to the taping, you'll need to listen to upcoming episodes of The Debaters, which is broadcast Wednesdays at 11:30 a.m. and Saturdays at 1 p.m. on CBC Radio One (and on SiriusXM Channel 160 on Saturdays at 1 p.m., Wednesdays at 11:30 a.m., and Thursdays at 4 p..m.).