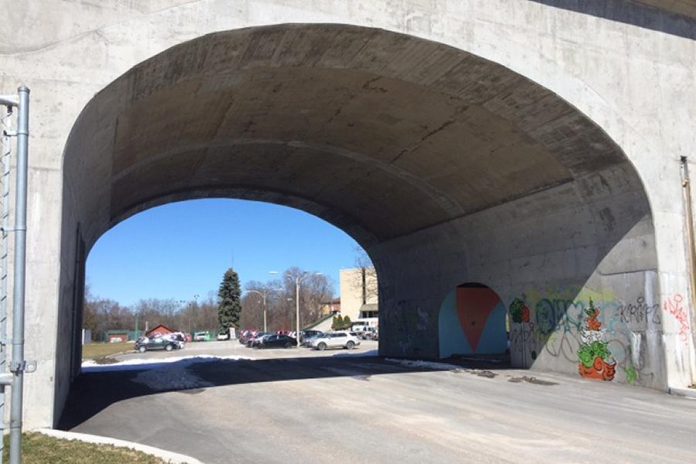 In partnership with the City of Peterborough, Artspace is seeking proposals from artists for the installation of a second large-scale mural under the Hunter Street Bridge.
Any artist working or residing in Ontario is eligible to apply. The submission deadline is 5 p.m. on Friday, May 6, 2016.
The mural will be installed on the structural walls and vault ceiling of the east-end archway of the Hunter Street Bridge over the road that links James Stevenson Park with Quaker Park. It's located right beside the archway that features the first mural project, "Electric City" by Toronto artist Kirsten McCrea.
In 2014, the City of Peterborough completed renovations to James Stevenson Park, including the installation of decorative pavers and picnic benches under the east-end arches. Artspace was contracted by the city's Arts Culture & Heritage Division to coordinate The Hunter Street Bridge Mural Project, funded by the city's Public Art Program.
The purpose of the project is to continue the enhancement and rejuvenation of the Hunter Street Bridge and surrounding neighbourhood.
The total budget for the second mural project is $14,200, which includes $7,500 for artist fees, $2,600 for accommodation, per diem and travel, and $4,100 for materials.
Artists' proposals should improve the appearance of the archway through site-specific work and be conscious of the community in which it will be installed.
The artist whose work is selected for installation will be expected to make at least one site visit prior to the installation of the work in the summer, with expected completion of the mural by September 2016.
For more details, including proposal criteria and how to submit proposals, visit artspace-arc.org.
Artspace is also hosting a public information session on the project at 6:30 p.m. on Tuesday, April 19th at the Peterborough Lions Club (347 Burnham St., Peterborough). Everyone is welcome to attend, and refreshments will be served.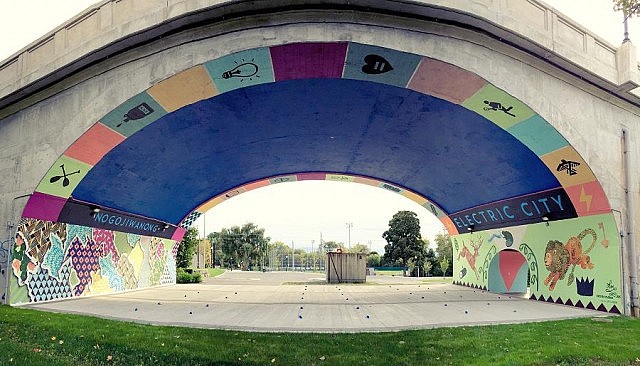 All photos courtesy of Artspace.