"Mirror, mirror, on the wall, who's the fairest of them all?"
Unfortunately, the answer is not The Huntsman: Winter's War, the perplexing prequel to 2012's surprisingly good Snow White and the Huntsman.
It is perplexing in that its predominantly redundant existence was green-lit at all, and that it feels like a studio board meeting where every concept pitched had buckets of money thrown at it.
It is difficult to make a Snow White film without Snow White. Professional sulky faux-goth moppet Kristen Stewart played the titular heroine previously but was fired after her much publicized affair with the film's married director, Rupert Sanders.
Subsequently, we are presented with a film that doesn't know what it is or who it is for. The title may have Chris Hemsworth's Huntsman taking the reins, but the promotional material is clearly punctuated by the appeal of the triumvirate of excellent actresses the film boasts. And, in all honesty, we all know the most interesting characters in fairy tales are women.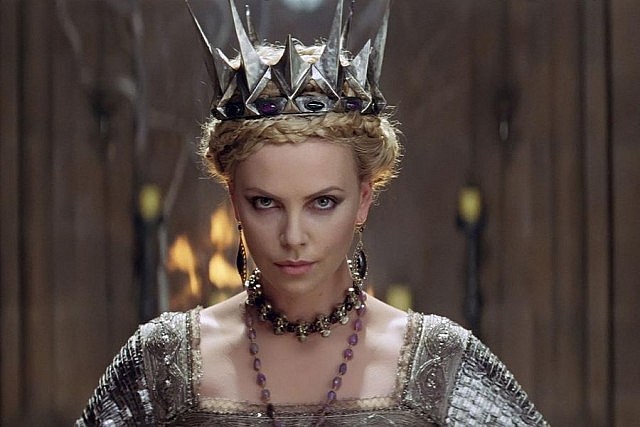 Charlize Theron is a more-than-welcome presence as she returns to gloriously chew the scenery as Queen Ravenna, the soul-sucking obsidian shard who ruled the once-pastoral unnamed kingdom.
The narrative commences with the introduction of Ravenna's younger sister, Freya (Emily Blunt) whose own set of immense powers have not yet manifested. Unlike Ravenna's deceptive and dominant nature, Freya's is romantic and idealistic.
A calculated tragedy leaves Freya shattered and finally unleashes her dormant and stunningly portrayed ability to conjure and control ice.
So the newly minted Ice Queen undergoes self-imposed exile in the wastelands of the north where she begins to assemble a child army of super soldiers cultivated from the neighbouring kingdoms she has conquered. These orphaned children are taught by the broken-hearted Freya that to love is a sin and they eventually grow up to become her legions of Huntsmen — envision a considerably less grotesque version of The Unsullied from Game of Thrones.
Two of the young children, Eric and Sara, quickly form a forbidden bond with each other and, one battle-training montage later, they've rapidly evolved into the perfect-specimens-with-alleged-Irish-accents that are Chris Hemsworth and Jessica Chastain. Forbidden love, etc.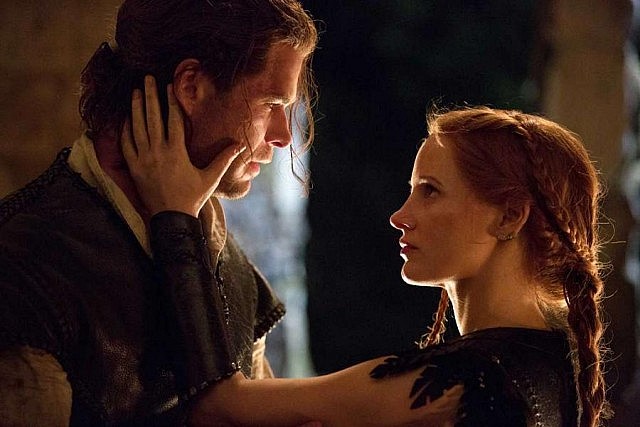 Eric and Sara's quest to obtain the magic mirror of Ravenna dominates about 70 per cent of the screen time and transforms this mercilessly non-musical Frozen For Adults into a baffling buddy comedy complete with requisite comedy dwarves.
It was about this point that I thought 'Wait, this isn't what was advertised. What happened to the two peak-of-their-career actresses in ornate high-camp Anna-and-Elsa drag?'
Well, they eventually saunter back to centre stage, but at that point it is — and it hurts me to say this — too little, too late.
The all-powerful sisters essentially bookend the film and disappointingly suggest what could have been.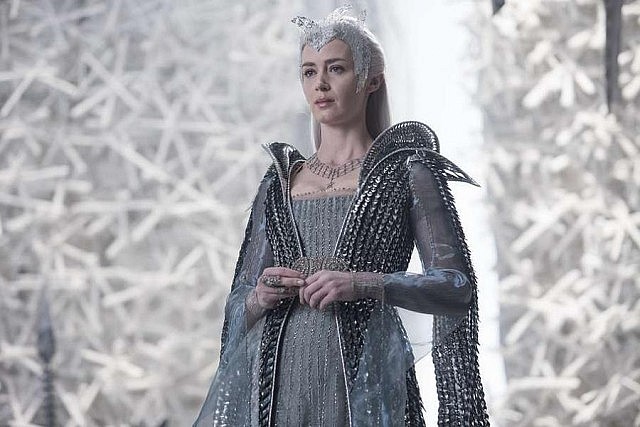 Theron is totally matched by the searing Blunt. That Blunt can make Freya that convincingly damaged and intimidating yet sympathetic while reciting some risible dialogue is truly a testament to her great talents. It is an interesting turn especially when contrasted with her masterful work in Denis Villeneuve's brilliant Sicario.
The great Sony hack of year or so ago revealed that Charlize was to be paid less than half the salary of Chris Hemsworth to appear in this second film. Naturally, this did not go over well with Theron's team and she was granted equal pay. You can really see this conflict come across in the climactic Thor-versus-Furiosa smackdown.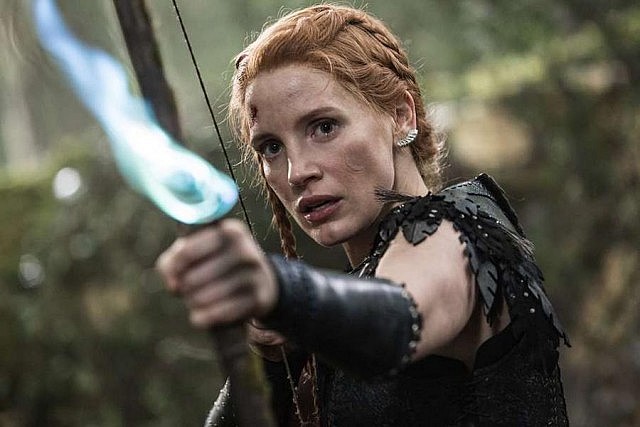 On the other hand, Jessica Chastain was obligated to play her character as she was still under contract with Universal for starring in Crimson Peak. Her abilities are wasted and her disinterest is palpable.
The film is bizarrely uneven and anti-climactic, but if you wish to see a excellent cast in cosplay of the highest order (longtime Tim Burton collaborator Colleen Atwood's costume designs are truly spectacular) than there is some good fun to be had. If you seek some true adult fantasy and not a prime example of re-write hell, save your coin on this.
If cinema is truly a mirror of society, then the reflection cast by Huntsman: Winter's War is one of bored and selfish indecisiveness.
---
The Huntsman: Winter's War Trailer
All photos courtesy of Universal Pictures.