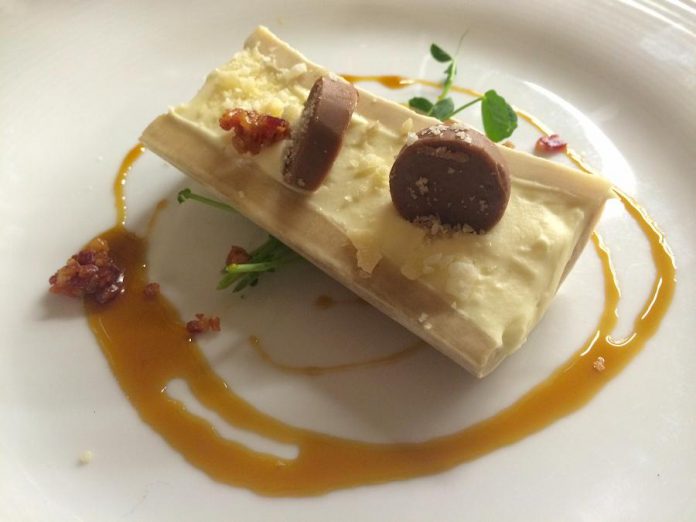 This month, food writer Eva Fisher goes to a food rave at Home Depot, checks in at the new Peterborough EATS cafe, takes local food to the next level with the Endeavour Centre's adobe oven building workshop, and grabs a pancake at the first Peterborough Downtown Farmers Market of the season.
---
Peterborough's Secret Food Rave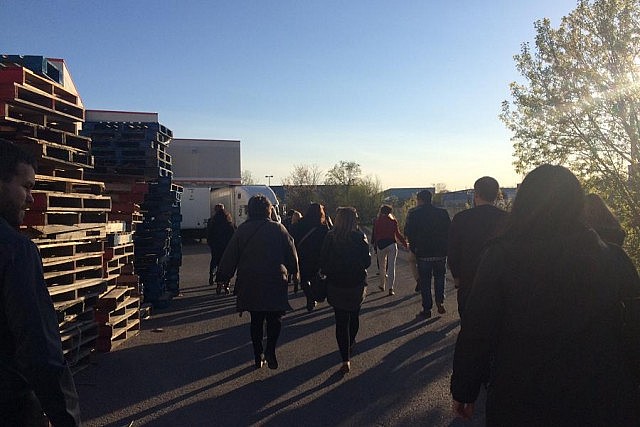 I receive the email at 3 a.m.: "You will be meeting your escort at the South West corner of the Home Depot parking lot in Peterborough where the garden centre is located. We look forward to meeting you all and to a fantastic epicurean evening."
The world of a Tres Hombres food rave is bizarre, exciting and delicious.
We are told to expect a six-course meal, but the location and the menu are a surprise, and the identity of the three chefs presenting it is a secret that we are told to keep.
For this Tres Hombres event, we are led around the back of the Home Depot to Primal Cuts (550 Lansdowne St., Peterborough, 705-775-6328). Inside the butcher shop they have set out two long tables. Oysters, charcuterie, and craft beer are handed out and we are told to make ourselves at home.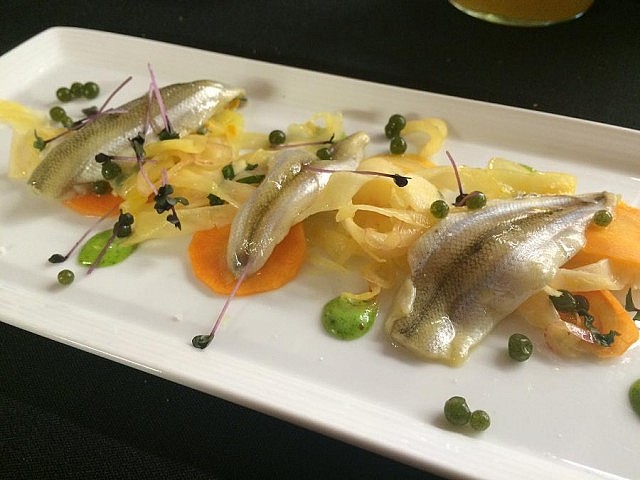 What follows is six courses of exquisitely prepared, experimental dishes. Every course is a surprise. Smelt ceviche with saffron, wild leek aioli, basil pearls and pickled vegetables. Scallops with lemon peel and shaved foie gras. Beef tongue pho with Parisian gnocchi and cured mango, then Square nail pork wrapped with wild leek with a pig face croquette dusted with bacon powder.
To finish we are given a cheese course: Bleu d'Élizabeth served with slices of green almond, sous vide celery and black pepper honey, then a dessert of white chocolate and local chèvre mousse presented in an empty marrow bone and topped with bone marrow truffles, candied bacon and popping sugar (like pop rocks).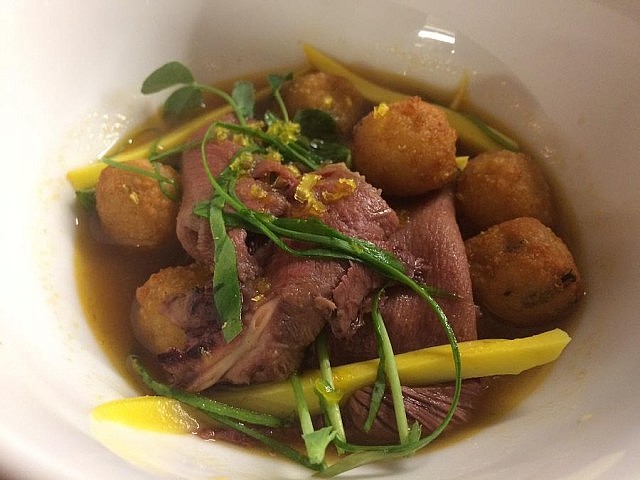 Each course was paired with local craft beer from Boshkung Brewery, Smithavens Brewing Company, Publican House Brewery and Church-Key Brewing, with brewmasters present to explain the pairings. Church-Key debuted a version of their Holy Smoke Scotch Ale infused with heather and vanilla to pair with the dessert.
The three chefs tell us that they plan to host more food raves in new unconventional locations, so follow them on Facebook or Twitter to stay updated.
---
Peterborough EATS Reopening in Peterborough Square
Peterborough EATS (360 George St. N., Peterborough, 705-931-4020) is a café with a mission: to train unemployed and underemployed people to get a job. They are reopening in Peterborough Square with a new menu conceived by chefs Miguel Hernandez and Justin Ladouceur.
Although everything is prepared by their students, this is far from institutional fare.
The menu includes Miguel's French Toast, which is baked in a spiced egg and cream mixture, topped with a cranberry and brown sugar crust, and served with maple syrup and whipped cream. Other menu standouts include a beef sandwich made with slow-roasted beef chuck and fresh mango slaw.
Justin says that ingredients are sourced from as close to home as possible.
"Everything except the mangoes, which you can't grow in Canada, is Canadian," he says.
This includes a list of local producers: Empire Cheese, Kawartha Dairy, Carolina's Columbia, and Primal Cuts.
Peterborough EATS offers courses covering the fundamentals of restaurant work: cooking, baking, supervisory skills, customer service and use of a point of sale system. The café provides a place where students can hone their skills in a real world environment and get work experience. According to Justin, this is key for their graduates to find employment.
"It's a round circle," Justin says. "You need experience to get a job, you need a job for experience. It's really hard for some people to get jobs like that."
Show your support for Peterborough EATS and taste what the students are making at their grand opening on Wednesday, May 12th from 11 a.m. to 1 p.m. in the Peterborough Square food court.
---
Build your own Adobe Oven with the Endeavour Centre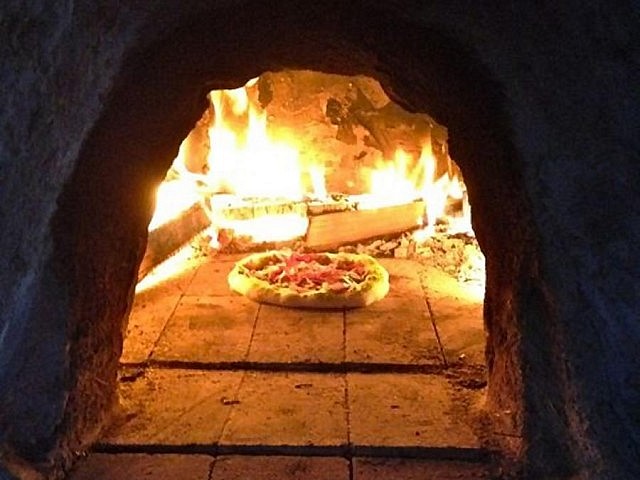 Now even your oven can be locally sourced. The Endeavour Centre is hosting an adobe oven building workshop, taught by Tina Therrien from Camel's Back Construction.
Participants will build their own outdoor adobe oven from start to finish, using natural and local materials including stone, clay, sand, and straw.
Adobe ovens can be used to make pizza, bread, roast chicken, granola, and more. One of Tina's favourites is slow-roasted tomatoes with garlic.
"I discovered this by accident one time by leaving the tomatoes in the oven overnight at a low temperature," she says. "They were shockingly delicious, and now one of our standards".
The ovens can also be used to dehydrate foods.
Adobe ovens are heated with wood. While the wood burns you can cook foods like pizza or chicken that are best prepared in a hot oven, but after the fire is out the oven retains a lot of heat. That is the best time to bake bread. Tina says that it doesn't take much wood to heat the oven.
"The next day after a firing, the oven will often still be at 200ºF," she says. "The thermal mass of the oven makes for a really efficient stove that doesn't really require much fuel."
If you'd like to steam your food, you can douse the embers with water; this is an excellent way to prepare corn. You can also add fresh herbs to the embers to infuse subtle flavour into your cooking — great for meat or bread.
Tina says that the best thing about having an oven is social.
"Invite people over, and hang around outside of the oven while chickens are roasting, or while pizzas are baking, which only takes three minutes," she explains. "The oven inspires people, incites conversation, and takes us a step or two back in time."
The Endeavour Centre is offering adobe oven building workshops on May 14th to 15th and August 6th to 7th. Tickets are available at www.endeavourcentre.org.
---
Wednesday Downtown Farmers' Market open for the season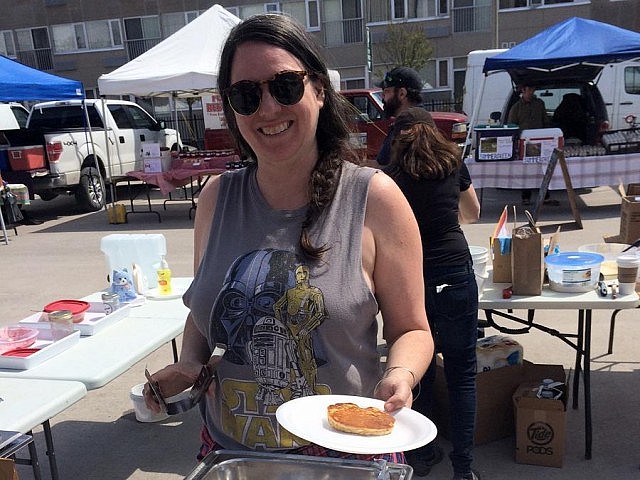 The Peterborough Downtown Farmers' Market is back for the summer season. The first market took place last Wednesday at the Louis Street parking lot (just east of Alymer on Charlotte) in downtown Peterborough
New vendors this year include Riel Acres, a farm that raises chickens and grows vegetables. Tiny Greens, which sells microgrens, is also new to the Wednesday market. There will be a new preserves vendor and, in the heat of the summer, there will be a vendor selling local popsicles.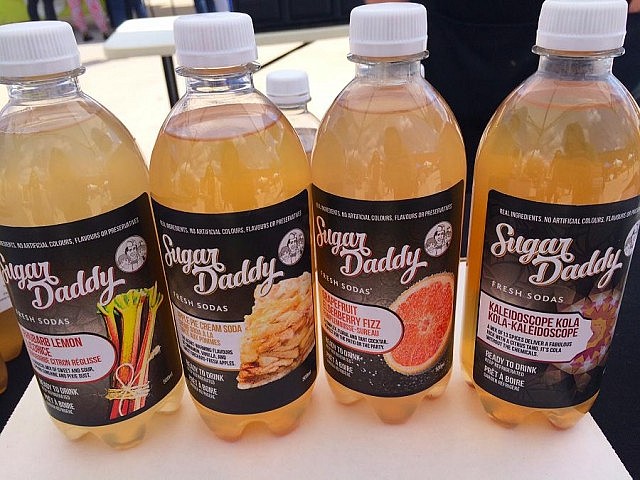 Barb Fisher of Janetville based Fisher's Farm has been going to the market since it began.
"There's a good variety of vendors and we get a nice group of people and regulars," she says. "There are always new faces every week and it has grown every year."
Marie Shea of Shealand and Sannox Farms has been going for three years. She says that the best part of the Wednesday Market is "the atmosphere. That you're really part of the community, that you're right downtown."
Join the community every Wednesday from May to October from 8:30 a.m. to 2 p.m.
---
New Farmers' Market In Bridgenorth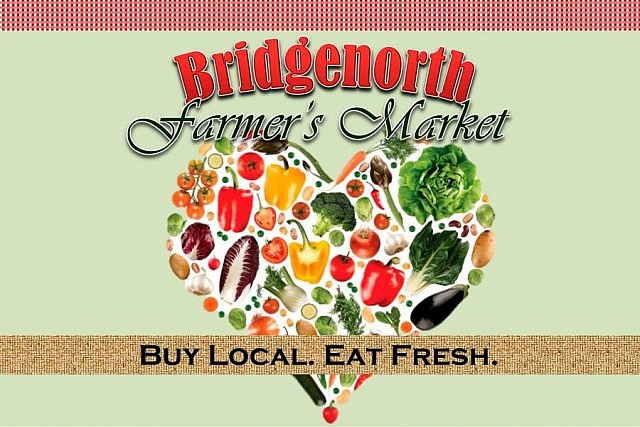 Bridgenorth now has its own farmers' market. The Bridgenorth Farmers' Market opens this Friday, May 13th.
The market takes place every Friday from 11 a.m. to 6 p.m at Chemung Lion's Park at 710 Red Pine Lane in Bridgenorth.
For information or if you're interested in becoming a vendor, email bridgenorthfm@gmail.com.
---
Smithavens wins gold at Ontario Brewing Awards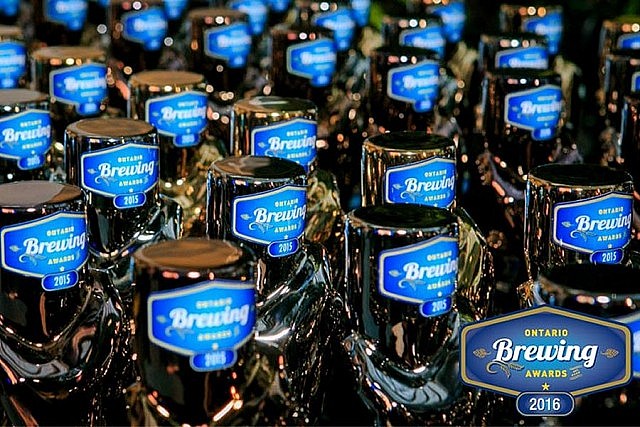 Congratulations to Smithavens Brewery (687 Rye St., Peterborough, 705-743-4747) on their gold medal wins at the Ontario Brewing Awards!
They won gold in the Oktoberfest/Marzen category for their Festbier and gold in the Dunkelweizen category for their Dunkelweizen.
Congratulations also to the Bobcaygeon Brewing Company who won bronze for their Porter.
The complete list of awards is listed at www.ontariobrewingawards.com/winners/.