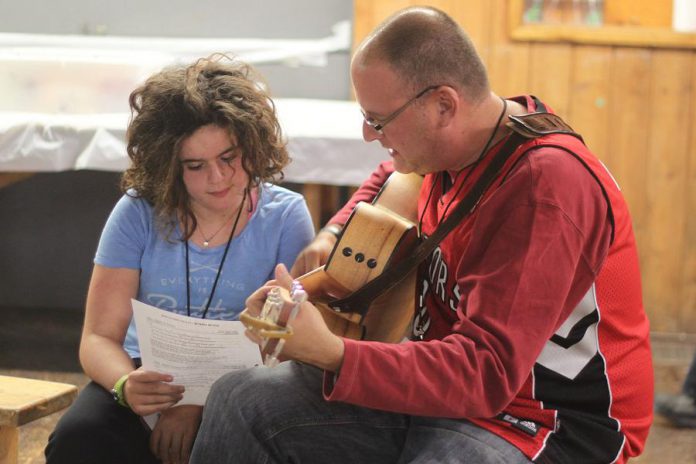 On a cool, damp Saturday night in early October, several families have gathered in a lodge along the shores of Maple Lake outside Parry Sound for the traditional talent show that has been a central event every year at the James Fund Neuroblastoma Family Retreat.
Young children roll around and play upon the wooden floors while different acts take centre stage. Traditional camp songs are sung with the exuberance of the young and fearless, one of the volunteer counsellors performs a traditional Ukrainian dance he says is usually reserved for weddings, and three new guitar players — trained only just that day — manage to work their way through a tune.
Laughter echoes throughout the hall, loud and often. That's one thing about these families, who have been so deeply affected by the fear, despair and tragedy that latches itself to a neuroblastoma diagnosis: they know the importance of laughter as much as they live with the tears of anger and sorrow.
At one point, Eric Petersiel grabs hold of a guitar. He's joined by his daughter, Lilah, who, after more than 10 years of treatment and the follow-up appointments that continually haunted her parents with the dreaded possibility of relapse, has recently learned she will no longer require steady visits with her oncologist.
Lilah's story is the type you hope to hear when you dig into the realities of this deadly childhood cancer, but there are others that shatter your heart and question faith in all that's good and just in the world.
But on this night, bereaved families who have a child that remains vibrant only through memory sit alongside those who still battle the disease, and they smile as they watch Lilah and Eric sing together.
Lilah says her favourite memories of her time at this retreat, which is made possible through the support of the Nexicom James Fund Golf Classic, revolve around the laughter and friendships she's made here.
"Drama dress up when I was young," she recalls, "and fishing on the dock, including the time that I caught a fish but was too little to step onto the tree stump to be recognized in front of the group for doing so."
Maybe the time she sang with her father will make the favourite memory list when she looks back in a few years.
She says being around people who've shared her experience as a Neuroblastoma survivor is something she looks forward to every year — that and being out of the hustle of Toronto where she's lived all her life.
Her father agrees.
"You have to expand your opportunity to meet others who can share your joys and pain in order to enrich the value of your own life," Eric says. "The retreat allows me to be both a taker and a giver in these therapeutic relationships and that has been incredibly powerful over the years."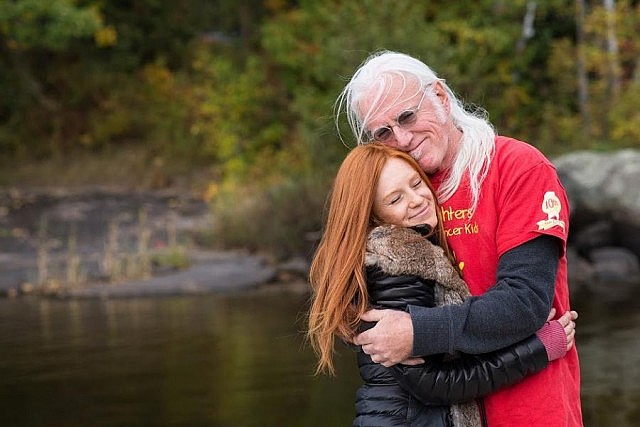 Hannah Munro and her father, David, were among the first people Eric met when he arrived with Lilah at their first camp, which seems so long ago in many ways and like only yesterday in others.
Lilah was but a toddler with the harsh remnants and scars of treatment still fresh upon her young body that first year and Hannah was a survivor — confident, sure of herself, and seemingly healthy. Eric dared that day to hope that Lilah would grow to be the same: her own person thriving beyond the threat neuroblastoma poses.
And here Lilah is years later, singing beside him while David and Hannah sit watching among the extended family that has grown so close together over the years in the face of the unknown — thanks to the time they've spent in this oasis of hope called the James Fund Neuroblastoma Family Retreat.
David recalls the laughter of "Angel Children" who'll visit camp no more — the goal a boy named Adam scored while playing ball hockey in the last autumn of his too-short life, for example — and he looks to a future where survivors like Lilah and Hannah have the potential to achieve all they desire.
This is why the Family Retreat is so close to so many hearts and why the Nexicom James Fund Golf Classic matters so much. It offers hope and solidarity for families who struggle at times to find both in even the slightest measure. It honours those in whose memory these families forge ahead, and it inspires the survivors to continue inspiring others.
The 9th annual Nexicom James Fund Golf Classic is one of the Peterborough area's most successful charity golf tournaments, raising approximately $40,000 each year to support families living with neuroblastoma. Beyond funding the James Fund Family Retreat, the tournament also supports families who are struggling financially as they focus on their child's treatment.
This year's event will be held at the Kawartha Golf and Country Club on Monday, June 6th. For more information on golf or attending the banquet dinner in the evening, please contact Kristian at pwritingstudios@gmail.com.