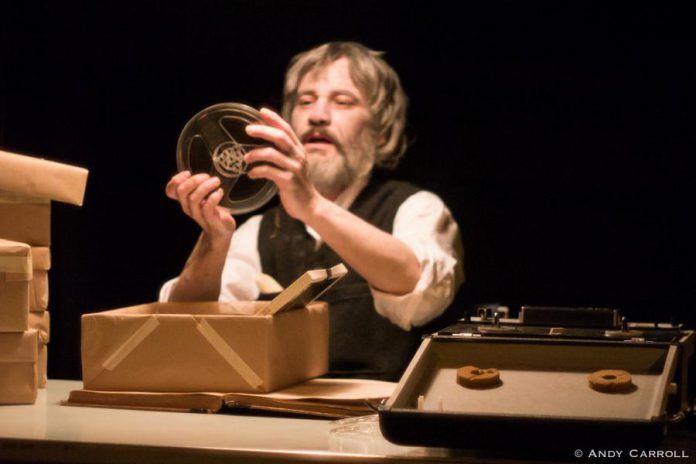 "Beckett Fest" at The Theatre on King (TTOK) continues this week with Samuel Beckett's one-act play Krapp's Last Tape. Directed by Kate Story, Krapp's Last Tape is a one-man production featuring TTOK's artistic director Ryan Kerr in the spotlight.
Originally conceived as "McGee Monologue", Samuel Beckett wrote Krapp's Last Tape for Irish actor Patrick McGee, who Beckett had heard reading his novel Molloy on BBC radio. Krapp's Last Tape premiered with McGee in the leading role at London's Royal Court Theatre in 1958 as an opener for Endgame.
Highly biographical, Krapp's Last Tape was a production Beckett returned to often, doing multiple rewrites and revisions, and was often a show that changed over time until Beckett's death in 1989.
Krapp's Last Tape is a play about memory, aging, regrets, and revisiting the past. Krapp is an elderly intellectual nearing the end of his life. Embittered and alone, it is Krapp's 69 birthday and he sits down for a strange yearly ritual he has been partaking in for decades.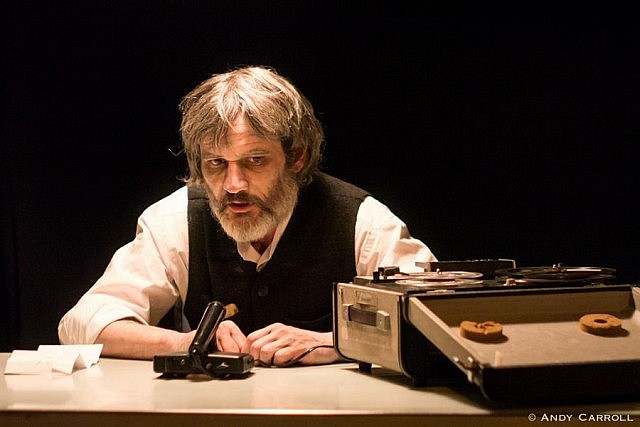 Each year, Krapp makes a tape of his voice talking about his year and reflecting on his past. Krapp begins by listening to his reflections from 30 years earlier at the age of 39. Arrogant and unappreciative of the life he had at that time, Krapp finds a loathing for his younger self, which affects his recording of this year's annual tape.
If there's one thing I've learned about Samuel Beckett as I've travelled through his world with TTOK is that his plays are not always the most accessible to all audiences, and that you need to take away your own truths.
With this in mind I can honestly say that, while Krapp's Last Tape is essentially Beckett in every way, it is possibly the most coherent and thus most powerful show so far in Beckett Fest. It has a slightly more linear quality to it than previous shows, and has the ability to speak to the audiences' soul — making them think of their own past and of memories they have forgotten that should probably remain forgotten.
Krapp's Last Tape is a story about memory, regret, and the inability to turn back time. It's also an oddly revealing production as Beckett used many of his own personal experiences in Krapp's narrative, making references to real-life family and former lovers.
As director Kate Story explains, it's also an examination of Beckett's own personal fears of ending his life alone, unsuccessful and unloved.
Ryan Kerr transforms himself into an entirely new person as he takes on the role of Krapp. Through body language and movement, he becomes a twisted old man at the end of his life, sitting in a dusty office and listening to voices of his past.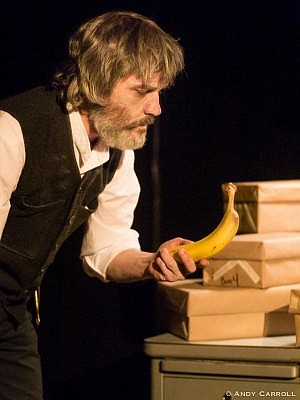 Much of the show involves listening, as the drama is highly auditory as we listen along with Krapp to his own voice and narrative. The drama happens within the tape, although the emotion comes from the actor on the stage. But as is common in Beckett, the long pauses and silences say more than the actual dialogue.
Kerr masters this emotional timing, creating a bleak and powerful presentation of a man filled with hostility for the past and regret for the present.
Despite its bleak nature, Krapp's Last Tape also has its whimsical moments — proving that Beckett had a sense of humour. You will never see anyone eat a banana quite like Ryan Kerr, and may never look at the strange fruit the same way again.
Krapp's Last Tape is a show that may make you reflect back upon your own losses and regrets of the past, and it may prove to be a warning about not allowing coldness and arrogance consume you before you end up dying alone. It's a reflection of the past, but a warning for the future.
With this thoughtful and sincere production, Kate Story and Ryan Kerr prove, once again, that they make a powerful creative team, which is why they continue to produce some of the best theatre in Peterborough. Krapp's Last Tape is the shining jewel of Beckett Fest so far.
Krapp's Last Tape runs from Thursday, May 12th through Saturday, May 14th at TTOK. The shows starts at 8 p.m. with an additional matinee on Saturday at 2 p.m. Tickets $15 at the door (pay what you can on opening night).