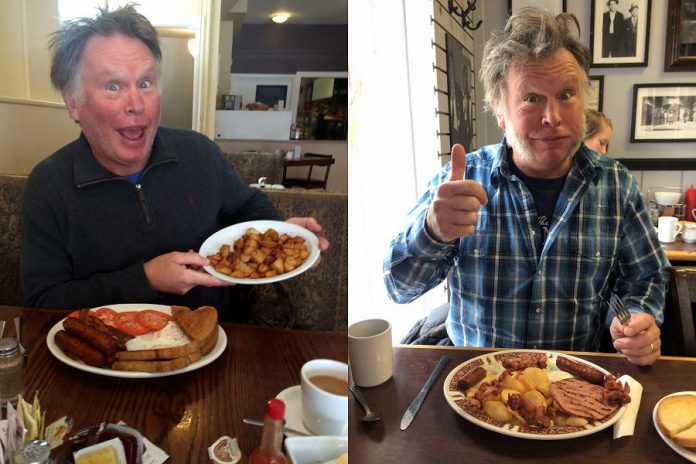 Eggs over easy, brown toast, bacon.
You can place that order at a lot of places in the Kawarthas. But getting that order just right — with bright yellow eggs and the right music and maybe even some visible oregano — now that's worthy of a quest.
I wanted to look at some of the best down home breakfast diners in the Kawarthas. And fortunately, I happen to be related to one of the foremost greasy spoon breakfast experts in the region: Washboard Hank is my dad.
Together we went to four diners, ate a lot of bacon, and he told me about life on the road, the best breakfast he ever ate, and why if you want to know where to get a good breakfast you should ask a musician.
---
Because every breakfast is better with a little music, "Cartoon Swing" is a not-yet-released track from Washboard Hank's upcoming album Human Beans.
---
Stop #1: Monaghan Cafe in Peterborough
At the corner of Monaghan and Brown Street, the Monaghan Cafe (1017 Monaghan Rd., Peterborough, 705-743-4800) is a cozy little diner in an old house where they always keep your coffee cup full.
Eva: So what makes you qualified to survey breakfast restaurants?
Hank: Well, when I used to tour around busking in the street breakfast would be about the only meal I would get. There was a place in Ocean Beach California where they had a $1 breakfast. Two eggs, toast and bacon. So we would sometimes spend as much as $2 and have two breakfasts but that would set us up for the day, especially if you went in close to noon and had your two breakfasts. When you're on the road travelling, breakfast is usually pretty good. It's not that difficult to make so it's fairly safe that you won't get food poisoning from it.
Waitress: How are the breakfasts?
Hank: Really good!
Eva: It's great, thank you.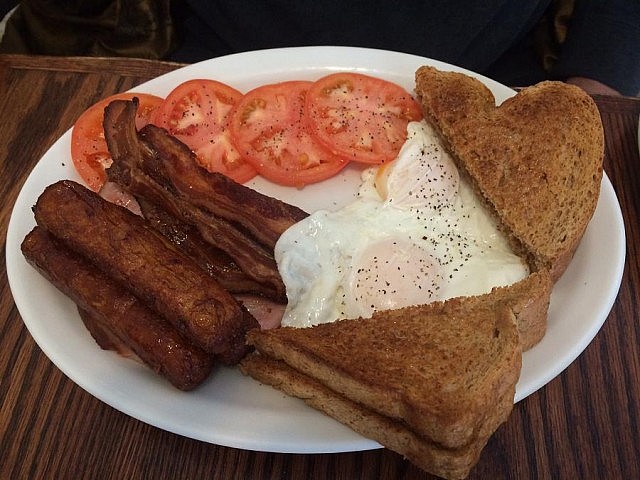 Hank:
There are all kinds of tells in a breakfast restaurant and the main one for me is the home fries. If the home fries have too much monosodium glutamate on them, you can wind up having an acid flashback just from eating potatoes. And that's no good.
Eva: No.
Hank: The bacon is crispy. I like crispy bacon. And the sausages are bigger than usual. It looks like a real healthy slice of ham. It's not a presliced ham; it's a piece that they've just chopped off. I'd give them 9 out of 10 for the meat.
Of course this is the Monaghan meat. And that's Monaghan, not Mona-han. I've tested them on that already here, I've said "So how do you pronounce the name of this place?". Just to see if they're Peterborough people or not. And they are Peterborough people. So that's a good sign.
Eva: Agreed.
The Monaghan Cafe offers tomato slices as a side option in addition to hashbrowns, a nice touch even when it's early spring and the tomatoes are like pink tennis balls. The eggs are fresh, the potatoes are nicely seasoned, and they have tabasco sauce instead of Frank's Red Hot. The meat was a high point here, with crispy bacon, extra large sausages and thick handcut ham.
Next week: Lock Street Diner (formerly Thurston's)