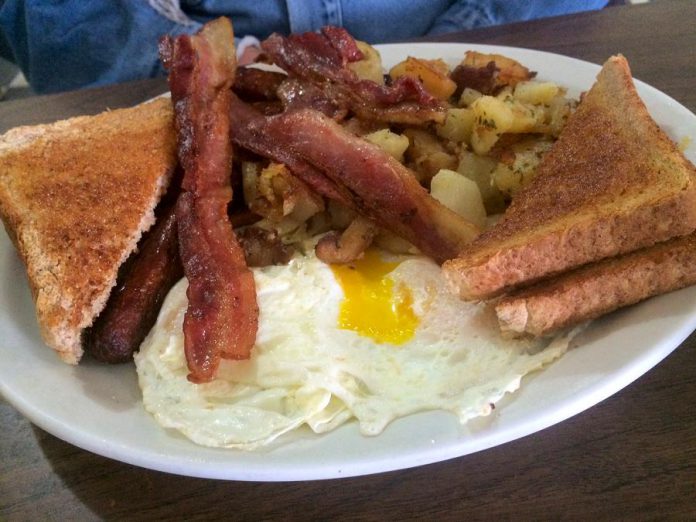 In this four-part series, local musician and greasy spoon expert Washboard Hank guides his daughter, food writer Eva Fisher, through some of the best diners in Peterborough. This week features Lock Street Diner.
Part 1 featured Monaghan Cafe.
---
Stop 2: Lock Street Diner (formerly Thurston's)
Close to the Memorial Centre, Lock Street Diner (769 Lock St., Peterborough, 705-743-0947) just left the old Thurston's sign up when they took over.
Be sure to take a look at the sports wall of fame when you visit.
This week, we talk about Matt Shaugnessy. Shaughnessy was an unforgettably wonderful person, and my dad's best friend. He passed away in 2013.
Eva: What was the first time you came here? Do you remember?
Hank: I think Matt Shaughnessy probably brought me here at one time.
Eva: Was Shaughnessy someone who went out for breakfast a lot?
Hank: Oh yeah, he'd constantly take me out for breakfast. We'd go here and there and everywhere we went there was some kind of crazy banter with the owner.
He'd say things like "I'm home, Dad!" and the owners would say "You're not my son! Get out!".
Or he would have me come in before him and I'd walk into the diner with my finger in my ear, check everything out, and say "It's okay, you can come in. It's clear. Clearance, clearance." And he'd walk in and I'd say "Senator, Senator, sit here."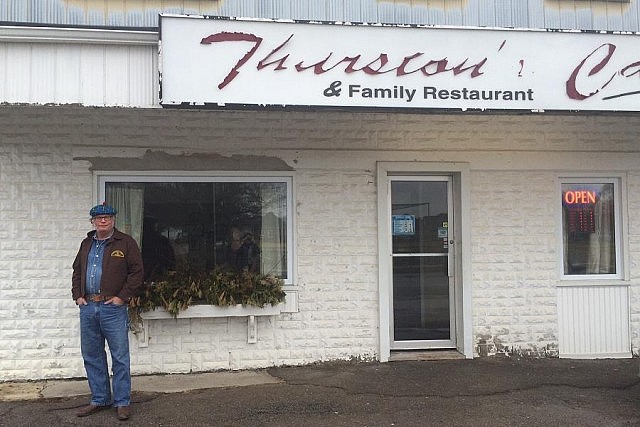 Eva: So what are your impressions of the meal so far?
Hank: Well, this is really good. The easy overs are fantastic, perfectly done. The yolks are nice and yellow; they're not too old. The hashbrowns are good.
Eva: How about the toast?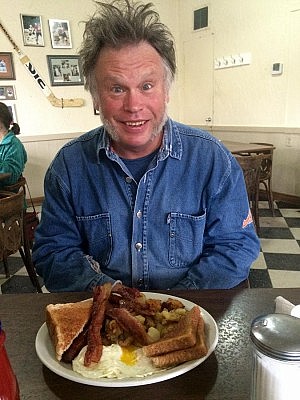 Hank: Ordinary brown bread.
Eva: What do you look for in a breakfast toast?
Hank: Oh, sort of, intestinal cleaning power? You know, lots of nuts and bark.
Eva: So how would you rate the intestinal cleaning power of that bread?
Hank: I'd say, ah, fair.
Eva: What kind of atmosphere do you want in a good breakfast restaurant?
Hank: Friendly. I kind of like the low volume country music that's going on here. I suppose it'd be too much to hope for classical music while you're eating breakfast. I think it all starts with the smell as you come in the door. You can tell — by the smell.
Waitress: Can I get you anything else?
Hank: We're great, thank you. (Waitress leaves.) On the Lance Loree* scale, I think the breakfast would make a good turd. That's what he'd say to the waitress, "This'd make a good turd." [Editor's note: In case there's any confusion, Hank is referring to the quality of the breakfast after digestion, not before.]
The Lock Street Diner made a classic greasy breakfast with perfect eggs, hearty meat, and a nice atmosphere. It also offered the best celebrity sightings: six Peterborough Petes sat a few tables over.
Next week: The Speakeasy Cafe
---
*Lance Loree is a musician from Alberta, also known as Uncle Thirsty. Maybe it's time for a song.