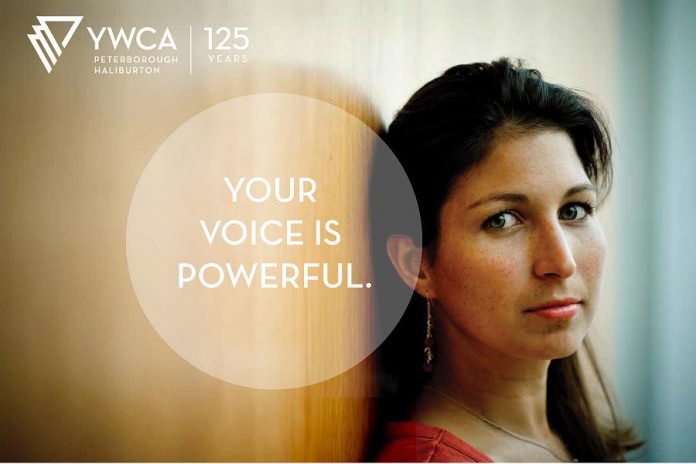 In recognition of Canada's Victims and Survivors of Crime Week (May 29th to June 4th), YWCA Peterborough Haliburton has launched a new website to collect stories from survivors of violence against women and from those who know women who have experienced abuse.
Whether you're a woman who is a survivor of violence (domestic violence, sexual violence, or any form of abuse) or a family member, friend, health care provider, or a neigbour who knows a woman who has experienced abuse, you can visit www.ywcavoices.com to speak out and share your story.
You'll be prompted on the website to answer a few short questions intended to help guide you in sharing your story. You also have the option to include your name and email or phone number, if you wish the YWCA to contact you. Or you can remain anonymous.
The website is encrypted to protect your privacy but, if you feel safer sharing your story in person, you can also contact the YWCA at 705-743-3526 to arrange an appointment.
Regardless of how you choose to speak out, all stories that the YWCA collects will be shared completely anonymously.
By speaking out and sharing your story, you will help:
show women living with abuse that they are not alone
create opportunities for others to speak out and take action against violence against women
reflect the diversity and authenticity of survivors' experiences, and of those who love them, and
educate others about the meaningful ways we can all support survivors of violence and abuse.
Violence against women is not a personal issue, but a community one. According to the latest information from Statistics Canada, more than 80% of victims of spousal violence reported to police were female, 92% of victims of sexual assaults reported to police were female, and 73% of all criminal harassment incidents reported to police were directed at women.
Locally, last year alone YWCA provided 9,433 safe nights' sleep for local women and children rebuilding their lives free from abuse.
Speaking out by sharing your story will expand the conversation about violence against women.
For more information on Victims and Survivors of Crime Week, visit www.victimsweek.gc.ca.

The launch of www.ywcavoices.com coincides with YWCA's 125th year in Peterborough. Founded in 1891, the YWCA provided generations of women with transitional housing, education, and support as they established new livelihoods in the burgeoning industrial economy.
As the needs of women changed over the decades, so did the work of the YWCA. In the 1970s, the YWCA was one of the first organizations in the region to recognize the impact of domestic violence on women in the greater Peterborough area.
In 1979, the YWCA opened the third floor of its residence to families who were victims of violence. Demand quickly outstripped the supply of space. In 1983, the YWCA made the bold decision to shift its entire focus of assisting women and their children suffering abuse, and the Crossroads emergency shelters were born.
Since then, the YWCA has been integral in expanding our community's safety net for abused women and creating awareness, policies and protocols around the issue.
Deeply committed to the community, the YWCA works tirelessly to prevent violence and improve life for women and families living in poverty through an important array of programs. To support the YWCA's work to help end violence against women, visit www.ywcapeterborough.org.
If you or someone you know needs help right now, call YWCA day or night toll free at 1-800-461-7656.