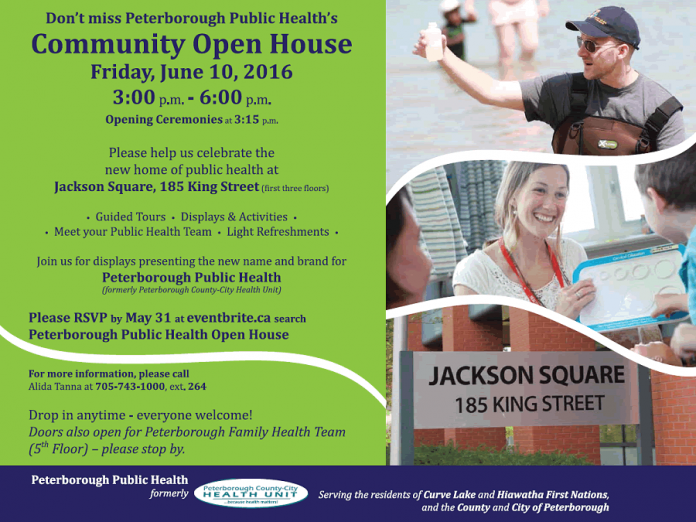 Starting today, the Peterborough County-City Health Unit will officially be known as Peterborough Public Health.
"We're proud of our new identity as Peterborough Public Health," says Dr. Rosana Salvaterra, Medical Officer of Health. "Previously, I'd find that people were sometimes confused about which piece of the health care pie was ours. The new name has 'public health' firmly embedded in our title so that our mandate to protect and promote the health of our communities is clear."
The public health agency surveyed more than 600 people during the fall of 2015, and the new name was the preferred option from six possible names that also included Shining Waters Public Health, Public Health Peterborough, Peterborough County-City Public Health, Greater Peterborough Public Health, and Peterborough Health Unit.
The board of health approved the name change earlier this year.
"We want residents to know we're their best source for credible public health information and that we offer a wide range of programs and services to improve the living conditions of those in need for the benefit of all," says Scott MacDonald, board of health chair. "From health risk prevention to promoting healthy lifestyles, our staff work around the clock to keep our community safe and strong."
Some people have disagreed with the name change, as they feel that dropping the word "county" from the name may leave the impression the health agency only serves the City of Peterborough. Peterborough Public Health also provides health programs and services to residents in Curve Lake and Hiawatha First Nations and the County of Peterborough.
The rebranding of the health agency follows its relocation last fall from its former location on Hospital Drive to Jackson Square (185 King St.) in downtown Peterborough. There's little additional cost for the rebranding, as the agency needed new signage, business cards and stationary anyway to reflect its new address.
To celebrate the health agency's new name and location, Peterborough Public Health will reveal its new branding at an open house on Friday, June 10th from 3 to 6 p.m. The event is open to everyone and features light refreshments and guided tours of all three floors of its new location, including the newly minted Myrtle's Kitchen for community food programs.
Guests can also check their child's immunization status on site, and enjoy interactive displays on smoking cessation, sun safety and numerous other public health programs. Presentations from senior officials will begin at 3:15 p.m.
With today's name change, Peterborough Public Health also introduces its new website address at www.peterboroughpublichealth.ca. All staff email addresses will be changed to use the new domain name.
People are also encouraged to follow Peterborough Public Health at its new Twitter handle @Ptbohealth and Facebook page by searching for "Peterborough Public Health".