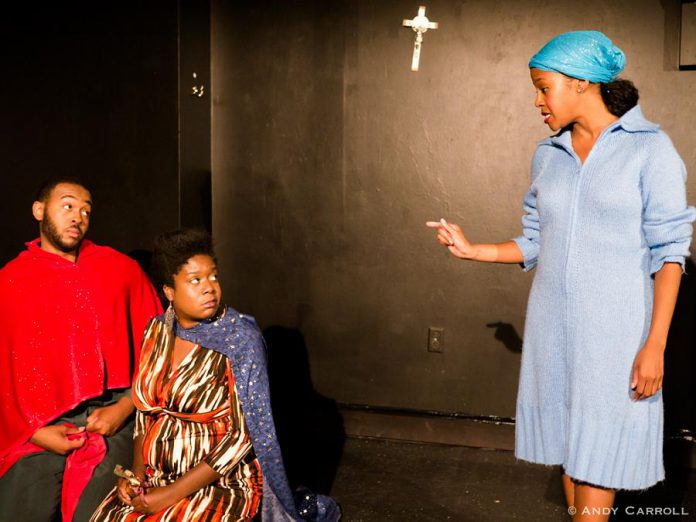 One afternoon in 2014, I was invited to The Theatre on King (TTOK) in Peterborough as part of a small audience to watch a show called The Blind Eye being workshopped by Mysterious Entity Theatre. I remember at the time being enthusiastic about the eerie production filled with drama and mysticism, and later wrote that my only wish was to see more.
Well, wishes do come true. Two years later, director Em Glasspool presents a restaged and revised version of The Blind Eye for five performances. With support from The Ontario Arts Council and Theatre Trent, The Blind Eye has been a four-year process of workshopping and storytelling pulled together by the Mysterious Entity team.
Very fresh and very original, The Blind Eye is a powerful human drama about how demons from the past are hereditary and how secrets can both tear apart and bind together families, for better and for worse.
An incredibly talented trio of actors — Chattrisse Dolabaille, Sedina Fiati, and Leighton Alexander Williams — present this multi-generational story by bringing eight characters to life. All new faces to the Peterborough theatre community, these three Toronto-based performers flawlessly create the eight distinctive characters through their body language and costume changes, most of which happen right on stage with the audience watching.

The Blind Eye revolves around the fictional Palmer family. Originally from Jamaica, the Palmers arrived in Toronto in the mid 1970s before relocating to Peterborough in 1980. Set in the present, the show flashes back to 1980 as it reveals the drama of the family's past and how it affects those still living today.
It's Christmas time in Peterborough and Angel Palmer (Chattrisse Dolabaille) is trying to reunite her family of "loners and alcoholics" for the holidays, including her recently returned aunt Lucinda (Sedina Fiati), her explosive alcoholic father George (Leighton Alexander Williams), her eccentric grandmother Mary Rose (Dolabaille), and her unliked boyfriend Steve (Williams).
After Angel and Steve are evicted from their apartment two weeks before Christmas, Angel meets a retired police officer named Frank (Williams) while apartment hunting. Frank has a connection to the Palmers' past life in Toronto.
As the family gathering draws nearer, Angel's explosive relationship with Steve breaks down. Angel becomes haunted by the glimpse of the past that Frank revealed — one filled with mysticism, repression, and violence — forcing Angel to reexamine her family's brittle dynamic and her place within it.
Your guide into the drama is Sedina Fiati, who plays Lucinda Palmer as an adult and a child as well as the role of landlady Mrs. Bubba. With a warm and inviting persona, Fiati breaks the fourth wall between acts with both charisma and humour. Instantly likeable, Fiati is a maternal, comforting character when the show becomes intense, despite the fact her primary character of Lucinda can often be cool and cutting.
Chattrisse Dolabaille carries much of the show on her shoulders by being in nearly every scene, either by playing the show's central character Angel or the matriarchal Mary Rose. Without leaving the stage, Dolabaille manages to change from a young woman to an elderly one in a heartbeat. With her spectacular performance, Dolabaille is a wonderful young actress to watch.
But it's Leighton Alexander Williams whose talents are most challenged in his performance of four different characters, making up the entire male cast of the show. He plays Angel's explosive boyfriend Steve, Angel's father George as both an adult and a child, kindly retired police officer Frank, and Palmer patriarch Rex.
Each of his characters is so unique you often forget one man is playing them all, although you can see him transform into these different characters onstage. Williams goes from sexy to innocent, from frightening to kindly, and from pathetic to funny with just a slight costume change and his use of voice and body language. He's a human chameleon on stage, seamlessly taking on different forms and personas.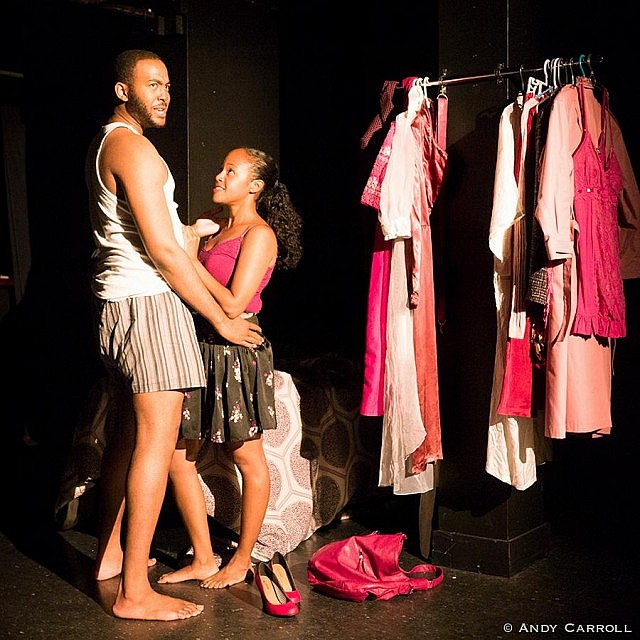 A dark look at a family's secrets and history, The Blind Eye is often disturbing and figuratively kicks the audience in its collective stomach. However, strategically placed humour throughout the play lightens the brutality of the past without cheapening it.
What makes The Blind Eye so powerful is its humanity. The audience is drawn into the story and becomes emotionally involved with the Palmers. You love them for their flaws, you are hurt by their defeats, and you revel in their hopes.
Be warned that The Blind Eye deals with mature themes and includes scenes of simulated sex and violence, so it's not suitable for everyone. However, parents may want to attend with their older children to encourage dialogue about the effects of substance abuse and physical abuse on families.
A potent and powerful drama, The Blind Eye is one of the best original productions to come out of TTOK. It was worth the two-year wait to see it again, and I appreciated it even more this time around.
The Blind Eye runs from June 1st to 4th at TTOK. Shows start at 8 p.m., with a Saturday matinee show at 2 pm. Admission is $20, or pay what you can at the door.