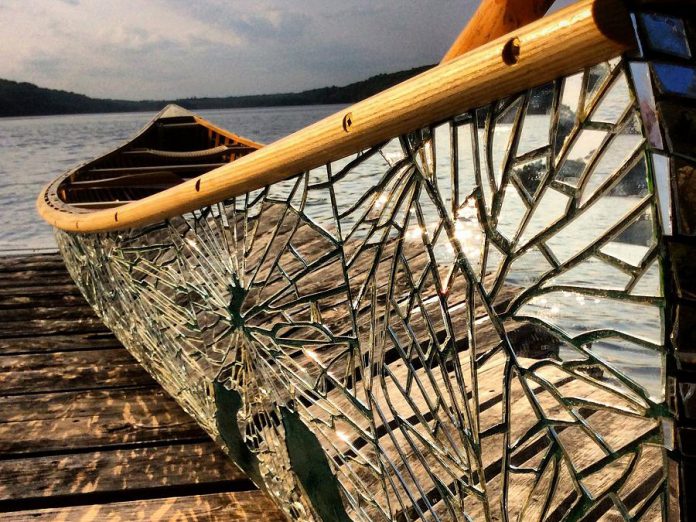 June remains a busy month for the visual arts as seasonal sites open up and larger galleries launch new summer exhibits. We're covering the height of the Kawarthas, from Haliburton to Cobourg, this month.
---
Joe Stable opens ACME Studio in The Commerce Building in Peterborough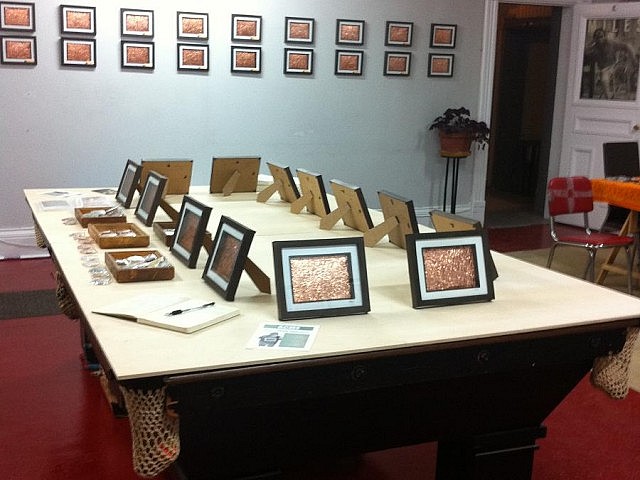 Peterborough's downtown core is an acknowledged laboratory for creative experimentation and, while many talk about rejuvenating dilapidated buildings with excitement, those who have found sound spaces within the urban decay love their old guts for the creative energies they impart. The Commerce Building at the corner of Hunter and Water is one such laboratory, and after many years, the mysterious monolith on the corner is opening more of its many doors.
Built in the 1890s as a bank and live/work office building with mixed-use spaces (including a fraternal order's clubhouse at the top), it is still an architectural gem, despite never-ending maintenance requirements. Home to dozens' of artists' studios for the past 40+ years, Evans Contemporary is the most recent tenant — taking over a space previously occupied for nearly a century by the legal records of the Lightbody Law Office.

Next in line for record-breaking tenancies however, must be Joe Stable, who has occupied the Orange Lodge on the third floor since it was decommissioned nearly four decades ago. Along with several other artists in the building (Laurel Paluck of Atelier Ludmilla and floral painter Mary McLoughlin on the second floor), Joe recently held a joint opening of his new ACME Studio in conjunction with Evans' Contemporary's newest show. It was such a success that we will soon be seeing more and more studio doors open on Saturdays at The Commerce Building.
ACME Studio will be open from noon to 4ish on Saturdays in June, and also by appointment for private viewings. It's located upstairs in The Commerce Building at 129-1/2 Hunter Street (the door between Catalina's and St. Veronus'); once insider, signs will directt you to various studios. To contact Joe Stable at ACME Studio, email joe.stable@gmail.com or find him on Facebook to see his work online.
Atelier Ludmilla & Mary McLoughlin are open by appointment only on the second floor. Note that The Commerce Building is not an accessible venue.
---
Mike Smalley exhibit, photography workshop, and art forgery talk at The Art Gallery of Northumberland in Cobourg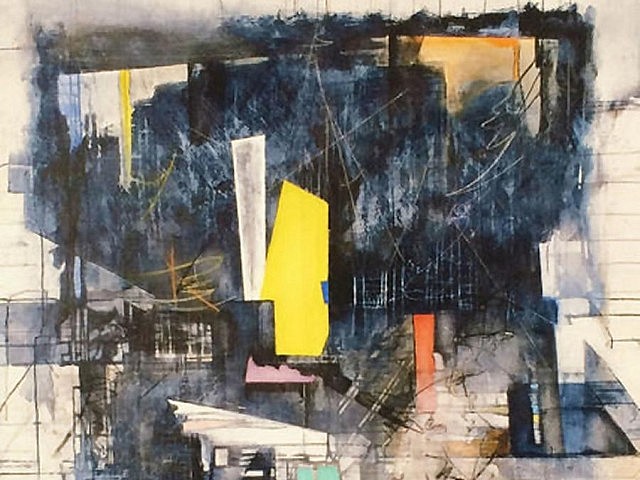 Mike Smalley's "Going Solo" continues at The Art Gallery of Northumberland (AGN) until Sunday, July 10th.
Other programming in June includes a one-day photography workshop and a presentation on art forgery.
"Lessons From Rembrandt" from 9 a.m. to 4 p.m. on Saturday, June 11th, will be facilitated by Philip Gebhardt. This workshop will instruct amateur photographers in the use of traditional painterly concepts in order to create more exceptional images.
On Thursday, June 16th from 7 to 8 p.m., Mark Collins will present "Forging Ahead, One Fake at a Time", telling the stories behind some of the greatest forgeries. Collins is a veteran police officer who's a recent graduate of The Association for Research into Crimes Against Art). He's also the author of Hard Drive, a fast-paced thriller set in the world of high-tech espionage, which recently made the shortlist for the Crime Writers of Canada's Arthur Ellis Award for best first novel.
The workshop costs $65, and the presentation costs $10 for AGN members and $12 for non-members. Both events take place at the Victoria Hall (55 King St. W., Cobourg).
The AGN has two locations. The Cobourg location (55 King St. W.) is open from 10 a.m. to 4 p.m. Wednesday to Friday and 12 p.m. to 4 p.m. on Saturday and Sunday. The Port Hope location (8 Queen St.) is open 11 a.m. to 5 p.m. Wednesday to Saturday and 1 to 4 p.m. on Sunday. For more information, visit www.artgalleryofnorthumberland.com.
---
Exhibits by Brad Copping, Patrick Moore, and Wayne Eardley at The Art Gallery of Peterborough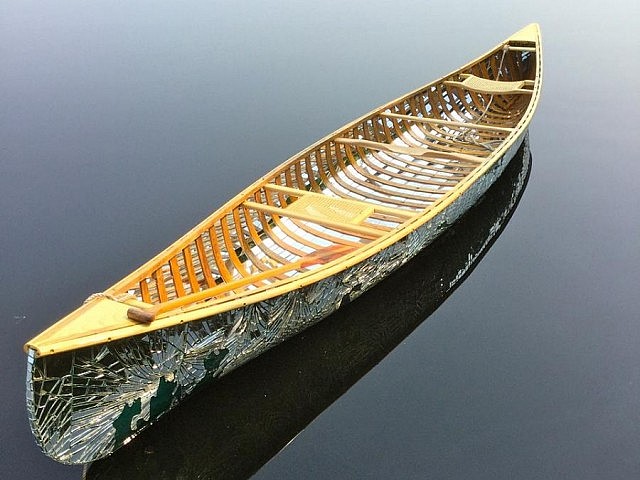 The Art Gallery of Peterborough's summer exhibitions offer three distinct shows exploring the interconnections of water, land, and industry; elements that greatly shape our sense of place in the Kawarthas.
In the main gallery, a series of sculptures by Apsley glass artist Brad Copping take the familiar icon that is the canoe to stunning heights of artistry in "Setting afloat on a river in spate".
On the ramp, Patrick Moore's "song of the cataract" incorporates dried plants and organic material into a majestic 67-foot long site-specific painting.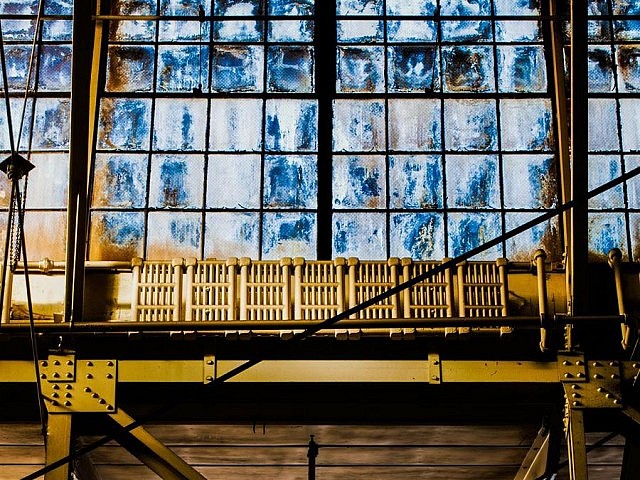 Rising above it all are the photographs of Wayne Eardley's "Caribou II", the second part in his series documenting General Electric's Peterborough site.
Opening events for the trio of exhibits will be held at 2 p.m. on Saturday, June 4th.
On Saturday, June 18th at 2 p.m., curator Fynn Leitch will host an artist's talk and Q&A with Wayne Eardley on the subject of his General Electric photographs.
The Art Gallery of Peterborough offers free admission, barrier-free access and a Gallery Shop at 250 Crescent Street in downtown Peterborough. Parking is available in the Del Crary lot. For more information, call 705-743-9179 or visit agp.on.ca.
---
Dylan Miner exhibit and curatorial talk at Artspace in Peterborough
Artspace is showing Dylan Miner's "Waawaashkeshiwi-Wiiyaas" until the end of June.
In 1906, Miner's gichi-aanikoobijigan (grandfather's grandfather) was arrested for poaching waawaashkeshiwi-wiiyaas (deer meat/venison) in Ontario's Georgian Bay territory. Miner learned of this story when he uncovered records in the Journals of the Legislative Assembly of the Province of Ontario several years. Subsequently, Miner had a conversation with his grandfather's cousin who remembered stories of the arrest. In "Waawaashkeshiwi-Wiiyaas", Miner reclaims this story along with his gichi-aanikoobijigan's right to subsistence hunting.
Artspace will also host a curatorial talk about the exhibit on Thursday, June 2nd, from 7 to 8 p.m.
Artspace is located at 378 Aylmer Street in downtown Peterborough and offers barrier-free access (to all but Gallery 2, formerly known as the Mudroom) and free admission during regular open hours: Tuesday to Friday from noon to 6 p.m. and Saturday from noon to 4 p.m. Parking is available in the municipal lot on Hunter Street between Aylmer and George. For more information, call 705-748-3883 or visit artspace-arc.org.
---
Sarah Gibeault at Christensen Fine Art in Peterborough
Christensen Fine Art presents "Land Series" by Sarah Gibeault, an exhibition of the local artists' latest explorations in landscape imagery.
Gibeault uses a variety of media to create dreamlike but welcoming landscapes that draw in the audience.
Opening Friday, June 10th from 6 to 9 p.m., "Land Series" runs until Friday, July 8th.
Located at 432 George Street in downtown Peterborough, the gallery at Christensen Fine Art is open Monday to Friday from 10 a.m. to 5:30 p.m. and Saturdays from 10 a.m. to 4 p.m. Pay parking is available along George Street. For more information, visit www.christensenfineart.com.
---
Curated has moved to the Schandry Building in Peterborough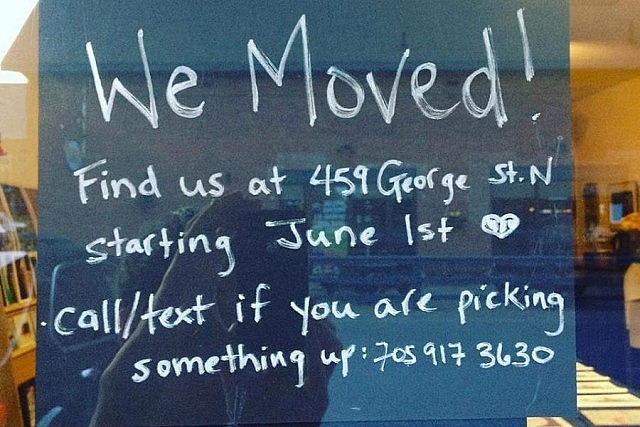 Curated has moved from Charlotte Mews to the Schandry Building (459 George St., Peterborough), where they are carrying on their art and antique appraisal business.
Curated is open Tuesdays from 10 a.m. to 4 p.m., and all other days by appointment only. For more information about their appraisal services, visit www.curated-peterborough.ca.
---
"Occultation" exhibit for one night only at Eddy Creak in Peterborough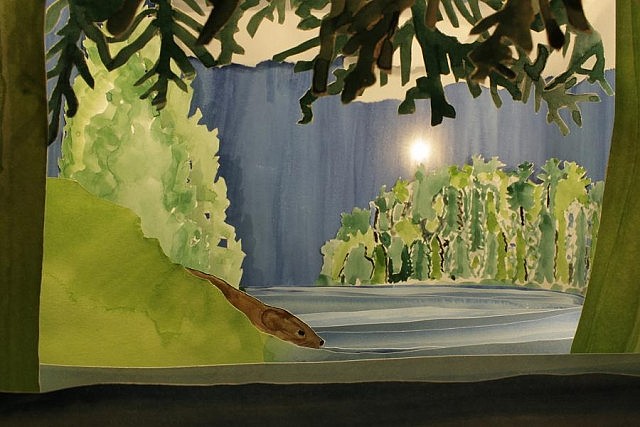 Eddy Creak is an occasional art gallery and musical venue, which this month will host a one-night-only exhibition, "Occultation", from 7 to 10 p.m. on Thursday, June 16th.
To visit "Peterborough's best natural history museum" and see the work of David Fry, D'Arcy Hutton, Tara Azzopardi, and Tom Doughty, head to 527 Parkhill Road West in Peterborough. Parking is limited, at Jackson Creek Park across the street.
---
Works by Katie Lyle and Hamilton and Verger's "Landscape as a memory" at Evans Contemporary in Peterborough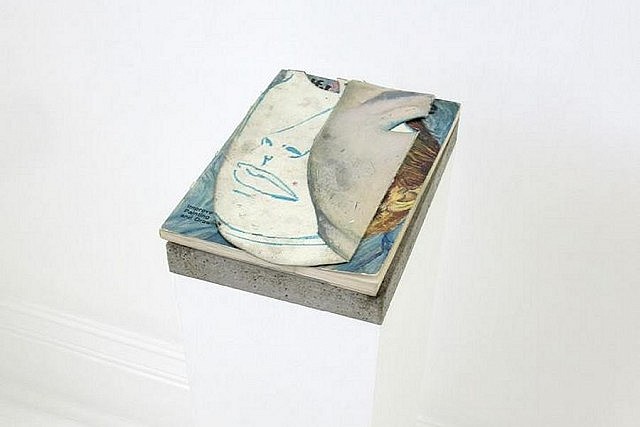 Evans Contemporary presents "The Layers" by Katie Lyle until Saturday, June 25th.
According to the artist's website, "through layering and repainting, the images reveal more than one narrative; the processes of applying and removing paint reveal the ambivalence often present in the desire to look and to be looked at. As a body of work, the fictional characters in these paintings — and the paintings themselves — hover between familiarity and fiction, caricature and likeness, emphasizing the conflation of these roles and the spaces in between."
On Friday, June 3rd from 6 to 8 p.m., the gallery will also host a living media artwork/event. "Landscape as a memory" is a collaborative audio-visual speculation created by sound designers Mark Hamilton and Verger. The curious can stop in and stay for as long or as little as they like. This is a free event.
Evans Contemporary is located on the 3rd floor at 129-1/2 Hunter Street West in Peterborough. Open to the public on Saturdays from noon to 6 p.m., viewings can also be made by appointment by contacting the gallery at evanscontemporary@gmail.com. Regrettably, this is not an accessible venue.
---
Holly Young and Rebecca Reynold at Gallery in the Attic in Peterborough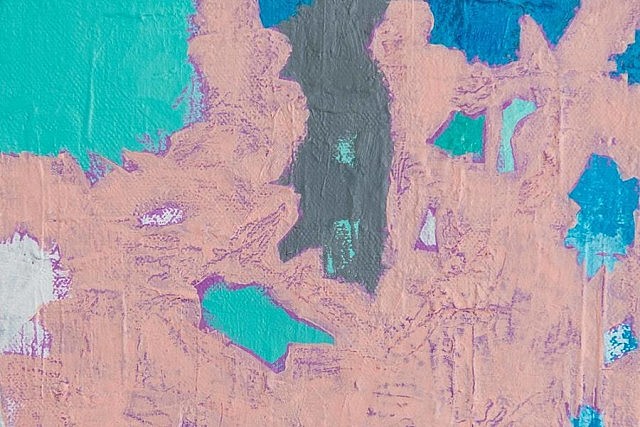 Gallery in the Attic will open two new exhibits at 7 p.m. on Saturday, June 4th: Holly Young's "Wonderland" and Rebecca Reynolds' "Chroma Ecstatic".
Young's work is often improvised, and inspired by colour, texture, and pattern. Reynolds' work is abstract expressionist, and her focus is on exploring form and colour.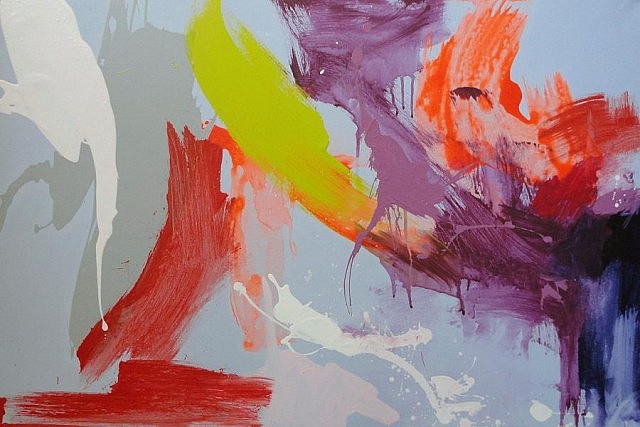 Gallery In The Attic and The Peterborough Darkroom Project offers free admission, and is located up two flights of stairs on the third floor at 140-1/2 Hunter St. W. in Peterborough. Parking is available on either Water or George Street. Open hours are Tuesday to Saturday from noon to 5 p.m. For more information, visit www.galleryintheattic.com. Note this is not an accessible venue.
---
100-mile art menu at Proximity Fine Art in Lakefield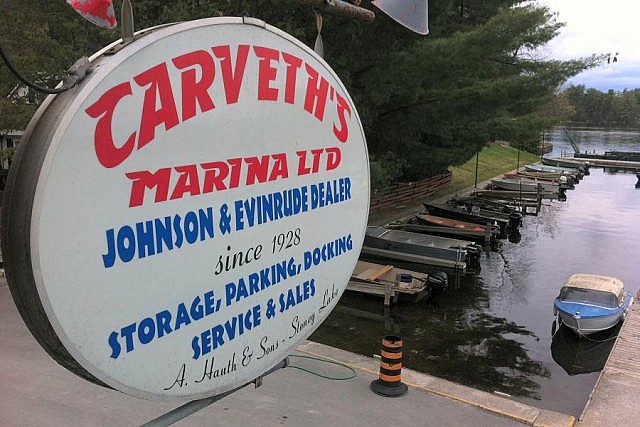 Proximity Fine Art, located on Stony Lake at Carveth's Marina, mounts a 100-mile art menu each summer featuring various media including paintings, stained glass, photography, mixed-media, glass sculptures, jewellery, prints, and pottery.
The artists showing this season are Thomas Aitken, Tanya Aitkenson, Peter Barron, Debra Bannister, Margaret Bentham, John Boorman, Pam Buckler, Peer Christensen, John Climenhage, Brad Copping, Mary Derrick, Judy Finch, Christy Haldane, Roz Hermant, David Hickey, Kate Hyde, Jennifer (Lucky) Jackson, Jenny kastner, Jeff Macklin (Jackson Creek Press), Lucy Manley, Lisa Martini-Dunk, Beth McCubbin, Sandy McFarlane, Rob Niezen, Paul Oldham, Rebecca Padgett, Rob Rachfalowski, Susan Rankin, Bill Reddick, Micky Renders, Anne Renouf, Peter Rotter, Annie Scherz (Studio Luma), Jacquelyn Sloane Siklos, Bronson Smith, Shannon Taylor, Wendy Trusler, Gillian Turnham, Michael Vahey, Victoria Wallace, and Gail West.
Proximity Fine Art is located upstairs at Carveth's Marina (426 Carveth's Marina Rd., Lakefield). It's open from noon to 5 p.m. from Thursday to Sunday or by appointment. For more information, contact Christy Haldane at 705-931-0855.
---
Pop Up Plein Air Show at Rails End Gallery and Arts Centre in Haliburton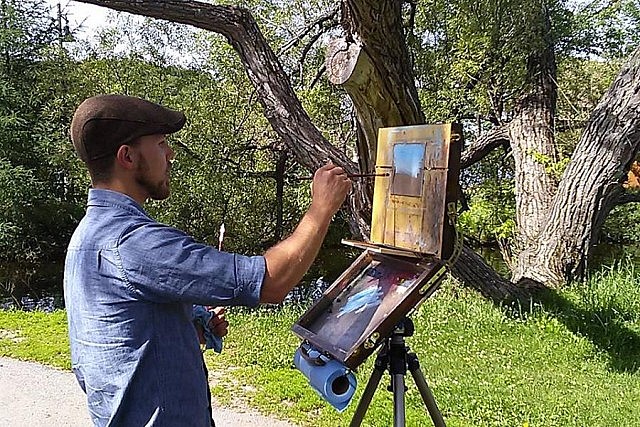 Rails End Gallery and Arts Centre in Haliburton celebrates the great outdoors with an open-call Pop Up Plein Air Show this June.
Until Sunday, June 19th, artists can submit works (9 by 12 inches or smaller) that were painted in the open air. They'll be exhibited until the end of June at the gallery located in the village's historic railway station.
No frames are needed, and all surfaces are allowed. Oil paintings can still be wet when submitted. There's a limit of two pieces per artist with an entry fee of $2 per painting (no entry fee for Rails End members).
During the summer, Rails End Gallery and Arts Centre (23 York St., Haliburton) is open from 10 a.m. to 7 p.m. on Tuesday, 10 a.m. to 6 p.m. from Wednesday to Saturday, and from noon to 4 p.m. on Sunday. For more information, visit www.railsendgallery.com.
All photos courtesy of galleries and/or artists, except where noted.