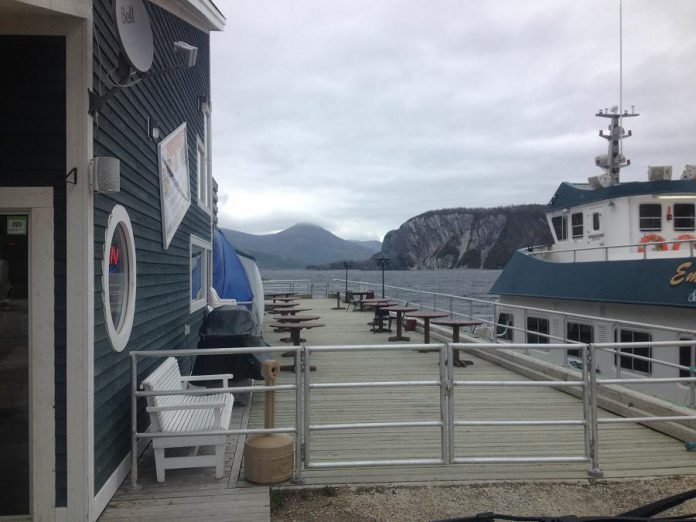 I am one half of Mayhemingways — a Peterborough-based fuzz-folk alt-country duo with elements of bluegrass, old-time, and Cajun music. Until late July, my bandmate Benj Rowland and I have embarked on a cross-Canada tour from Peterborough to St. John's to B.C.. My mission with this bi-weekly column is to give you a window of what it's like to tour our fair country, with stories and happenings from the road.
I am always looking for little connections to home as well, so you will see Peterborough show up in some unexpected places.
A journey of several thousand kilometers starts with one … chipmunk
Getting ready to leave for a big trip has a lot of steps to it. The last few hours are a bit of a sacred time. Having coffee with my lovely lady. Going over the countless lists I've made. Holding back tears and excitement.
I always get those first-day-of-school butterflies, but leaving this time had its own unique challenges.
My last 45 minutes of solitude, reflection, and preparations were derailed in an instant when my partner and I realized our cat had brought a chipmunk into the apartment.
Have you ever tried to capture a live chipmunk? It's far more difficult than you might think. It's the sort of thing that there should be a handbook for. Improvised blockades. Holding a broom and dustpan like goaltending equipment. Trying to gently scare them towards the exit to outside. Then the van pulled up and it was time to go. No confirmation that the chipmunk had made it out until two days later. Anyone know if this is sort of occurrence is a good omen?
A tour begins to feel real a few hours from home. We rolled in Montreal to play the first show.
It was our first time at Brasserie Beaubien and it felt a lot like home. Well, it felt a lot like The Pig's Ear [in Peterborough], which is a piece of home for us. Classic vibes. Marble floor. Friendly bartender. The venue had quarts of Labatt 50 (un grosse Cinquante).
We played with some old friends and met some new ones. Li'l Andy and his band play country music that's a little different, complete with psychedelic crescendos and really cool unconventional twists. As it turns out Li'l Andy is playing a solo show along with Saskatoon native Zachary Lucky at The Garnet on Friday, June 3rd at 10 p.m. Go check it out Peterborough.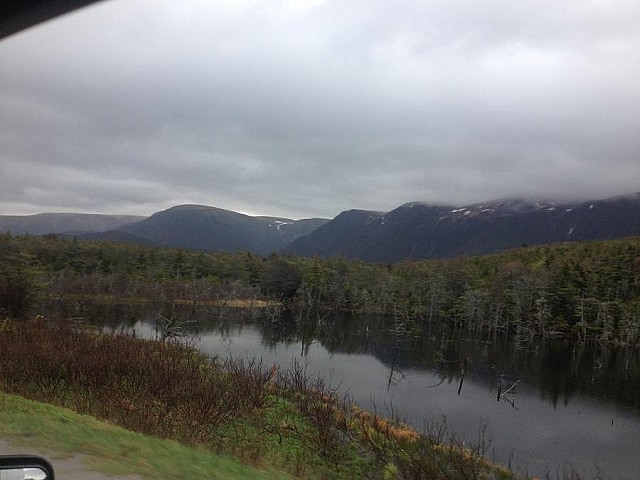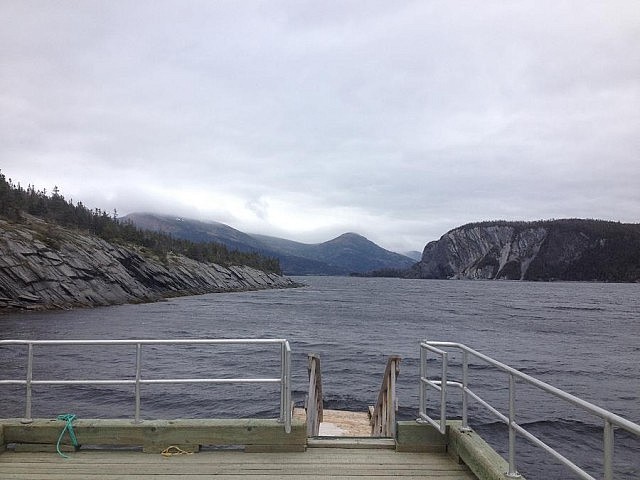 "On and on the endless white line goes"
Feats of driving abound when touring Canada.
We went from Montreal to Saint Andrews, New Brunswick in about 10 hours on the Trans Canada. This is a hefty drive at the best of times; yet on the other end was a gig, then a one-hour drive to Saint John, then another gig — in the same day.
Independent musicians have to do whatever it takes. Those days end up feeling like two or maybe three days packed into one. As the late great Willie P. sang, "On and on the endless white line goes."
We survived the drive and our gigs and headed to Moncton to a home away from home: Plan B Lounge. It's a rare spot with accommodations above the bar. We played an early show, and then friend and bar owner Tracy and I got drunk while watching the Raptors win on the big screen. You know it's a great live music bar when people exclaim "It's not a sports bar!"
In the morning, I headed to a diner called Jean's Restaurant in Moncton. Our picture used to be hung up on the wall — friends in town asked them to put it up, along with signed photos of Conway Twitty, Rita McNeil and obscure '70s country bands from all over. Someone decided the photos weren't important any more, I suppose.
Gord Downie and Gros Morne
We were flying on four wheels towards the Newfoundland ferry when I saw the awful news about Gord Downie's rare brain tumour.
The Tragically Hip's songs flooded into my memories. Such a formative band for a wide swath of Canadians. I wondered how many times Gord and the boys had driven on that same stretch of road. Between gigs in Moncton and Halifax or beyond.
After some more driving and an overnight ferry ride, we landed on the Rock. Rainy, cold, but still so charming somehow.
We headed to Norris Point in Gros Morne National Park for "Trails, Tales and Tunes", a 10-day festival full of great events, of which we played two shows.
Beautiful landscape all around us. Mountains with bits of snow still on some of the tops. We stayed in a former hospital that's been turned into community centre. It now features the town library, a radio station, a traveller's hostel, an art studio, and more.
It immediately made me think of The Mount [Community Centre in Peterborough]: reusing space to fill needs and community growth projects.
Even in a land so far away, you can find connections to home.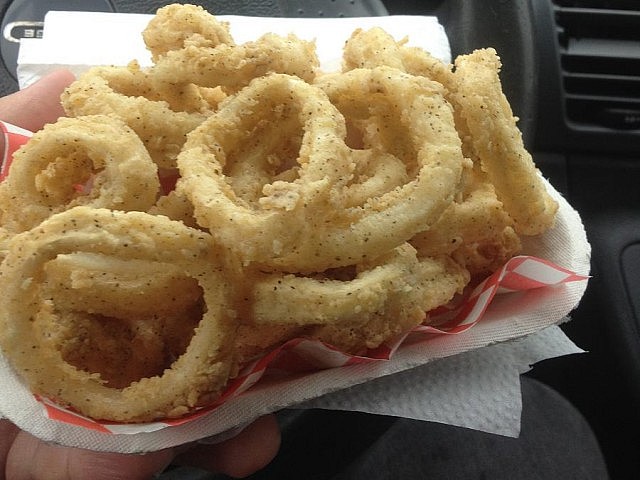 ---
Mayhemingways tour dates
| Date | Time | Venue | City | Province |
| --- | --- | --- | --- | --- |
| Fri, Jun 3 | 8pm | Grates Cove Studios | Grates Cove | NL |
| Sat, Jun 4 | 8pm | Two Whales Coffee Shop | Port Rexton | NL |
| Sun, Jun 5 | 7:30pm | Citadel House | Lewisporte | NL |
| Mon, Jun 6 | 8pm | Galliott Studios | Woody Point | NL |
| Tue, Jun 7 | 8pm | Swirsky's (w/ Emma Peckford) | Corner Brook | NL |
| Thu, Jun 9 | 9pm | The Carleton (w/ The Folk and Country Line) | Halifax | NS |
| Fri, Jun 10 | | Trailside Inn ( w/ The Loyal Thieves & Brielle Ansems) | Mount Stewart | PEI |
| Sat, Jun 11 | 8pm | Parkindale Hall | Parkindale | NB |
| Sun, Jun 12 | 3pm | House show | Shediac | NB |
| Tue, Jun 14 | 7:30pm | Elmhirst's Resort | Keene | ON |
| Sat, Jun 18 | 9pm | Capers | Belleville | ON |
| Sun, Jun 19 | 3pm | Father's Day Party at Muddy's Pit BBQ | Keene | ON |
| Wed, Jun 22 | 8pm | Gore St. Cafe | Sault Ste. Marie | ON |
| Thu, Jun 23 | 8pm | Finlandia Hall | Thunder Bay | ON |
| Fri, Jun 24 | | House Concert | Red Lake | ON |
| Sat, Jun 25 | 8pm | The Sunset Saloon (House show) | Winnipeg | MB |
| Sun, Jun 26 | 7pm | 'Why're We Here?' Fest | Palmer | SK |
| Tue, Jun 28 | 9pm | O'Hanlon's | Regina | SK |
| Thu, Jun 30 | 9pm | The Coulee Pub and Grill | Vulcan | AB |
| Fri, Jul 1 | 2pm | Private Party | Nanton | AB |
| Fri, Jul 1 | 9pm | Canada Day Party | Nanton | AB |
| Sat, Jul 2 | 3pm | Wild Oats and Notes Music Festival | Tofield | AB |
| Sun, Jul 3 | 8pm | Twin Butte General Store | Twin Butte | AB |
| Mon, Jul 4 | 9pm | The Owl | Lethbridge | AB |
| Thu, Jul 7 | 9pm | Oak Tree Tavern | Calgary | AB |
| Fri, Jul 8 | 8pm | 1906 Pub | High River | AB |
| Sat, Jul 9 | 11:30pm | Mikey's Juke Joint | Calgary | AB |
| Sun, Jul 10 | 4pm | Last Chance Saloon | Wayne | AB |
| Mon, Jul 11 | 11pm | Stampede Week Show at The Palomino | Calgary | AB |
| Tue, Jul 12 | 4pm | Stampede Week Show at The Palomino | Calgary | AB |
| Thu, Jul 14 | 4pm | Stampede Week Show at The Palomino | Calgary | AB |
| Fri, Jul 15 | 9pm | Rockwater Grill | Golden | BC |
| Sat, Jul 16 | 9pm | The Last Drop | Revelstoke | BC |
| Wed, Jul 20 | | The Aviary | Edmonton | AB |
| Thu, Jul 21 | 8pm | Dexter Hall | Turtle Lake | SK |
| Fri, Jul 22 | | The Capitol | Saskatoon | SK |
| Sat, Jul 23 | | House show | Swift Current | SK |
---
Mayhemingways perform "End Up This Way" from Hunter St. Blues live at Catalina's in Peterborough

All photos by Josh Fewings.