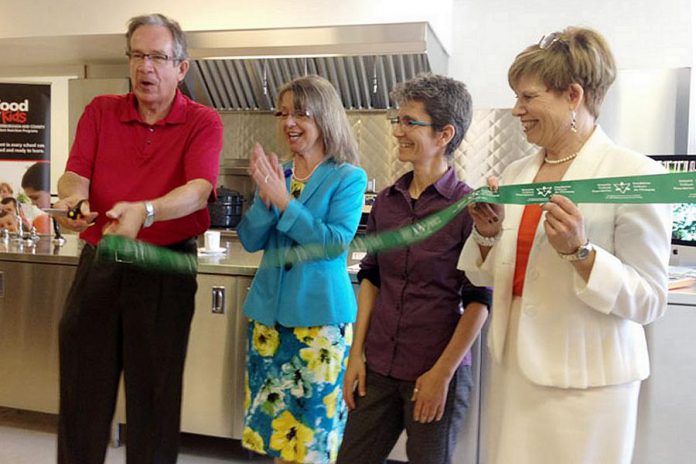 There is something to be said for the impact derived from putting all of one's eggs into one basket.
Such was the case Friday (June 10th) at Jackson Square on Peterborough as what was the Peterborough County-City Health Unit hosted not one but three major events: the official reveal of the public health agency's new name, the opening of Myrtle's Kitchen and, later in the day, the hosting of a community open house at its relatively new location.
The resulting buzz was almost deafening as staff, volunteers, stakeholders and invited guests flocked to the King Street West home of what is now known as Peterborough Public Health.
It was in that setting that Myrtle's Kitchen, the agency's community teaching kitchen, was officially opened. Named in honour of Myrtle Smith, the matriarch of AON's Smith family, the ribbon-cutting comes just months after a fundraising campaign saw $222,886 pour in for the project — well exceeding the $204,000 goal. That was augmented by a $61,100 capital grant from the Ontario Trillium Foundation.
"I am still awestruck that it took us longer to build Myrtle's kitchen than it did for the community to donate the money needed," enthused Dr. Rosana Salvaterra, Medical Officer of Health.
"Every day, more than 11.5 per cent of local residents experience food insecurity, which means they can't access the nutritious foods they need to meet the basic requirements of a healthy diet."
"Opening Myrtle's Kitchen is a major community achievement. It will reduce the negative health outcomes that people face because of food insecurity, by creating a warm and welcoming place where everyone can learn how to cook nutritious, affordable meals while building a closer sense of community in the process."
Terming the kitchen "a regional, shared meeting place," Dr. Salvaterra described the initiative as "the perfect way for the Smith family to honour their mother and grandmother, who loved to cook for her family and her community."
"I know this kitchen is going to be the heart of this building."
Also taking to the podium were: Peterborough MPP Jeff Leal, who praised the continued contributions of the Ontario Trillium Foundation; foundation representative Leslie Orpana, who provided insight into the foundation's reasoning for granting dollars to this particular project; and Carolyn Doris, a Peterborough Public Health nutritionist who provided an overview of how the kitchen will be used moving forward.
"We can't just talk about healthy eating," noted Carolyn. "We really need to show how easy it can be and support people where they're at."
"It's critical to model healthy eating through hands-on and interactive learning. We're looking forward to offering a range of programs including baby food making. We'll also be offering regular training opportunities for our Food For Kids student nutrition program volunteers and we'll be expanding food skills training for agencies that run cooking programs like You're The Chef."
Amenity-wise, Myrtle's kitchen is home to state-of-the-art appliances, as well as: glassware, dishes, and cutlery for up to 100 people; a centre island for both food preparation and plating; a moveable island with a demonstration mirror to help with teaching a large class; and various necessary storage components.
The Nourish Project, one of the initiative's partners, was also represented, with Jillian Bishop noting there are now 44 community gardens in Peterborough.
"There's a lot of food coming out of these gardens; we're really excited with the opportunity now to make that fresh food last the entire season. We're going to be hosting canning workshops here and preserving. This is a long time coming and we're very excited."
Another benefit of Myrtle's Kitchen was noted by public health inspector Matt Faris who, up to this point, has taught safe handling techniques to thousands without the benefit of a kitchen setting for hands-on work.
"It won't just be talking about food safety all day; we'll get to do a whole bunch of food safety demonstrations, which is an element that has really been needed," noted Mat.


Just an hour earlier, in the main floor lobby of Jackson Square, the agency's new name and corresponding logo were officially unveiled before agency staff.
"There's lots of work involved in changing one's name and it can raise a few eyebrows but re-inventing one's self can also be very energizing. It really forces us to clarify what's most important to us and to the people we serve," said Dr. Salvaterra, noting the rebranding process started last fall with the collection of input from staff.
"Your (staff) words really formed the language upon which the process was built. We heard things like 'empower', collaborating,' 'listening,' 'advocating,' 'knowledgeable' … these core concepts infused the work that laid ahead."
What followed was the receipt of survey responses from some 600 people, resulting in six new name choices: Shining Waters Public Health, Public Health Peterborough, Peterborough County-City Public Health, Greater Peterborough Public Health, Peterborough Health Unit and Peterborough Public Health. Those choices went to the board of health, which decided upon Peterborough Public Health.
With the new name comes a new logo and that too was unveiled. Its focal point are two silhouetted figures in a multi-coloured circle, the silhouette effect intentional to leave open to interpretation who the figures represent: two adults, an adult and a child, individuals of any gender, community partners and so on.
Later, Dr. Salvaterra said the name change wasn't as necessary as it was an opportunity that presented itself in conjunction with last November's move to Jackson Square from its former location near PRHC.
"Our old name was very long, people kept tripping over it," she said. "People often got us confused with the hospital because 'public health' wasn't in our name."
"Now 'public health' is firmly embedded in our name and it should be obvious what piece of the health care system we represent and the kind of work we do."
"It's been a very centering process; it's been a very inspirational process, and very energizing at the same time."
For more information on Peterborough Public Health's programs, clinics and classes, visit www.peterboroughpublichealth.ca or phone 705-743-1000.