This week, director Sarah McNeilly brings One in a Million by Ronald MacKay to life on the stage at The Theatre on King (TTOK) in downtown Peterborough.
A brand new production featuring the talents of Wyatt Lamoureux, Di Latchford and Lindsay Unterlander, One in a Million was selected from TTOK's 3rd Annual Playwright Festival. Although Ronald MacKay has written plays in the past, One in a Million is the first time one of his shows has received the full stage treatment.
Lindsay Unterlander takes centre stage as Chris Cameron, a young scientist on the eve of defending her doctorate thesis. Returning home to the farm where she grew up, she attempts to explain to her parents Mae and Jim (Di Latchford and Wyatt Lamoureux) her study about the effects of a certain pesticide on human health.
Looking at her study through scientific means, her dissertation cuts too close to home and opens up secrets of the present and the past. This forces her to question not only her eight years of study, but to look at her idealistic family under new fresh eyes — and to realize that her life will no longer be the same.
One in a Million is a well-written and well-produced show where all the elements come together to create a nice little package. It's a melodrama that creates a warm and comforting family dynamic between the three performers, but is filled with pathos and tragedy once truths begin to be revealed.
Lindsay continuously breaks the fourth wall to share her inner thoughts with the audience, which move from love to excitement to confusion and despair. MacKay revealed to me that this was not the way that he first wrote the play, but was a structural device director Sarah MacNeilly created to break up monologues and interlace them into key moments of the show.
In the end, it's a brilliant move that allows the audience to be drawn deeper into the drama and make an emotional connection with the characters.
Di Latchford and Wyatt Lamoureux take on the roles of Mae and Jim Cameron with a tenderness that draws the audience into their home and the seemingly perfect world they've built for their daughter. Although their lives haven't always been easy, they have lived it with dignity and perseverance, so that Chris could have a happy, albeit it somewhat sheltered, life. Although perhaps they haven't always done everything perfectly, Di and Wyatt play parents filled with love and support.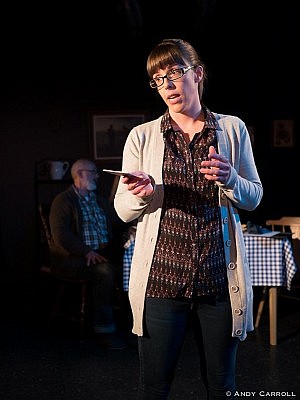 However, One in a Million belongs to Lindsay in her role as Chris. I've seen Lindsay, a mainstay in Peterborough's theatre community, in dozens of productions before, but this is the first time I've seen her take the spotlight in a lead role.
A charismatic performer, Lindsay makes an instant connection with the audience and is able to bring them through her entire range of emotions. It's a joy to watch Lindsay in this show, and I can only hope that this is the beginning of Lindsay stepping out from the background and into leading roles more often. I really want to see much more of Lindsay in the future.
A shout out also goes to the creative lighting by Ryan Kerr. From creating a freeze-frame effect when Lindsay breaks the fourth wall, to simulating the beauty of a sunset coming through the kitchen window as Jim Cameron looks over his fields, Ryan's lighting plays its own unique part in the narration of the production. Whether it's showing the warmth of a country kitchen or the bleak loneliness of night, the lighting design is a character all on its own.
At 40 minutes in length, One in a Million is a tight and compact show, but is still filled with an onslaught of human emotions by a fantastic cast of characters. What should be the most exciting period of a young woman's life becomes filled with questions and tragedy.
It's a testament to the bleak reality of how good people on the top of the world can suddenly be kneecapped by life, while taking a look at the impact of pesticides on our environment.
One in a Million runs from Thursday, June 16th to Saturday, June 18th at TTOK. Shows start at 8 p.m. and tickets are $10 at the door (or pay what you can).