The further removed we are from the way things were, the more we long for the original.
So it is for fans of Canadian alternative rock band I Mother Earth, as it takes to the road for a series of 2016 concert dates featuring original lead singer Edwin. That includes a much-anticipated appearance at Peterborough Musicfest on Del Crary Park's Fred Anderson Stage on Saturday, July 2nd. It marks the band's first time headlining the free summer concert series.
Back in March, the band announced it was reuniting with Edwin back in the fold, joining brothers Jagori Tanna (guitar) and Christian Tanna (drums). The pair founded the band in 1990, hooking up with Edwin at their rehearsal space and, the following year, adding original bassist Franz Massini to the equation to form I Mother Earth.
This reunion tour, which sees the band performing its 1996 critically acclaimed triple platinum album Scenery And Fish in its entirety, began in early June with two sold-out performances at Toronto's Phoenix Theatre.
"I initially reached out to Edwin just to see if he had any interest in being involved in a 'Making of…' documentary. The concept grew and here we are," noted Jagori in an March interview with exclaim.ca.
"This is really special for us. We haven't performed together in 18 years, so this will be fun for the fans that have supported us since the beginning."
In choosing to pay homage to Scenery And Fish, I Mother Earth has gone with a proven winner. The album, which sold 320,000-plus units in Canada, spawned four Top 10 singles: "One More Astronaut", "Another Sunday", "Used To Be Alright" and "Raspberry". Recorded in Quebec at Le Studio and co-produced by Paul Northfield of Rush fame, the album also cracked the Billboard's Top 20 listing, providing the springboard for a tour of North America and Europe.
Scenery And Fish was the follow-up to a pretty hard act to follow in the form of the band's 1993 debut album Dig. That recording garnered platinum status on the strength of radio-charting singles "Rain Will Fall", "Levitate" and "So Gently We Go".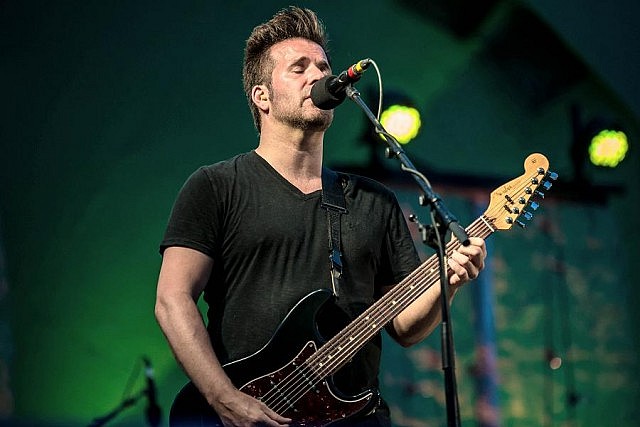 At the end of the Scenery And Fish tour in 1997, Edwin announced he was parting ways with I Mother Earth, with it being widely reported that he was unhappy with having little control over band matters. Musical differences were also cited.
That opened the door for new lead singer Brian Byrne and the recording and release of subsequent albums Blue Green Orange (1998) and The Quicksilver Meat Dream (2003), after which Byrne left the band to pursue other projects.
Byrne returned to I Mother Earth nine years later, enabling Jagori and Christian (now living in Peterborough) to end a lengthy I Mother Earth hiatus.
At present, Byrne is pursuing other projects once again, including taking a shot at being the new lead singer for Stone Temple Pilots. His exit open opened the door for Edwin to come on board for the reunion tour.
The Musicfest concert is a rare opportunity for fans of I Mother Earth to catch the original trio together again. According to the band's website at www.imotherearth.ca, just three summer shows are scheduled at this point: July 14th in Windsor, and August 13th and 27th in Sarnia and Port Dalhousie respectively.
The band, however, will go at it hard in October with 15 concert dates, including October 24th and 25th at Toronto's historic Massey Hall.
---
"One More Astronaut" – I Mother Earth
"Raspberry" – I Mother Earth
---
The July 2nd concert is sponsored by The Wolf 101.5 FM, State Farm Insurance, The Liftlock Group, GM Financial, Dieter and Darcy's No Frills and Ken's No Frills, and Harvey's.
Peterborough Musicfest is presenting 19 free-admission concerts during its milestone 30th anniversary season — each staged Wednesday and Saturday nights.
Overseen by general manager Tracey Randall and staff, a board of directors, and numerous volunteers, Peterborough Musicfest's stated mission is to "provide diverse, affordable live music to enrich cultural and economic prosperity in our community."
For more information on this concert and/or the 2016 season, visit www.ptbomusicfest.ca or phone the Peterborough Musicfest office at 705-755-1111.