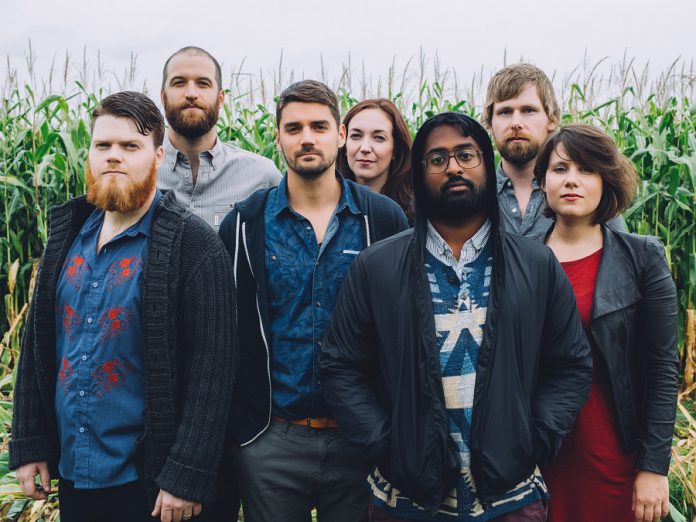 When it comes to debuting a new sound, one's band is typically formed well before new songs are written and composed. But sometimes circumstances dictate the opposite.
In 2005, Tim Baker returned home to St. John's, Newfoundland, his head brimming with new songs penned during a lengthy trek across North America. Written with the piano and acoustic guitar in mind, those songs, Baker realized, needed a fuller sound to really take flight. So it was that calls were made and a group of St. John's musicians came together as one.
More than 10 years later, Hey Rosetta! continues to enjoy heady success on the strength of four studio albums, numerous East Coast Music Award nods, a Juno Award nomination, and a dogged work ethic which sees it tour extensively. On Wednesday, July 13th, the seven-member indie rock band will make its inaugural Peterborough Musicfest appearance, taking to the Fred Anderson Stage at 8 p.m.
"It was just sort of this crazy project that I had and that I brought people into; in our spare time, we went at it," explained Baker of the band's formation in an October 2015 interview with www.berkeleybside.com.
"We arranged these songs that I had written for the strings and a sort of garage-y, early 2000s kind of acoustic rock band. When we first started, we really had no idea about production or capturing sounds or creating sound really. It was just about the songs and playing them as best we could, and our first couple records, I think, really reflect that. But innovation sort of became a focus for us."
With the 2006 release of debut album Plan Your Escape, Hey Rosetta! turned heads in its home province. Four honours came the band's way at the 2006 Music NL Awards, including Group of the Year.
---
"Kintsukuroi" – Hey Rosetta!
---
Just two years later, the band's follow-up record Into Your Lungs proved that the layered sound of Hey Rosetta! — courtesy of a traditional four-piece rock set-up combined with a string section — resonated with the masses. The band toured worldwide and claimed a Polaris Prize nomination in the process.
But it was 2011's Seeds that really provided the springboard for more good things to come. It attained #1 album status on iTunes and led to a 2012 Juno Award nomination in the New Group of the Year category — ironically some seven years after Hey Rosetta! actually was a new group.
"It was about metaphorically starting over," noted Baker about Seeds.
"It was about the songs as seeds themselves; these little things that hopefully could germinate and become something bigger for you as you live with them."
"For the first thousand CDs, we put actual seeds in the package so people could take the record and, as they listen to it, could plant real seeds and see them grow in real life and sort of experience that hopeful kind of metaphor in real time."
Buoyed by that success, Hey Rosetta! recorded and released Second Sight in 2014, spawning the singles "Kintsukoroi" and "Soft Offering (For The Oft Suffering)".
"We didn't have a single, which seems a perennial problem for us. We've never really had a single but boy, do people want one," notes Baker at www.heyrosetta.com.
"At first we kicked against it but then eventually saw it as a challenge."
Hey Rosetta! comes to Peterborough with Baker right where he has been since day one all those years ago — on lead vocals with his acoustic guitar or at the piano keyboard. Joining him will be original members Adam Hogan (electric guitar) and Josh Ward (bass) with Phil Moloney (drums), Kinley Dowling (violin), Romesh Thavanathan (cello) and Mara Pellerin (horns/keyboards).
---
"Soft Offering (For The Oft Suffering)" – Hey Rosetta!
---
Peterborough Musicfest is presenting 19 free-admission concerts during its milestone 30th anniversary season, each staged Wednesday and Saturday nights.
Overseen by general manager Tracey Randall and staff, a board of directors, and numerous volunteers, Peterborough Musicfest's stated mission is to "provide diverse, affordable live music to enrich cultural and economic prosperity in our community."
For more information on this concert and/or the 2016 season, visit www.ptbomusicfest.ca or phone the Peterborough Musicfest office at 705-755-1111.
---