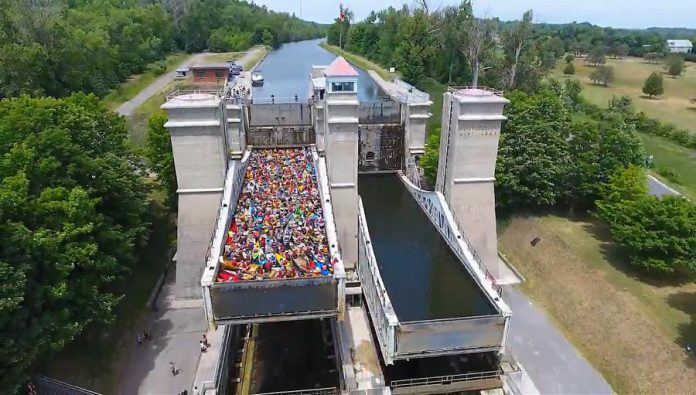 Here's a birds-eye view of the Lock 'n Paddle event on National Canoe Day (Sunday, June 26, 2016) at the Peterborough Lift Lock, where 138 canoeist and kayakers broke the world record for the number of canoes and kayaks in a single lift lock.
Ever wondered what 138 paddlers look like from above? Check it out: @TrentSevernNHS #LockNPaddle #BirdsEyeView pic.twitter.com/oCydA8M2SM

— Minister C. McKenna (@ec_minister) July 7, 2016
The video, tweeted by Minister of Environment and Climate Change Catherine McKenna, shows the 138 canoes and kayaks paddling down the Trent Canal, entering the Lift Lock, and then being lifted 65 feet into the air to continue their journey along the Trent Severn Waterway.
The previous record for the most kayaks and canoes in a single lift lock was 101, set back in 2003.
The Lock 'n Paddle event was organized by Parks Canada, The Canadian Canoe Museum, and the Land Canadian Adventures to raise awareness of National Canoe Day.