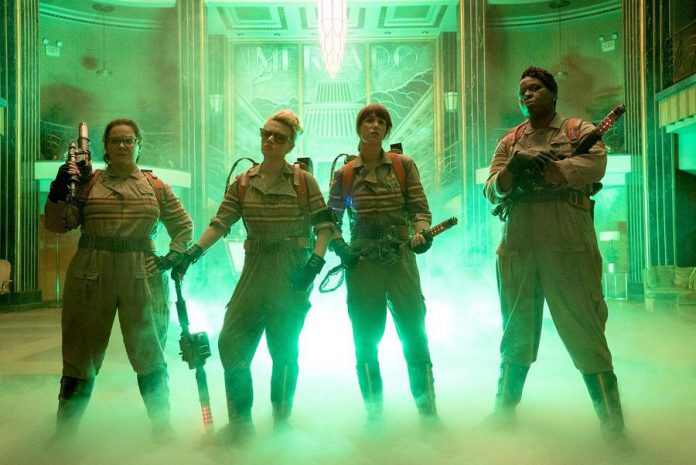 I'm not sure what's more perplexing: getting angry about a remake of a movie about hunting ghosts, or trying to gender-politicize a movie about hunting ghosts.
Obviously both angles are pertinent, as the mere trailer for Paul Feig's all-female reimagining of beloved '80s franchise Ghostbusters quickly became the most disliked movie trailer in YouTube's young history.
Since its announcement in 2014, the endeavour has proved to be an all-around cultural lightning rod for seemingly everyone to project their opinions on what is wrong with western pop media. The concept of the Ghostbusters team consisting of entirely women had the fanboys clutching their Wal-Mart fedoras in shock over what was surely a feminist conspiracy.

Why make them all women? So that we could have a brand new Sisterhood of the Travelling Coveralls, or a supernatural girl power take on the somehow-still-prominent trope of four single women living in New York? The bells of misogyny were rung loud and shrill at the smear campaign to plummet the trailer's stock.
It is difficult to argue that the low rating was partially the responsibility of basement dwellers smashing the dislike button as if it was some sort of political act, but in honesty the trailer was terrible. And sometimes people just don't like things because they aren't worth liking. Any trailer is rarely a accurate harbinger for the feature it heralds. Though, for most comedies, one simply has to watch the two-and-a-half-minute clip to get the best jokes.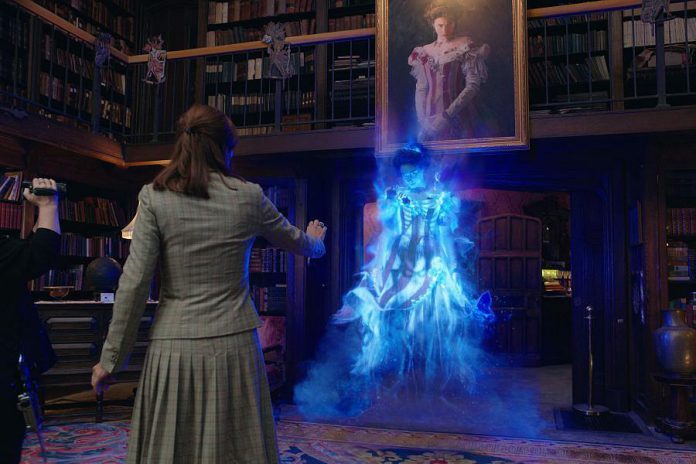 The Ghostbusters team seemed to take the opposite approach and fill their promotional piece with dud one-liners and half-finished special effects. It made me nervous. The film the internet wanted to fail looked like it had booked a first-class ticket to a truck stop bargain bin.
Incidentally, that trailer will always hold a special place in hell for me, as I was forced to watch the first third of it projected upside down, at half-speed, and on-loop for nearly 45 minutes while the projectionists desperately scrambled to right the technical wrongs of my AVX screening of the already impressively bad Batman v Superman.
But is the film itself any good?
Yes.
Crucially striking the intricate balance between silly and scary, the Bridesmaids team's magic works once again. Katie Dippold and Paul Feig's clever, effervescent screenplay is vividly brought to life by a shrewdly chosen cast of comics who are all more than game.
Kristen Wiig and Melissa McCarthy capably do their thing that we're all so familiar with by now, but their schticks are given some new life by being able to bounce off of each other's nervous energy — and McCarthy is always a generous costar. Saturday Night Live standouts Leslie Jones and Kate McKinnon round out the cast and imbue it with their larger-than-life presences. Though many have criticized the dynamics of the team as being racist: three educated white women and one sassy black subway worker.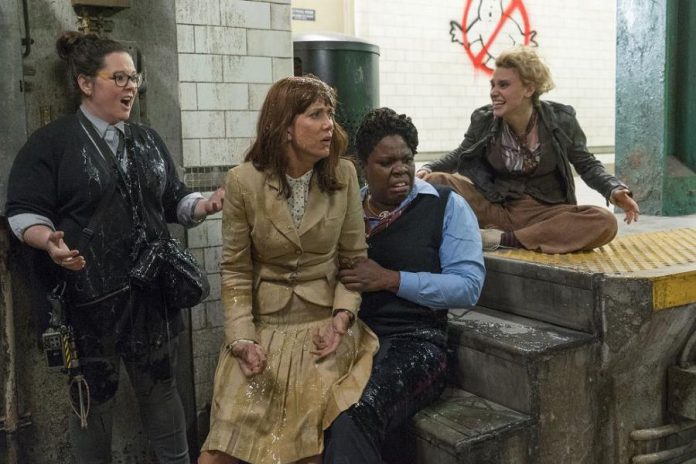 In actuality, this decision has the opposite effect as Jones' character has many of the best lines, is by far the most sensible, and generally becomes the cipher through whom the audience experiences most of the frenetic action. At one point, after a failed attempt to crowd-surf at a metal show, Jones looks up from the floor and — reading all of our minds — spits out "I don't know if that was a race thing or a lady thing, but I'm mad as hell."
It's a great moment. Funny, well-delivered, acknowledges the anticipatory hate thrown at the film, and moves on.
That is one of the film's key strengths: it is just the right amount of self aware. It does not pander to the past in a navel-gazing attempt at nostalgia (the cameos from the original cast are welcome and un-intrusive). Nor does it invert itself in post-modern irony. It is comfortably in the middle with a refreshing lack of sentimentality.
As for the plot, ghostly things are a-happening around New York and former spectre author Erin Gilbert (Wiig) is sought out for her expertise despite her attempts at now pursuing a serious academic career. She is begrudgingly reunited with her former colleague Abby Yates (McCarthy). Yates brings along her protege inventor Jillian Holtzmann (McKinnon) and while they're investigating a haunted historical site, they finally encounter an actual ghost.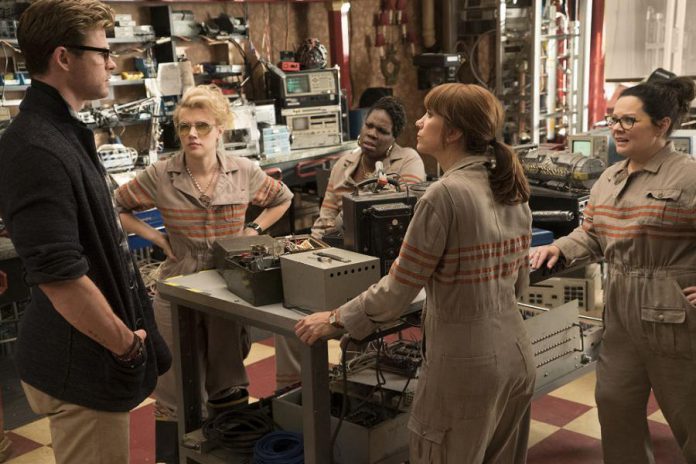 The apparition initially appears as elegant and wispy before covering Wiig in ectoplasm (the slime-like manifestation of tortured souls) which becomes a surprisingly effective recurring joke. Soaked and ecstatic that she's had a real encounter, Wiig returns to the life of the paranormal.
The fledgling team hires a deliriously stupid himbo secretary (Chris Hemsworth displaying previously unknown comedic chops) and takes on fourth member Patty Tolan (Jones) after a ghoulish encounter with a dead inmate in the subway. The ghosts' presences are being magnified by mysterious devices left along ley lines pointing towards a dreaded impending vortex at the city's core. The Ghostbusters must figure out who is behind it and prevent the apocalypse.
A $150 million dollar budget is extremely high for a comedy, but it is clear that all of the effects are state of the art. From the ghosts themselves to the arsenal of imaginative weapons the team wields, the textured visuals are totally engrossing and often break the fourth wall drawing you further into the film's neon clutches.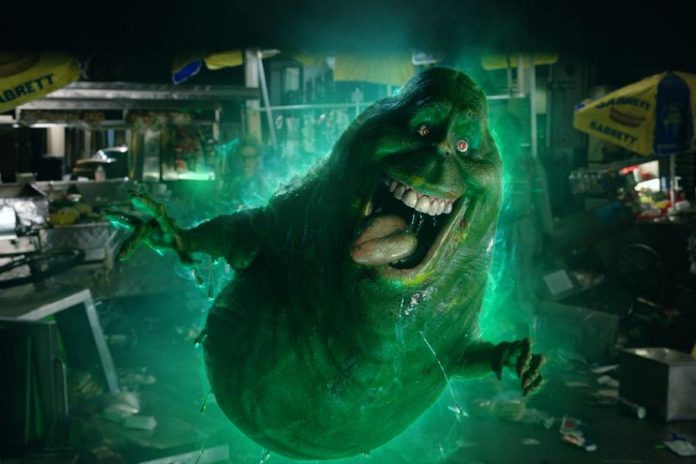 The occasional duff line sticks out brutally ("You shoot like girls!) but overall Ghostbusters is great engaging fun that is much better than it ever had any business of being. After the day is inevitably saved, the Ghostbusters look out over the familiar skyline to see "I ❤️‍ GB" spelled out across a cluster of skyscrapers. Indeed.
It is important to remember that the original still exists and, like most '80s films, it isn't as good as you think it is. And no, this movie will not ruin your childhood (if it does, then your childhood probably sucked to begin with).
Like anything in life, whether you're for it or against it, you should probably experience it before you give your opinion on it.
---
Ghostbusters: the official trailer the internet hated
All photos courtesy of Columbia Pictures.