At the Globus Theatre stage at Lakeview Arts Barn in Bobcaygeon, performer Leisa Way and the Wayward Wind Band are bringing to life and music of legendary country music singer Patsy Cline in Sweet Dreams: A Tribute to Patsy Cline.
Part performance and part concert, Sweet Dreams recreates the experience of an old-time country music show, when country music was still all about being country. Filled with stories, music, and tons of class, Leisa and the Wayward Wind Band create a very different type of tribute show that will connect with fans of classic country music and make fans out of those who may not realize they have a little bit of honky tonk in their hearts.
Sweet Dreams: A Tribute to Patsy Cline is one of seven musical tribute shows that Leisa has developed alongside the Wayward Wind Band. Starting her career as a teenager playing Anne Shirley in the Charlottetown Festival production of Anne of Green Gables, Leisa has performed for audiences all across Canada as well as 50 countries worldwide, and has entertained an eclectic cross section of notable people including Terry Fox, Wayne Gretzky, Ted Kennedy, and Queen Elizabeth.

A gifted performer, Leisa has a magnetic stage presence that's both likeable and high energy. Sweet Dreams is the third time that Leisa has brought legendary musicians to life on the Globus Theatre stage. Local audiences may remember her in her Dolly Parton show in 2014, and playing Judy Garland in last year's production of End of the Rainbow. It's always a joy when Leisa, a wonderful performer full of zeal and spunk, returns to the Kawarthas.
While Sweet Dreams is indeed a tribute to Patsy Cline, Leisa is not a Patsy Cline impersonator and the show is not a dramatic presentation of Patsy Cline's life. Instead of recreating Patsy Cline, Leisa recreates a moment in musical history and the idea of Patsy Cline. While she adopts the look and the sound of the legendary performer, she never fully adopts the character and instead maintains her own identity as Leisa Way. She performs the show as her own version of the queen of honky tonk.
Between songs, Leisa entertains the audience with stories and trivia about Patsy's life. The stories are quick and entertaining, and the audience never gets bogged down in dates or information. While I knew the songs of Patsy Cline going into the show, I left knowing more about her life then I had before — but without feeling like I had been sitting in a history lecture. Leisa brings a sense of fun into each story that keeps them entertaining, then quickly segues into another song before the audience loses interest.
---
"Crazy" (Willie Nelson) performed by Leisa Way as Patsy Cline
---
But the audience is really coming to listen to the music and Leisa and her band puts on a great concert. Performing nearly two dozen Patsy Cline classics, as well as a few other songs of the era, Leisa takes the audience through Patsy's early childhood as a young girl singing in Virginian bar rooms, to the stages of the Grand Old Opry, Carnegie Hall, and Las Vegas.
Although she's isn't doing an impersonation, Leisa's performances of Patsy's classics are flawless, and she hits each and every note and emotion in songs such as "Tennessee Waltz", "Crazy", "Walkin' After Midnight", and "Sweet Dreams". Leisa beautifully recaptures the Patsy Cline magic that music lovers have adored for over 60 years.
The show couldn't be possible without the talents of The Wayward Wind Band and this group is tight. Featuring musical director Bruce Ley on piano, Bobby Prochaska on bass, Sam Cino on drums, Fred Smith on lead guitar, and Nathan Smith on fiddle, The Wayward Wind Band are a first-rate group. Decked out in traditional western shirts, they help Leisa create that classic country experience and are far more than just a backup band. Each member of the group brings his own personality and expertise to the performances.
A special shout out goes to Nathan Smith who takes centre stage in the first and second half, entertaining the audience with his fiddle playing while Leisa does some quick costume changes. While watching Nathan play, I finally realized why country fiddling has become an entire subgenre of music all its own.
Nathan makes fiddling an art form, and the next day I found myself on YouTube watching hours of country fiddlers and immersing myself in a musical culture I was never exposed to before. If you haven't experienced country fiddling before, Nathan's performance of "Orange Blossom Special" is going to open your eyes and ears and turn you on to something completely new.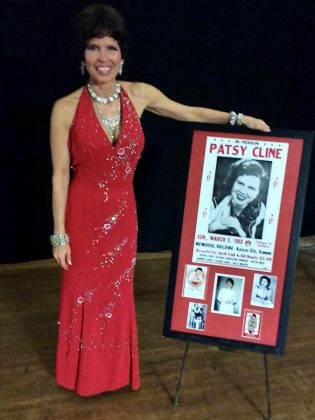 Sweet Dreams: A Tribute to Patsy Cline is a full concert experience that brings you back to that simpler time in country when the men were gentlemen and the women were ladies. When the songs were about hard living and harder heartbreaks and not about beer, pickup trucks, and freedom. A time when country music was still country.
It's a love for the moment and the genre as much as it is for Patsy Cline. It's a combination of music and storytelling by a superb band and a charismatic front woman. This show is infectious, and it'll have you singing the songs of Patsy Cline in your heart long after you leave the theatre.
Sweet Dreams: A Tribute to Patsy Cline runs until July 23rd at Globus Theatre at the Lakefield Arts Barn, with dinner available before evening performances. For more information and tickets, call the Globus box office at 705-738-2037 or visit www.lakeviewartsbarn.com.
For more information about Leisa Way and her shows, visit www.waytogoproductions.ca. Leisa Way and the Wayward Wind Band CDs are also available for sale at the bar during the nights of the performances.