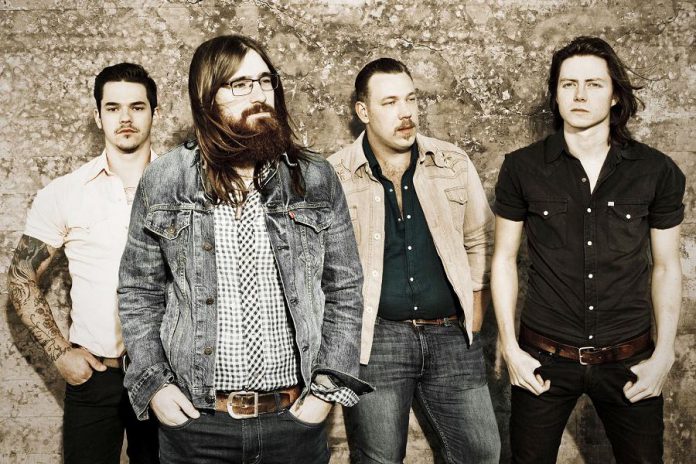 Since time immortal, high school bands have numbered a dime a dozen, delivering their raw sound to the masses in return for fleeting adolescent fame.
Rarer is a group of high school pals who stick it out, taking things to the next level well after receiving their diplomas.
Cobourg's Ryan Hutcheson, Jed Atkinson, and Dan Farrell did the high school band thing. Working independently on lyrics set to music, Derrick Ballard was in the wings, eventually hooking up with the trio to form Gentlemen Husbands. That has since proven to be a most fortuitous union for the indie rock quartet, which headlines Peterborough Musicfest in Del Crary Park on Wednesday, July 20 at 8 p.m..
With Peterborough's own Union City opening, the show marks the second consecutive double bill served up by the free summer concert series.
It was in 2008 that Gentlemen Husbands released its debut EP Something Along The Lines Of …, receiving rave reviews from music industry insiders in the process. Mixed and master in Los Angeles, the four-song EP brought club date invitations by the guitar case-full and more than validated the coming together which preceded it.
"We all listen to a ton of different music and aren't afraid of blending genres or experimenting with those influences," says Atkinson, the band's bassist.
"At the end of the day, were just trying to write songs we would want to hear. Our mentality is that the song is the nucleus for everything and the only thing that really matters, so our job is to not get in the way of the songs and let them be what they want to be."
That approach has clearly resulted in songs that others want to hear as well. Armed with close to 100 songs, Gentlemen Husbands hooked up with producer Gavin Brown, whose success with The Tragically Hip, Metric, and Billy Talent remains well documented. The result was the EP House of Cards, and the birth of signature tunes such as Wandering Eye and Do It In The Dark,
"I have a problem with the idea that a band can't be liked by too many people or that anybody isn't cool enough to listen them," notes Ballard, the band's lead vocalist.
Gentlemen Husbands has certainly practiced what Ballard preaches, having toured nationwide with Matthew Good as well as shared stages with the likes of The Tragically Hip, Ron Sexsmith, Arkells, and Matt Mays. The band is also remains a popular fixture on the festival circuit.
"You definitely haven't wasted your Friday night with them," raves Chart Attack out of Toronto. One can safely apply that assessment to a Wednesday night in The Patch.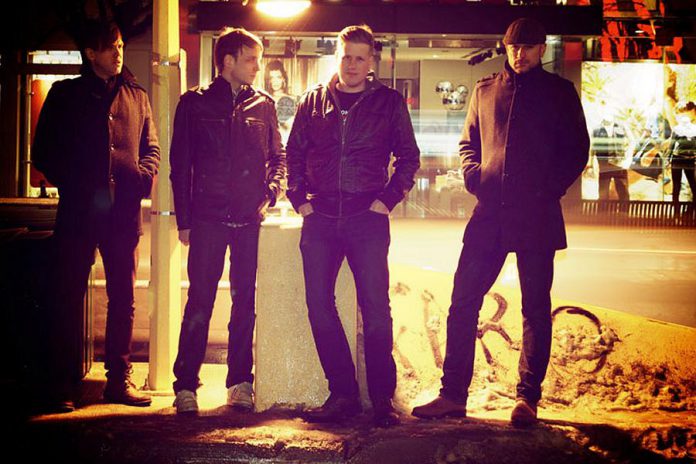 Meanwhile, in bringing Union City to the Fred Anderson Stage, Musicfest is continuing its effort to bring homegrown acts to the mix.
Buoyed by the success of 2010 single "These Days" — it cracked the Top 100 on the American college radio charts — Matt Crowley (guitar/vocals), J. Kent Randall (keyboards/vocals), Ben Anderson (bass),and Mark Chamberlain (drums) inked a licensing deal with a number of American television networks.
The deal resulted in their music providing the backdrop for programs such as Keeping Up With The Kardashians and The Bad Girls Club.
In 2013, the band released a full-length CD, A Drop In The Ocean, online at unioncity.bandcamp.com, and is currently writing more material for an upcoming release.
---
"Shelter Valley" – Gentlemen Husbands
"Wandering Eye" – Gentlemen Husbands
"Love Lies Down" – Union City
---
Peterborough Musicfest is presenting 19 free-admission concerts during its milestone 30th anniversary season, each staged Wednesday and Saturday nights.
Overseen by general manager Tracey Randall and staff, a board of directors, and numerous volunteers, Peterborough Musicfest's stated mission is to "provide diverse, affordable live music to enrich cultural and economic prosperity in our community."
For more information on this concert and/or the 2016 season, visit www.ptbomusicfest.ca or phone the Peterborough Musicfest office at 705-755-1111.
---