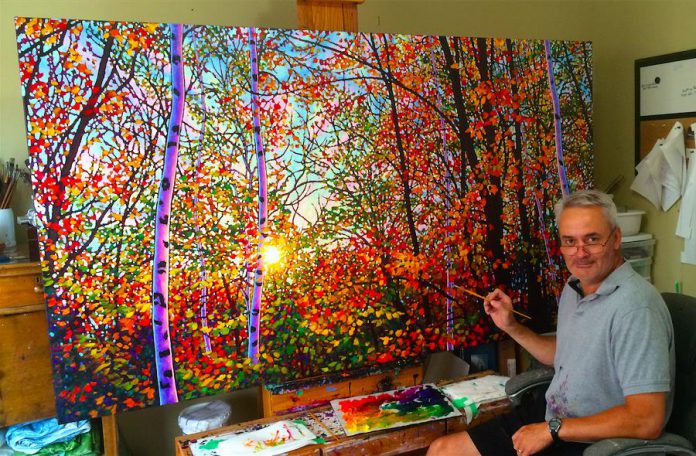 Canadian landscape artist Tim Packer used to be dismissive of social media, believing the only thing it was good for was cat videos and giggling babies — until a photo of his painting went viral.
And on LinkedIn, no less — a social network not usually associated with the term.
But that's what happened when, on July 19th — after encouragement from his son — the Toronto-based painter reluctantly posted a photo of himself with his 4′ by 7′ painting "Shall We Dance" on LinkedIn.
To Tim's surprise, the post became extremely popular. As of the date of this story, it has over 74,000 likes and over 6,700 comments on LinkedIn.
It became so popular in fact, that LinkedIn temporarily suspended Tim's account and has threatened to disable it.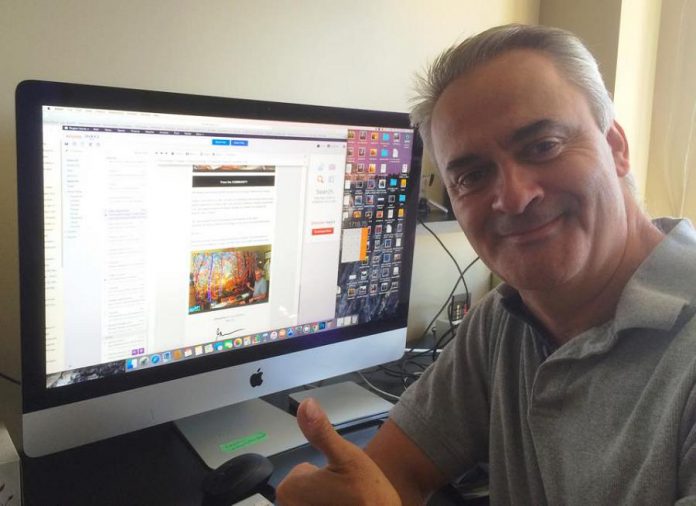 That's because, when the post went viral, Tim began to thank and respond to each comment from LinkedIn users. Because of the unusually high level of engagement, LinkedIn suspended Tim's account for an hour, suspecting him of using tactics to increase its popularity.
Despite several assurances from Tim that he's only responding to comments appearing on his post, LinkedIn has continued to threaten to permanently disable his account.
"I've been getting up at 4 a.m. every morning to spend four hours responding to comments before I work on my paintings," Tim says. "Because I believe that I should treat people online the same way as I would in person."
However, since LinkedIn's warning, Tim has only been responding to specific questions — leaving thousands of comments unanswered.
"While I appreciate the exposure and business LinkedIn has given me, it is killing me to read all of these wonderful comments and not being able to say thank you", he says.
Since the post went viral, Tim's business has boomed. At his opening the following week, "Shall We Dance" — his most expensive painting to date — sold in the first hour, with a second offer for the piece leading to a commissioned painting for a new fan in England who saw the piece on LinkedIn.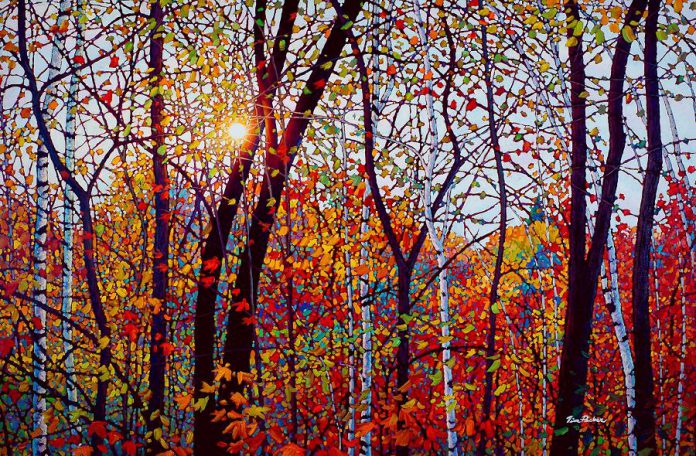 Tim has also received hundreds of requests for prints of "Shall We Dance" and has had inquiries from distributors in China, the UK, and Europe since the post went viral. You can meet the artist in person at the Gallery on the Lake on August 13, from 1 p.m. to 5 p.m. as part of their "Meet the Artist" weekend.
Residents of The Kawarthas have a chance to see the painting that started it all in real life. Although "Shall We Dance" has been sold, it will be on display until Friday, August 26, at The Gallery on the Lake (65 Gallery on the Lake Rd, Buckhorn, 705-657-1078).
For more information about Tim Packer, visit www.timpacker.com.