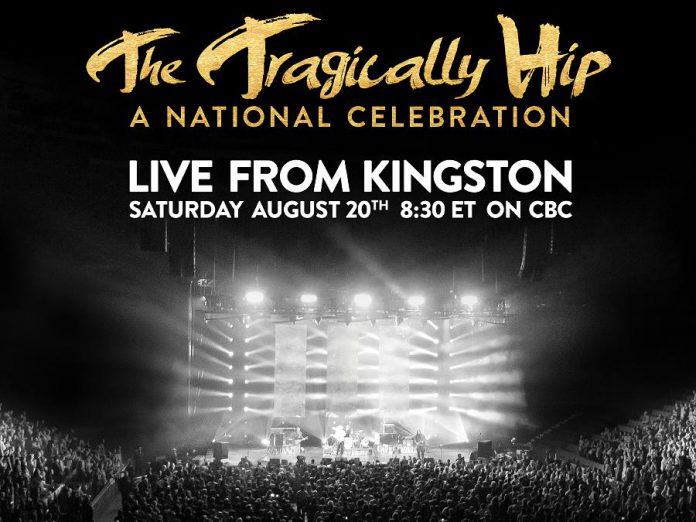 If you aren't one of the lucky fans (like our music columnist Josh Fewings) who managed to secure tickets to see The Tragically Hip on their farewell tour, here's the next best thing: get together for a live viewing party of The Hip's final concert.
CBC has acquired the rights to broadcast The Hip's final concert, from the band's hometown of Kingston, on Saturday, August 20th.
Tickets for the Hip's Man Machine Poem tour, announced after frontman Gord Downie revealed he has incurable brain cancer, sold out in less than a minute this past spring. Fans unable to get tickets — or who refused to pay inflated prices to scalpers — approached the CBC to broadcast one of the shows live.
CBC will be broadcasting The Hip's last concert live and commercial free on CBC-TV, Radio One, Radio 2, cbcmusic.ca and on YouTube. The concert begins at around 8:30 p.m.
Many communities across Canada and in Ontario are hosting public viewing parties of the CBC broadcast, including a few in The Kawarthas.
Legally, if you wish to host a public screening of the broadcast, you need to get CBC approval — which includes certain conditions like not charging any kind of fee for the viewing (even for fundraising), not using the viewing for third-party advertising or marketing, and providing proof of liability insurance if more than 40 people will be attending the screening.
Of course, you don't need to seek CBC approval if you're just having a private screening with friends and family.
Here's our list of public viewing parties so far for The Hip's final concert in The Kawarthas. Public screenings marked with an asterisk * have been officially approved by the CBC. If you know of a screening that's missing from our list, please email editor@kawarthanow.com with the details and we'll add it.
---
Bancroft
Bancroft Eatery and Brew Pub (4 Bridge St., 613-332-3450)
Bobcaygeon
* "Last Concert Under The Constellations". Bolton Street will be closed beginning at 7 p.m. for a Jumbotron screening of the concert. Donations will be accepted for The Cancer Society.
72 Bolton Sports Cafe (72 Bolton St., 705-738-2900)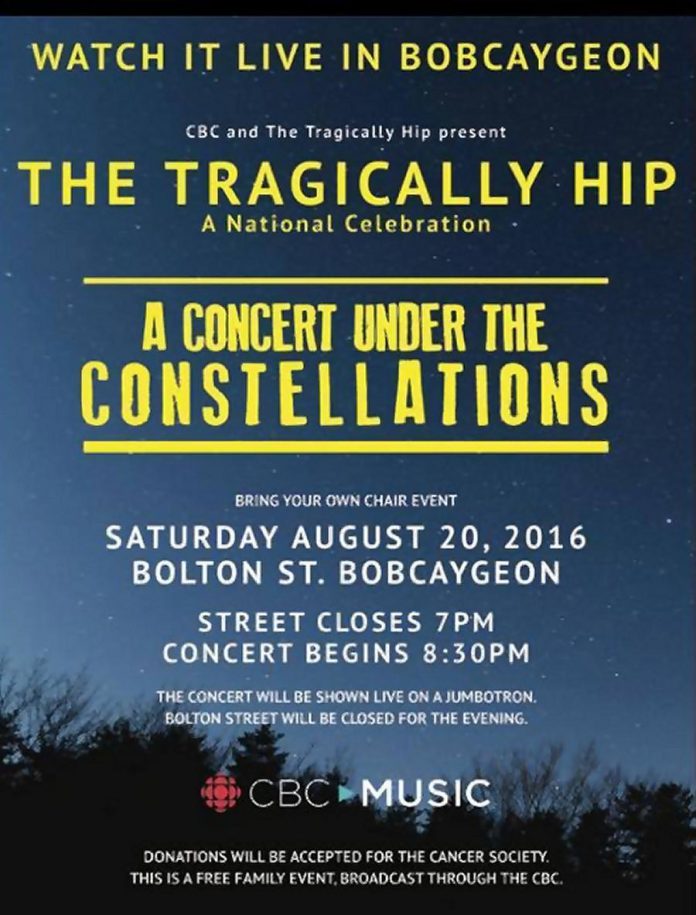 Buckhorn
Marley's Bar & Grill (17 Fire Route 82 Catalina Bay, 705-868-2545)
Campbellford
Church-key Pub & Grindhouse (26 Bridge St. W., 705-653-0001)
Cannington
The Locker Sports Bar & Grill (14 Cameron St. W., 705-432-3200)
Coboconk
* The Pattie House Smokin' Barbecue Restaurant (6673 Hwy 35, 705-454-8100)
Cobourg
The Cat & The Fiddle (38 Covert St., 905-377-9029)
* Northumberland Ribfest and Music Festival (Victoria Park)
Minden
Dominion Hotel (113 Bobcaygeon Rd., 705-286-6954)
Peterborough
Brickhouse Craft Burger Grill (123 Simcoe St., 705-874-7474)
Historic Red Dog Tavern (189 Hunter St. W., Peterborough, 705-750-1710). Following the screening, at around 11 p.m., Peterborough Folk Festival is hosting a musical tribute to The Hip hosted by Meilissa Payne, Matt Greco, and Anna Ruddic, and featuring Express and Co., The Kents, and more. Admission to the tribute show is by donation, with 100% of the donations will go to the Gord Downie Fund for Brain Cancer Research.
* Millennium Park, Downtown Peterborough (behind Silver Bean Cafe)
* Riverside Grill & Gazebo, Holiday Inn Peterborough Waterfront (150 George St., Peterborough, 705-743-1144)
Spanky's Downtown Pub & Patio (201 Hunter St. W., 705-874-5078)
The Tankhouse Pub (295 George St. N., 705-743-2717)
* The Venue (286 George St. N., 705-876-0008)