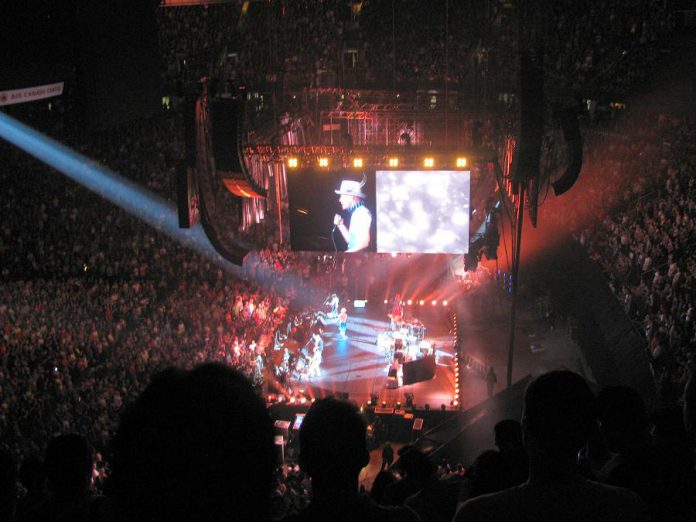 Words have not been coming easy to me. How do you sum up the ending of an era? Now that I can put a few words to it, I must say that there is something so utterly unifying about The Tragically Hip's final tour.
The mortality of Gord Downie and by proxy The Hip is on most Canadians' minds as the band makes one last trek across most of the country. Watching them play live one more time at Toronto's Air Canada Centre on Wednesday night, it dawned on me "fully, completely".
Modern Canadiana has been aching for new entries, and has anything as distinctly Canadian as The Tragically Hip come along in recent history? Lyrics full of Canadian locations, history, and imagery. The reach of the band's importance is highlighted by the upcoming nationwide broadcast of their last show on CBC television, radio, and online. Peterborough itself has several big viewings planned.
Among the sadness and the welled-up emotions that poured out at the ACC — and at all of the The Hip's shows on this tour apparently — there was a genuine feeling of unity among 12,000+ concertgoers. Let's just say I almost hugged everyone around me as the band played on. Seat neighbours became friends, if only for one night.
The Tragically Hip grabbed the hearts of Canadians one by one in clubs across the nation when they first started.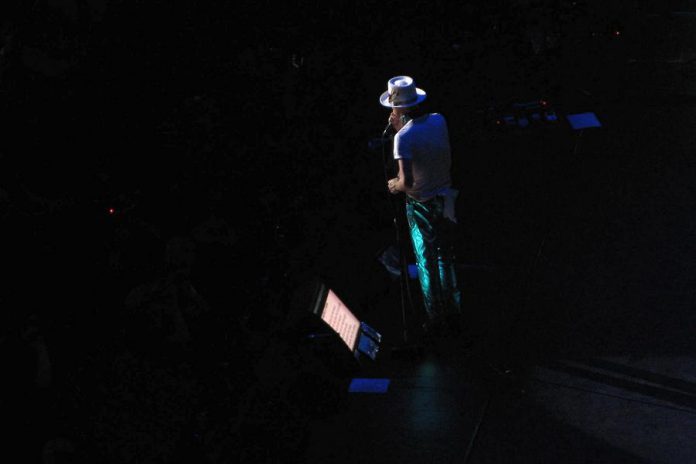 "Our first show here we had six people. Then we were excited to have 34 show up," lead singer Gord Downie exclaimed between songs in Toronto. "We always came back. Thank you Toronto. Thank you forever."
Album by album, year by year, The Hip gained more and more fans in the city and across the country. Downie's lyrics may be studied in every classroom one day. Maybe they already have been. Not too bad for a rock and roll band from Kingston, Ontario.
Back to some moments from the Toronto show on Wednesday night …
This was a musical and emotional rollercoaster 32 years in the making, unfurled at their sixth last show ever. A tangible buzz from the audience before the show led to a swell of cheers and goosebumps when they took the stage and ripped into songs from their second album Road Apples. There were early tears when they played "Fiddler's Green", a song woven around mortality as its title refers to sailors' heaven.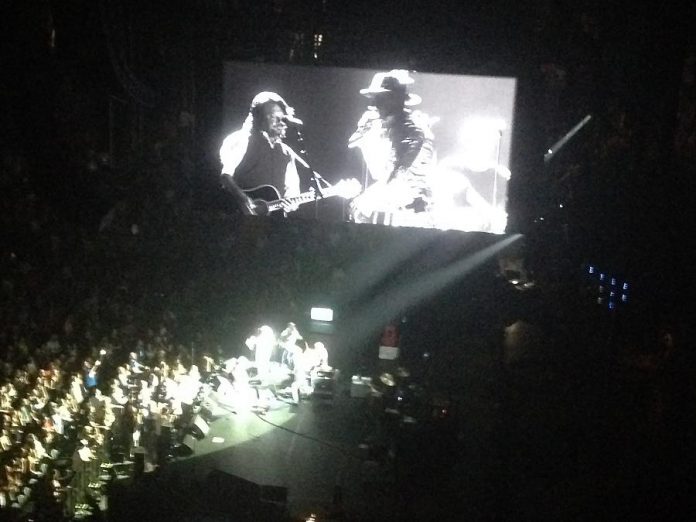 There was a hearty response to the songs from their latest album (and 11th studio album) Man Machine Poem. Raucous cheers erupted as the band returned to a few hits from each past album. Tunes from Music at Work, Trouble at the Henhouse —which featured one big choir singing along with "Ahead by a Century" — and tunes from Fully Completely were given bigger and bigger cheers as the night went on.
The pre-encore jubilation reached a fervor when the band finished with "Fifty Mission Cap" — a song about Toronto Maple Leafs defenceman Bill Barilko. This with the banners of the cup he helped win in 1949 hanging in the rafters above the crowd. "The last goal he ever scored, won the Leafs the cup."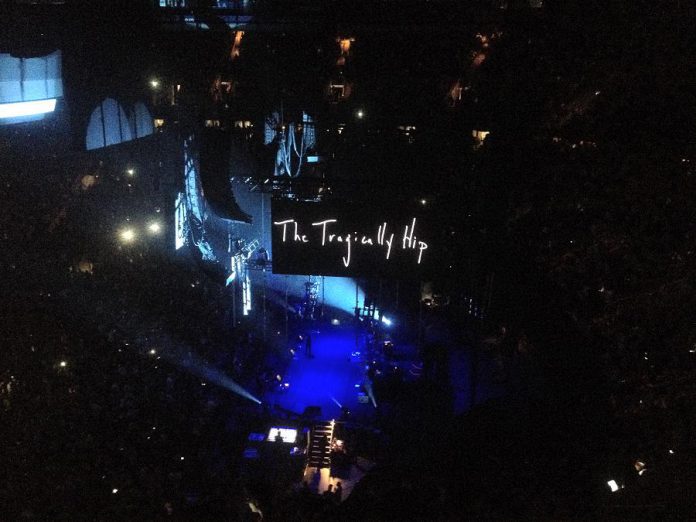 Chants of "Hip, Hip, Hip" and "Gordie, Gordie" were common, and broke out all over the ACC. I may have even started the odd one.
There was a palpable sense of admiration and love that you rarely feel in small music venues, let alone at a huge arena show. The band and Gord sent the love right back to the audience.
Two brilliant encores featured Gord at his frontman best. In fact, the whole night did. He made faces, he danced. He moved with clown-like movements. And although he is having some memory issues related to his tumour and its treatment, he continued on "armed with will and determination, and grace too."
And the entire country is getting a chance to say thank you for it.
---
"Bobcaygeon" – The Tragically Hip at the Air Canada Centre in Toronto (August 10, 2016)
---
Here's the set list from Wednesday's show.
1. The Luxury
2. Little Bones
3. Fiddler's Green
4. Three Pistols
5. In a World Possessed by the Human Mind
6. Tired as Fuck
7. What Blue
8. Machine
(Short intermission – a thunderstorm on the video screens)
9. My Music at Work
10. Lake Fever
11. Toronto #4
12. Putting Down
13. Gift Shop
14. Springtime in Vienna
15. Flamenco
16. Ahead by a Century
(Short intermission – Gord Downie took a break while the rest of The Hip jammed out)
17. Fully Completely
18. At the Hundredth Meridian
19. Wheat Kings
20. Fifty-Mission Cap
First set of encores
21. Grace, Too
22. So Hard Done By
23. Nautical Disaster
Second set of encores
24. Bobcaygeon
25. Poets