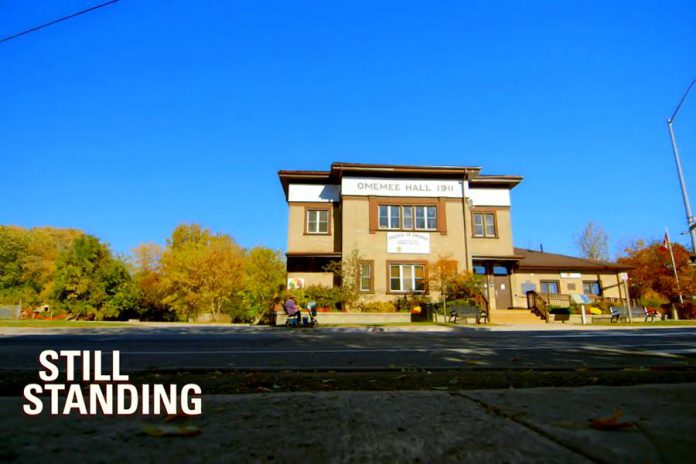 The town of Omemee in the City of Kawartha Lakes will be featured on the popular CBC Television comedy series Still Standing in an episode to be broadast on Tuesday, August 23rd.
The series stars comedian Jonny Harris, who has been travelling across Canada to explore small towns that are "on the ropes" and meet with the people who, despite economic hard times, remain fiercely proud of their communities.
Omemee's claim to fame is that it was the childhood home of musician Neil Young, immortalized by the lyrics of the song "Helpless": There is a town in north Ontario … All my changes were there. Neil's father, author and sportswriter Scott Young, continued to live in Omemee until shortly before his death in 2004.
Omemee was also the birthplace of Lady Eaton, the wife of Toronto department store president and heir Sir John Craig Eaton.
In the episode of Still Standing, which was filmed in Omemee at Thanksgiving last year, Jonny Harris meets Neil Young's childhood friend, takes rifle shooting lessons from the town doctor, and goes adventure diving in a swimming pool.
"The airing of this show is a delight to our small town," says Councillor Mary Ann Martin. "It will put Omemee on the national screen and will tell the stories of some of our long-time residents. Tune in and see why we love Omemee!"
The episode airs at 9 p.m. on Tuesday, August 23rd on CBC Television and, after the broadcast date, you can watch it online.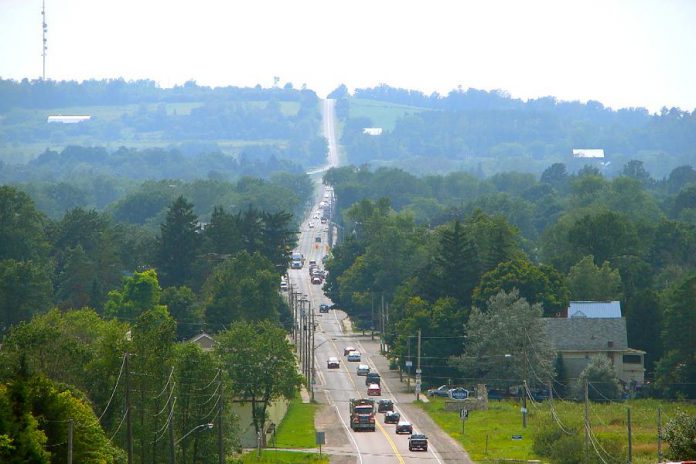 Although the 1,247 residents of Omemee may challenge the assertion the town is "on the ropes", like many small towns in Ontario established by pioneers, Omemee's glory days are in its past.
Omemee was originally founded by Irish emigrant William Cottingham in the early 1800s, after the Cottingham family established a grist and saw mill on Pigeon River. A village grew around the mill and, in 1835, was named Williamstown. The village was renamed Metcalf in the 1840s and then Omemee in 1857 — based on a Mississauga word meaning "pigeon".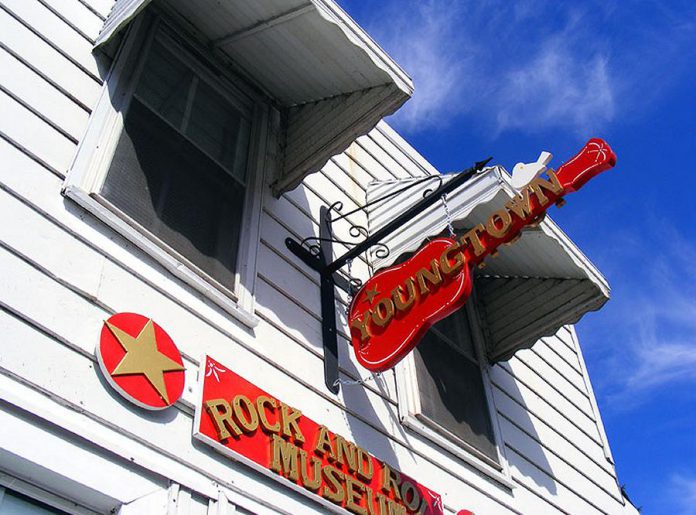 The construction of the Port Hope, Lindsay and Beaverton Railway in 1857 (when the town also acquired a post office) fostered the growth of the community, which became a thriving shipping point for timber and grain.
Until the 1860s, Omemee competed with Lindsay as the largest town in Victoria County. At its zenith in the late 1800s, Omemee had a grist mill, two sawmills, a tannery, a foundry, a shingle mill, a cloth mill, three churches, four hotels, an elementary and secondary school, and a newspaper.
As Ontario's economy shifted away from agriculture and surrounding towns grew, the industrial section of Omemee declined until, 100 years later, only the Regal Stationary Company remained (the factory has since closed). Today, Omemee's economy is supported by the town's population as well as seasonal residents and retirement communities in the surrounding area.
---
Neil Young revisits Omemee – Neil Young Journeys Trailer