As musically gifted as they are in their own right, siblings Ryan and Sam Weber have always been wide-eyed awestruck by the talent of those who came before.
After all, it was their respect for, and adulation of, legendary blues and rock 'n' roll musicians of decades past that brought the Maryland natives to these parts some 17 years ago.
There are now a thousand versions of the story but, basically, the teenaged boys rapped on the front door of Ronnie Hawkins' Stoney Lake home, Hawkstone Manor, and said "Teach us." That Hawkins did — in exchange for some help with his sprawling property.
Ryan and Sam were eager sponges, soaking in everything the one-of-a-kind rockabilly trailblazer had to offer. They eventually departed to make their own mark and that they indeed did, while remaining forever appreciative that Hawkins took the time to school them on music, performing, and the ins and outs of a business that is more often cruel than not.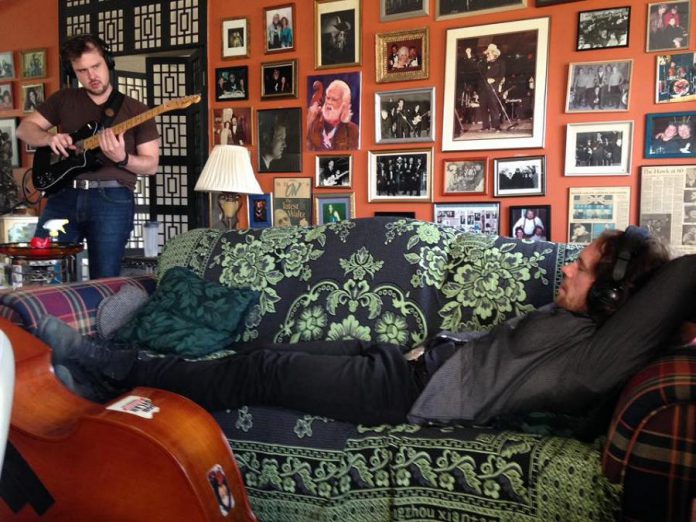 "It's been an amazing journey," enthuses Ryan who, with Sam, fronts The Weber Brothers band. The duo has released an impressive 10 independent CDs over a 15-year period, the latest being 2014's We, and were the subject of Before We Arrive, the documentary by local filmmakers Rob Viscardis and Jeremy Blair Kelly released earlier this year.
"Any time it gets hard or you've just spent nine hours in the Suburban, we're able to remember the times and amazing opportunities we've had that other people don't get. We've never taken that for granted."
So when the 81-year-old Hawkins called the Webers last year and said there was a chance they could be involved in a recording session with Gordon Lightfoot, 77, their response was "Just let us know when." That led to the recording of a Christmas song as well as Lightfoot's 1970 song "The Pony Man".
As surreal as that experience was for Ryan and Sam, the best was yet to come — in the form of a subsequent Hawkstone Manor recording of "Me And Bobby McGee" featuring not only Hawkins and Lightfoot but the song's writer, Kris Kristofferson, 80, and (later in the process) Willie Nelson, 83.
Now available as a video on iTunes, the "somewhat of a rocking version" of the classic 1969 song — it was the late Janis Joplin's only #1 single — has Ryan "really excited for people to hear it."
---
Preview: "Me and Bobby McGee" featuring Kris Kristofferson, Ronnie Hawkins, Gordon Lightfoot, and Willie Nelson
---
According to Ryan, Hawkins met up with his friend Kristofferson in Florida earlier this year and played the recordings done with Lightfoot.
Apparently, Kristofferson had been anxious to reconnect with longtime friends such as Hawkins and Lightfoot following the death of his friend Merle Haggard in early April. (Later, when Kristofferson was staying at Hawkstone Manor, Sam Weber had a chance to play Kristofferson's guitar. When he returned it to its case, he saw a set list Kristofferson had written for a recent concert appearance with Haggard — a quiet but powerful tribute to his friend.)
Hawkins' Florida meeting with Kristofferson set the wheels in motion for what was to follow.
"Ronnie got back and called," Ryan recalls. "He said, 'I don't know if this is going to happen, baby, but there's a chance we'll be recording with Kristofferson … he wants to do Me And Bobby McGee'".
Both Ryan and Sam were excited, but cautious.
"In this business, you believe things only when they come together — because a lot of things can fall through, especially with guys of this magnitude."
Things did indeed "come together" in early May, starting with Hawkins getting together with Ryan and Sam as well as Hawkins' son Robin (who plays regularly at The Dobro in Peterborough) and producer/engineer James McKenty.
With so many versions of "Me And Bobby McGee" having been recorded over the past 45 years or so, the goal was simple but challenging: record a unique version of the song.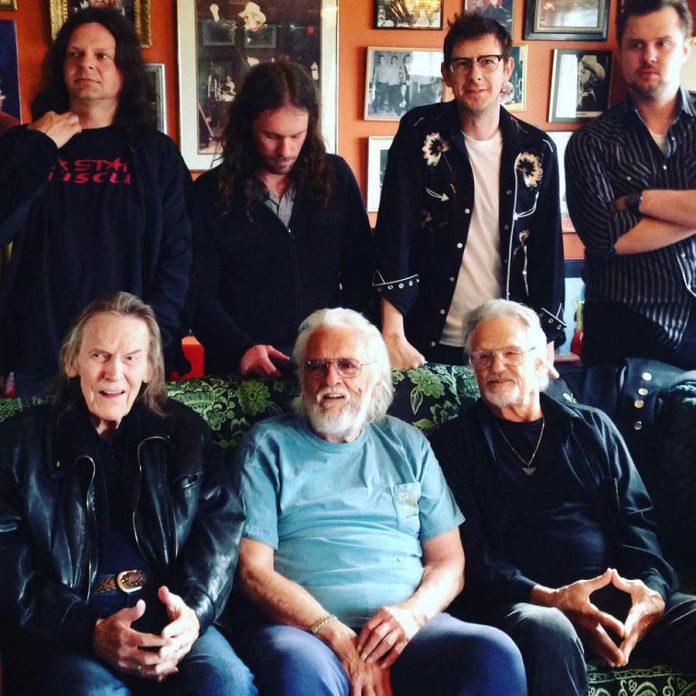 "It's going to be special because it has Ronnie and Kris on it, but can we do something else with it?" Ryan says, explaining their thought process.
"James started to just strum straight on his acoustic and that had a good sound. I sort of fell in on bass, then Sam came in, and we had some ideas. Ronnie really liked the feel. He said, 'Shit, babies, that's one of the best versions I've ever heard.'"
"We moved the whole operation over to Ronnie's house the day before Kris got there. We laid it down with drummer Steve Kendry (Spoons) and it just started to sound great."
"Ronnie always get nervous until he does something. We hit record and on the first take, it was perfect. He nailed it. The next day, Kristofferson came, listened to it and really liked the arrangement. He was really into it, really jazzed. He recorded his vocal part and it was the same kind of thing. Straight away he was just on. I was like 'Wow, how can this thing get any better?'"
Enter Gordon Lightfoot, who arrived at Hawkins' home the next day.
---
"Me And Bobby McGee" – as performed by Gordon Lightfoot (1970)
---
"I don't know if I've ever met anyone who listens more intently to a recording," says Ryan.
"Gordon could have said 'It's good but I don't need to be on this.' He doesn't say anything, he's totally absorbed listening to it. Well, he loved it. He loved Ronnie's verse, he loved Kris' verse. He was ready to then go and do his. As soon as he started, it was like 'Oh my God, this is true greatness we're getting down here.'"
"There was a point where I was sitting with my eyes closed listening to it and the emotion of it was overwhelming. I felt like I was going to cry or something. I was sitting next to Kristofferson and I looked over and he was crying, tears streaming down. That was a pretty special moment."
With the vocal tracks of the three legendary singers laid down, McKenty and the Weber brothers went to work mixing the recording.
"There was an idea to try some harmonies on it, so we tried but it just wasn't getting it. I said maybe if it's Bob Dylan or Willie Nelson, it makes sense. Lo and behold, Kris was going on tour with Willie. Once James found that out, he had this idea to try and do it … he was going to stop at nothing if there was any possibility. He somehow got in contact with Willie's management through Kris' wife and set up a recording on Willie's bus in Chicago. James drove down there and got that done."
As over-the-top thrilled as Ryan is with the end result — "Everybody who was a part of it really knocked it out of the park" — he remains most moved by what he saw.
"Just witnessing how close they are and how excited they still get for recording, that really blew me away," says Ryan.
"They still get up like they're school kids. There's that much excitement. Maybe it's the strength of the track itself, but it's in them and that's a good sign for us: that these guys can still get this up for it."
"Wanda (Hawkins' wife) told Kris to go down to the cottages (on Hawkstone Manor's shoreline). Because Gordon had written Sundown there, maybe Kris would write a tune. He looked at her and said, 'Well, Gordon was in his prime at the time; I don't think that would be quite fair.'"
"Another time, Kris said, 'Man, can you believe it? We were really there during just the most amazing time, when the best songs were being written, the best movies were coming out, just an amazing time.' Ronnie says, 'I know, baby, shoot, I got to witness it' and Kris says, 'You didn't witness it, you ran it.' Just seeing the way Kris and Gordon really hold Ronnie in such high regard was pretty special."
It's not lost on Ryan that with the singers' advanced ages, an opportunity like this may not come around again.
"The song and the recording are strong enough that it should, one more time, remind people of the incredible greatness they have," he says.
"These are true greats. I'm hoping that one more time, everyone can hear that and go, 'OK, this is how you're supposed to do it.' I'm really excited for people to hear it."
As for the song itself, which relates the story of two drifters (the narrator and his girlfriend Bobby McGee) who hitched a ride from a truck driver and sang as they drove through the American south before parting ways in California, Ryan explains it was the perfect catalyst for this project.
---
"Me And Bobby McGee" as performed by Kris Kristofferson (1970)
---
"The best songs evoke a feeling and go right to the emotion; you feel good, you feel sad, whatever emotion they go for, they really nail it," he says.
"It's one of those tunes that does that right off the bat. Of course, it has great lyrics and, of course, it's a great story, but the overall feel, as soon as you hear the first word of it, you're in. It grabs you."
So enthused is Ryan for this recording that he thinks it has serious Grammy Award potential.
"I know there's a category for best collaboration," he says. "I don't know how you can find a better collaboration than those four guys."
"And this recording is a historical one because, as far as I know, there has never been a Willie Nelson and Gordon Lightfoot recording, or Willie Nelson and Ronnie Hawkins recording together, or a Gordon and Ronnie recording for that matter. It's truly a historical recording — and The Weber Brothers are on there too."
Ahead for The Weber Brothers is work on a new CD with their band — Emily Burgess (guitar), Rico Browne (keyboards/guitar/percussion), Marcus Browne (drums) and Prufrock Shadowrunner (percussion/turntables) — as well as "something really cool coming out around Christmas."
In the meantime, reflecting on the "Me And Bobby McGee" recording experience has Ryan him more convinced than ever of one undeniable truth.
"If any one of those guys wanted us to do anything, I would be into it," he says. "They've all given so much."
"It's always going to be an opportunity, even just to hang out with them. Anytime Ronnie asks, I'm there."