On Friday, August 19th, officials from the City and County of Peterborough opened a time capsule from 1864 at the site of the old Peterborough County Jail.
The time capsule — a large sealed glass jar — had been buried under the cornerstone of the jail when the foundation was laid.
County staff undertook to find it based on research of the site and assistance from local residents and historians.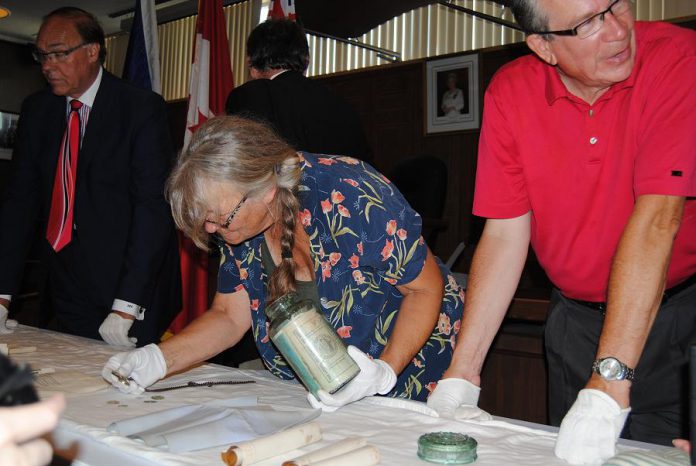 The time capsule contained coins, photos, a copy of The Peterborough Examiner (dated June 9, 1864), a copy of the Peterboro Review, minutes of Peterborough City Council, and other documents.
When the relics were buried, the American Civil War was still raging. On June 9, 1864, nine months of trench warfare began in Petersburg, Virginia in what would become known as the Siege of Petersburg.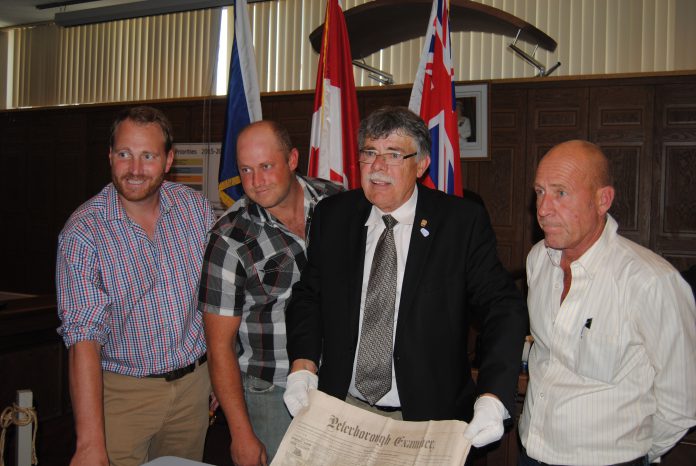 "I am reminded of a quote from Trent University Founding President Dr. Tom Symons," said Mayor Daryl Bennett. "A community that does not respect its history will not for long respect itself."
According to Trent Valley Archives archivist Elwood Jones in an August 22 interview with Susan McReynolds of CBC Radio's Ontario Morning, historians already knew the time capsule was buried at the site from an 1864 story in The Peterborough Examiner.
However, they had some difficulty finding the location because it had been buried at the southeast corner of the inner jail, covered by a 3×3′ cube. That was the first surprise, but there was another one in store.
"The contractors who were involved brought the backhoe and lifted the rock off," Jones says in the interview. "They then reached in and pulled out what was not a box but actually was a jar."
From all the descriptions in the newspaper, historians had expected the time capsule to be a box of some kind.
"The jar looks a bit like a Mason jar, except that the lid is glass," Jones explains. "It's been handblown because you can see the markings from that, and the lid had 'Patented 1859' written on the side of it."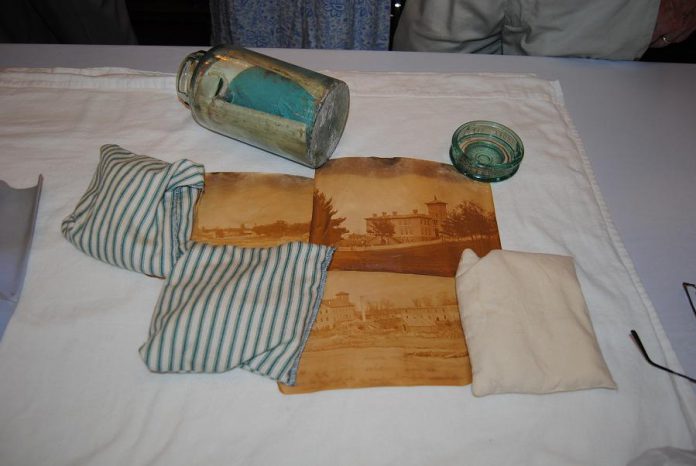 Time capsules generally contain items that give people of the future an idea of what life was like at the time. Jones says including a newspaper of the day was a great idea.
"A newspaper in those days carried all sorts of trivial things. There were no big stories; everything is little stories, about the size of a classified ad."
The items in the time capsule will be catalogued and researched with the intent to create a display at the Peterborough County Courthouse.
Warden J. Murray Jones said that the County will place a new time capsule at the site in in 2017 "for future generations to learn about our time here".
All photos courtesy of the County of Peterborough.