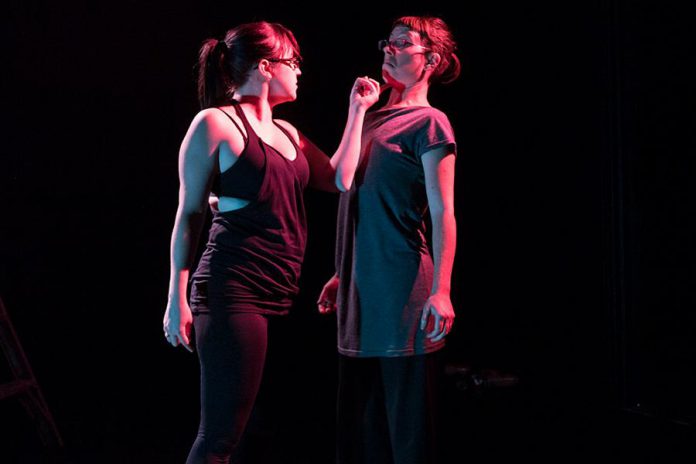 This week, director Ryan Kerr is bringing a rare piece of Peterborough's theatrical history to the stage at The Theatre on King (TTOK) with a revival of Pat Walsh's play Insurrection.
First performed in 1993, Insurrection was one of many productions at the legendary Union Theatre that were soon forgotten as players moved on to the next thing. In fact, Ryan believes that the seven-page script, which he kept from when he was in the original production, may be the only copy in existence.
Not even playwright Pat Walsh himself — who wrote the play when he was 22 years old — has a copy. Yet, despite its obscurity, Ryan says that it was theatre like this that kept him in Peterborough.
Insurrection is clearly a product of its time. A series of vignettes about young people toiling in minimum-wage jobs, the play is about the apathy and the rebellion of '90s culture. as a new sort of youth movement is thrust into the working world to survive.
Gone are the good jobs of their parents' generation, and the cult of leisure and creativity finds that work is a hindrance to one's own self-worth. Nobody wants to be at their jobs, but it becomes a necessity in order to survive.
Each of the vignettes changes in theatrical style and tone and range from dramatically painful to hilarious to frightening. The scenes involve both storytelling and soliloquy and can go from being straightforward and conversational to fringing on the absurd. There is no narrative structure to the show, but the theme is consistent throughout.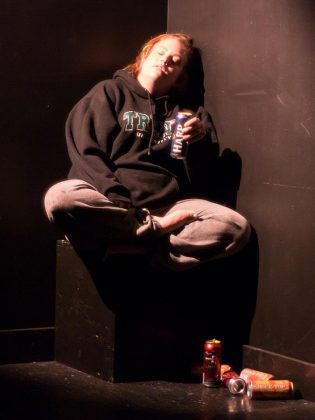 A cast of local theatrical favourites appear in the play, including Meg O'Sullivan, Andrew Little, Simon Turner, Amy Commings, Tylor Dore, Elizabeth Moody, and Robyn Smith.
Each are cast accordingly to their personal theatrical strengths, making it a showcase of local talent doing what they are best known for.
It's been a long time since I've seen a number of these performers in productions lately, so it's great to see some talented familiar faces again. It only makes this production all that much richer.
With each vignette having a different flavour, some work better than others, but together they make up a cohesive production.
Amy Cummings and Tyler Dore play two friends talking about work, with Amy speaking about a conflict with her employer while Tyler gives a grotesque telling of co-workers' extreme actions to cheat the system. Meanwhile, Simon Turner plays a poetic youth trying to make sense of the work system.
The strongest vignettes belong to Andrew Little and Meg O'Sullivan. Andrew plays a donut shop counter jockey who relates a frightening experience at work, while Meg plays an unemployed woman with "no job and no money." Between the use of dramatic lighting supplied by Ryan Kerr and Andrew's natural storytelling talent, Andrew's story is both compelling and frightening. Meg, on the other hand, gets to showcase her magnificent vocal talents as she sings the blues.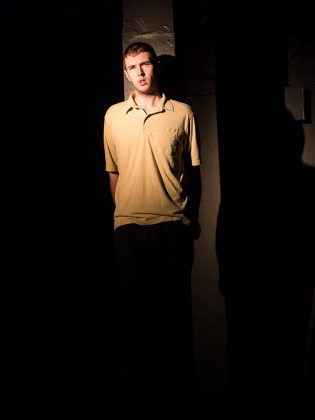 And then there is Elizabeth Moody and Robyn Smith's scene. Suddenly I felt like I was back at The Theatre on King this spring watching a Samuel Beckett show.
Perhaps if you go to the performance and understand what that was about, you can drop me a line and let me in on it.
At just under a half hour, Insurrection is a short show and ends fairly suddenly. As a preview audience member noted afterwards, it was as if Pat just stopped writing.
However, the show is a reflection of a memorable and often romanticized moment in this history of Peterborough theatre. During the 1990s, the Union Theatre was an artistic hub in the community and the original shows written and performed there were cutting-edge grindhouse theatre.
Ryan Kerr has a commitment to keep this sort of theatre alive at TTOK, and this is the fourth time he has resurrected a show from the Union Theatre's past. For people who remember the days of The Union, come relive it with Insurrection. If you weren't in Peterborough or were too young to experience it, this is your chance to get a feel of what it was like being part of the arts community in the '90s.
Insurrection runs from September 8th to 10th at The Theatre on King in downtown Peterborough. Tickets are $10 or pay what you can and the show starts at 8 p.m.