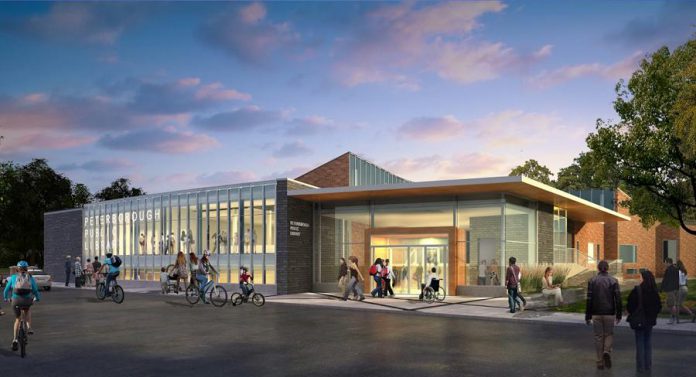 Regardless of what the future holds for printed books as we know them, rest assured they will have a wonderful state-of-the-art home in Peterborough for decades to come.
A $12 million renovation and expansion of the Peterborough Public Library's main branch on Aylmer Street is well underway, with the progress of work done since June previewed Thursday (September 8th) by contractor Buttcon Limited of Concord, Ontario.
Due to be completed in fall 2017, at which time the library's resources will be moved back from their temporary Peterborough Square location, the new-look facility will be decidedly brighter and more spacious, with the Aylmer Street side featuring an addition that will bring the building out to the sidewalk.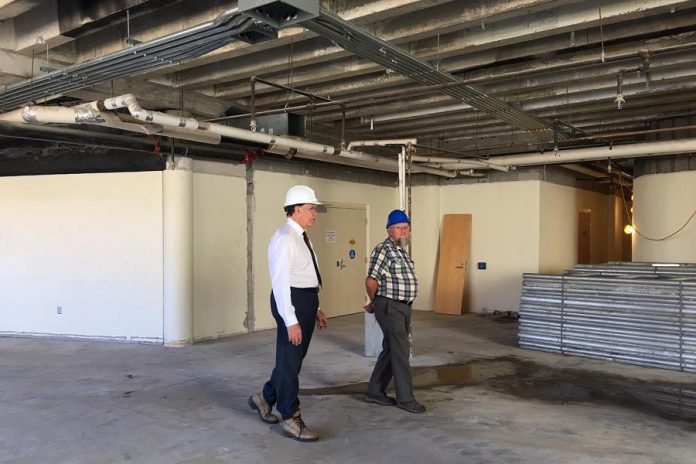 Inside, a large central staircase will lead patrons downstairs to an expanded children's books area while, on the main floor, a youth/teen fiction area will be located in the former children's books area.
Originally opened in September 1980 at the site of the former central firehall, the main branch saw the library's holdings moved from the aging and cramped Carnegie Building adjacent to City Hall. Now, 36 years on, much of the talk Thursday centred on how sturdy and well-built the structure is.
"It's in pristine shape," marveled site superintendent Michael Landry, noting this is the first Buttcon project he has worked on in his hometown of Peterborough. "We're not finding many things that are unknown or have to be repaired to join new construction to existing construction."
"This is going to be a legacy building. It was here long before I was here and will be here long after I'm gone. My grandchildren will be coming here. On a personal level, to be this close to home and have this type of project, it's very exciting. So far, there are no surprises. We're right on track with where we should be."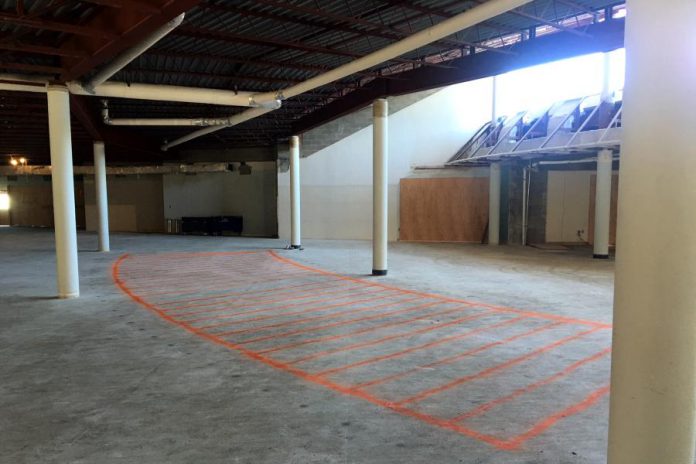 Along with completing a number of other library renovations and new builds, Buttcon handled the retrofit of historic Maple Leaf Gardens in Toronto. The Concord Ontario based firm was awarded the Peterborough library contract in June and went to work immediately. Earlier in May, the library opened a temporary branch at Peterborough Square after the City of Peterborough earlier signed a lease with the mall management.
Among those most interested in the progress of the work, and beaming over what he saw Thursday, is Ken Doherty, Peterborough's director of community services.
"We've been experiencing what I often refer to as aging and shrinking buildings," noted Doherty. "The community demand for library services hasn't diminished. It really behooved the City to look for a solution that would be fiscally responsible but give new life to the library."
"One of the things I was most heartened by with the contractors today was when they talked about what 'good bones' this building has. The building is in excellent shape. The $12 million being spent is going to increase the amount of public space. It's going to bring in a new, brighter, more naturally lit library. We've reconfigured a lot of the spaces. People will see significant changes."
As for those who would suggest books are on their way to extinction, and thus the need for a municipally funded library will diminish with time, Doherty isn't on the same page, so to speak.
"I remind them that not everyone in the community has computer access or can afford to buy books. In some ways, we're back to our roots here. Libraries in the 19th century were places where people could go and have access to reading material they wouldn't otherwise have access to. We also recognize that people want internet access, so there will be more public internet stations and more work stations for them to come in with their laptops."
"In addition, the auditorium here is one of the most used meeting spaces in the city. We're refurbishing the auditorium but we're also adding a new public meeting room."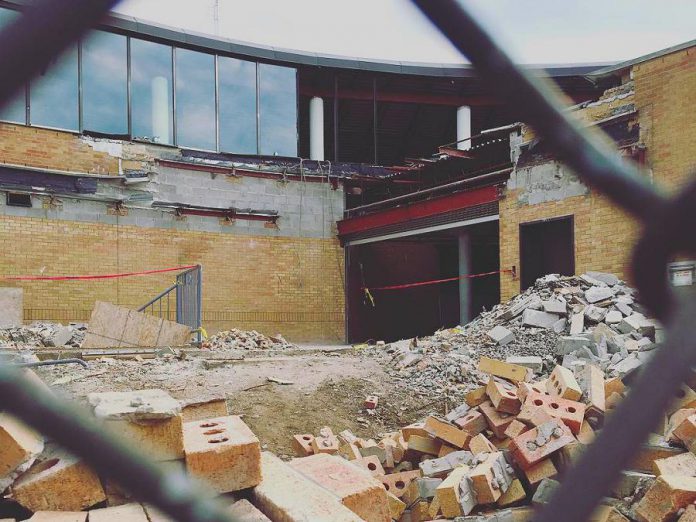 As for the property adjacent to the library at Aylmer and Simcoe streets that the City recently purchased, Doherty says "the bulk of that space" will be home to a park with a possible art-themed component.
When pressed, Doherty didn't dismiss the possibility that the library could be renamed. The De La Fosse branch in Peterborough's south end, opened in 1965, was named in honour of Frederick Montague De La Fosse, who served as Peterborough's chief librarian from 1910 to 1946.
"I wouldn't rule out that possibility," Doherty says. "That's certainly something the library board would have to be involved with."
Also touring the work site was acting library CAO Jennifer Jones. She says library staff are already chomping at the bit, anxious to move into their new digs.
"Space wise, we were a little tired and had outgrown the actual physical bubbles we were put into," she explains "We're going to get an extra fresh breath of air in the building."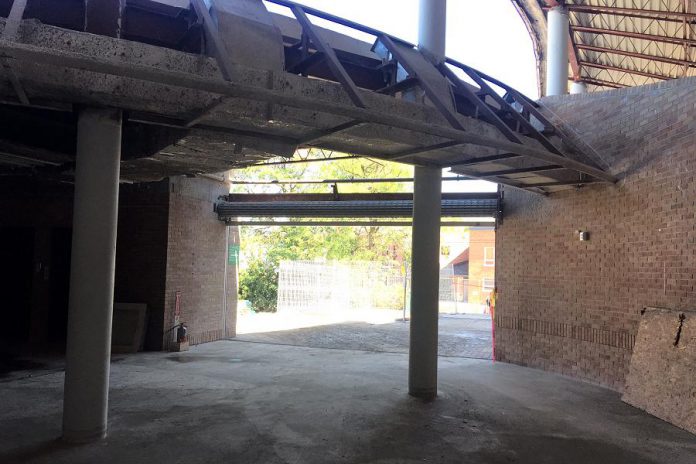 And, for those who haven't visited the library in awhile, Jones has a message.
"Give us another chance. Come in and check it out again — pardon the pun. It really is going to be a fresh start for everyone."
For updates on the progress of work on the new library, visit pplmoves.blogspot.ca. Meanwhile, for more information on library services offered at the temporary Peterborough Square location, visit www.peterborough.library.on.ca.