The Peterborough Chamber of Commerce was honoured twice over the weekend in Regina at the annual general meeting of the Canadian Chamber of Commerce and the Chamber of Commerce Executives of Canada. On Friday, the Peterborough Chamber's policy analyst and communication specialist Sandra Dueck won the Employee of the Year award and, on Saturday, the Peterborough Chamber won a silver award in the annual chamber competition.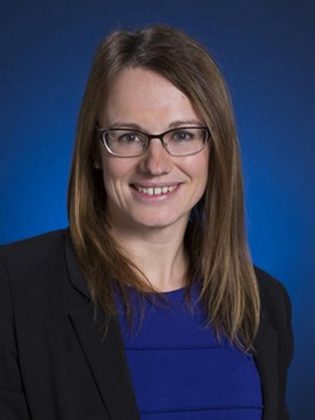 The annual Employee of the Year award, presented Friday at the Chamber of Commerce Executives of Canada awards dinner, recognized Sandra Dueck for the work she has done to help the Peterborough Chamber amplify issues of importance to business at all three levels of government.
Every week, Dueck creates a newspaper column and a three-minute television feature covering business issues. She is also the co-chair of the Ontario caucus of the Canadian Chamber of Commerce, helping lead the policy debate the established advocacy priorities for the Canadian Chamber for the next year.
"Sandra is part of a high performance team at the Peterborough Chamber and we are very proud of her accomplishment," said Stu Harrison, President and CEO of the Peterborough Chamber.
The Peterborough Chamber was also one of three finalists in the annual Canadian Chamber of Commerce competition On Saturday, Harrison and Karen August, the Chamber's manager of membership services Karen August, made a presentation to chamber staff and volunteers from across Canada on the theme of "membership in the age of Google".
Their seven-minute presentation showcased the Peterborough Chamber's rebranding and covered the chamber's activities for its membership including the Power Hour event featuring all four locally elected leaders, the Business Summit focussed on professional development, the monthly Peterborough Business Exchange (PBX), and the creation of the Holistic Group.
It also covered the chamber's business advocacy efforts — including The Voice of Business newspaper column, the Business911 television feature, political round tables, and more — as well as the multi-platform techniques the Chamber uses to communicate with its members (including the Chamber website, mainstream media, social media, and more).
---
Sandra Dueck of the Peterborough Chamber wins award
---
In recognition of its efforts, the Peterborough Chamber was awarded Silver (the Calgary Chamber won Gold and the Burnaby Chamber won Bronze).
"We are trying to be intentional with everything we do," Harrison said. "All of our efforts should have a direct benefit for our members."
"The opportunity to present to our peers from coast to coast was also an opportunity for us to clarify our own goals as a key member of the Peterborough business community," August added.
"To be here and witness the high regard in which the Peterborough Chamber and Staff is held is very gratifying," said Jim Hill, the incoming Chair of the Peterborough Chamber Board of Directors. "The Peterborough business community is being well served by our Chamber."
For more information about the Peterborough Chamber of Commerce, visit www.peterboroughchamber.ca.