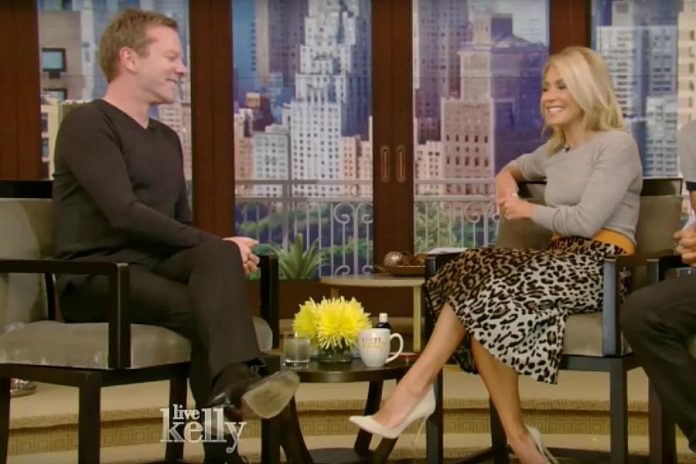 Kiefer Sutherland appeared on the Live with Kelly morning talk show on Tuesday (September 20) to promote his new ABC series Designated Survivor, which is being shot in Sutherland's hometown of Toronto.
Host Kelly Rippa asks the 49-year-old actor/musician if he's meeting people in Toronto he knew from when he was younger, and Sutherland tells a story about being reunited with his best friend from childhood, who was in the audience at Peterborough Musicfest — where Sutherland performed on June 29th in support of his record Down In A Hole.
"I'd been playing some music over the summer and I played a show up in Peterborough," Sutherland says. "I met someone backstage who said 'Is it true that you were friends with Stephen Barker?"
"I was like, 'Oh my god, this is my best friend of all time! He was my best friend from the time I was 10 all the way to when I left Canada. He and I started playing guitar together when we were kids. He was really important in my life.'"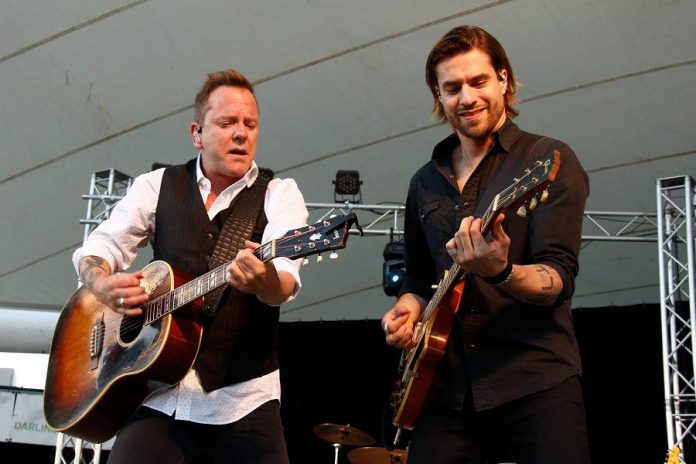 "And he said 'Well, I think he's out in the audience.'"
"The audience was about 15,000 people. They were all sitting on this beautiful kind of manicured grass hill. I said in between one of the songs that 'I've heard Stephen Barker was out there and if that's true, I'd really love to see you.'
"And he stood up. He was way at the back and everybody started clapping. No one got in the way."
"I saw him for the first time after 15 years from that night," Sutherland says.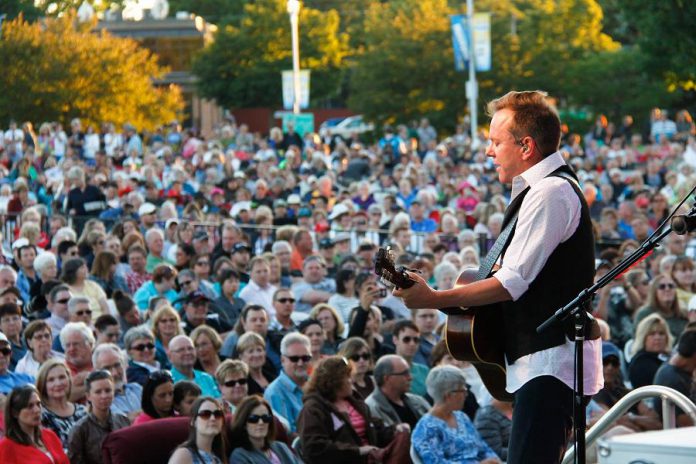 Kelly then jokes that they Stephen Barker — who lives in Omemee — backstage and they are going to bring him out.
"Just kidding," she says.
"That's how you scare Jack Bauer," replies Sutherland, who appears shocked at the prospect.
When Tracey Randall, General Manager of Peterborough Musicfest, found out about the segment on Live with Kelly, she called Barker to let him know about it.
"He had not heard the news and was quite thrilled to be a part of Kiefer's story on national TV," Randall says.
So now Omemee has another claim to fame in addition to being the childhood home of musicians Neil Young and Sebastian Bach.
Watch the segment below:
Correction: An earlier version of this story incorrectly identified Stephen Barker as Stephen Parker.