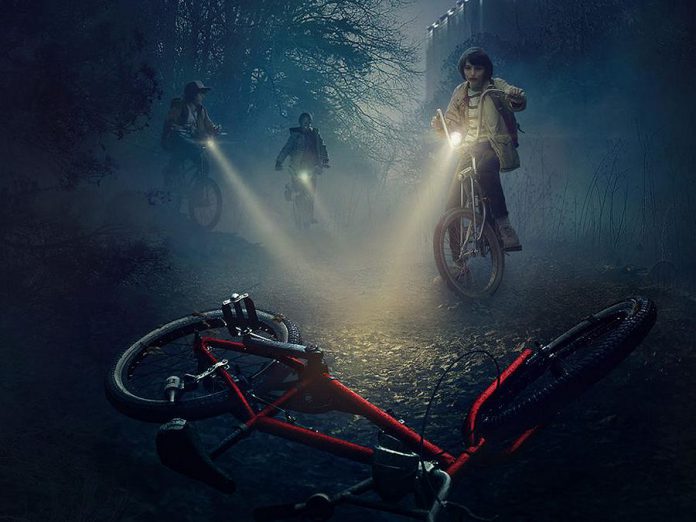 Nostalgia is overwhelmingly trendy in pop media at the moment. Is it that many consumers are reaching a certain age where they pine for their glory years, or is it genuinely harder to access contemporary products of any actual quality?
Well, frankly both. As we all have to face the fact that 1990 was almost 30 years ago, we can all find a safe space in the cushy glory of Netflix.
Here are some of the inescapable streaming site's best offerings. Happy watching!
---
1. Trainspotting
Danny Boyle's kinetic vision of disenfranchised Scottish youth has lost none of its authentic cool in the subsequent 20 years since its release.
Unlike so many of its '90s counterparts celebrating their China anniversaries (think Hackers), Trainspotting remains remarkably fresh and fortunately encapsulates many of the era's defining attributes: ID-certified heroin chic, frenetic editing, and what is truly the staple of any self-respecting counter-culture youth film: a propulsive hit-laden soundtrack.
Even when he's losing control of his bowels in exaggeratedly grimy slums, Ewan McGregor's star has never shone brighter. So much more than mere nostalgia.
2. Romy and Michele's High School Reunion
On the other hand, sometimes we crave things purely for their evocation of a specific time and place. If, like me, you hold some of the more deliberately tacky elements of the '90s in very high esteem, then Romy and Michele's High School Reunion will be an abject paradise for you.
The film's sharp yet affectionate humour possesses all the appeal of the golden era of The Simpsons — director David Mirkin wrote and produced many episodes of the once-great series.
Mira Sorvino and the great Lisa Kudrow play two washed-up valley girls who concoct an elaborate lie to impress their former peers at their impending 10-year high school reunion. Beneath the bubblegum veneer lies a surprisingly astute portrayal of societal expectations and the failure to meet them, but the charisma of its two extremely likeable stars keep the situational comedy increasingly absurd and the laughs at a rapid fire pace.
Janeane Garofalo cemented her cynic icon status as Heather Mooney, the deeply sarcastic inventor of a cigarette women can smoke in one drag. You may never look at Post Its the same way again.
3. Stranger Things
I couldn't concoct a Netflix list without including the most popular show in the world now, could I? Thankfully, it is a nearly flawless piece of entertainment.
Appealing to the inner child's sense of wonder and discovery, Stranger Things achieves the vintage vibe of hallowed '80s franchises that so many endeavours strive for yet fail to capture. Envision The Goonies if was written by Stephen King and directed by John Carpenter.
But there is much more to this spellbinding yarn than precocious tots and things that go bump in the night. The most justly celebrated aspect of the series is the long-awaited commercial resurgence of Winona Ryder. The coquette goddess of the '90s has endured a ropey decade of lifetime roles and bargain-bin dreck.
Now, in a culture of looking back, Ryder's great body of work can be introduced to a new audience and those who grew up idolizing her (myself included) can look to the future with the gamine girl now a mature woman. As film mercilessly grinds through youth, television continues to be a lottery for actresses of a certain age.
And here we have the central theme of a great show: the specific and unbreakable bond between mother and son. Bonus points go to the excellent synth score.
4. 45 Years
Europe, however, continues to afford mature actors much more generous scripts to showcase a lifetime's worth of honed craft. Andrew Haigh's sophomore effort 45 Years is a glittering showcase for the great Charlotte Rampling.
Haigh's supremely intelligent adaptation of David Constantine's short story "In Another Country" depicts the saga of Kate and Geoff Mercer (Rampling and Tom Courtenay). The retired couple's simple, bucolic existence is thrown into chaos when the corpse of Geoff's ex-lover is finally discovered in an iceberg. The potentially sensationalist subject is exceptionally well-observed and allows its two venerable stars a huge space to deliver a masterclass in chemistry and charm.
A fascinating exploration of what it means to really love and commit to someone. Rampling received her first and probably only Academy Award nomination for her role.
5. Volver
With cinemas rapidly declining, international art house narratives achieving mainstream crossover success are an increasingly rare breed. Though, somewhat ironically, these exotic yet utterly digestible pleasures are granted a second life on streaming sites.
Sensualist supreme and keen social commentator Pedro Almodovar's most accessible — and arguably best — film Volver is required viewing for anyone with even a passing interest in film. The Spanish auteur's main muse Penelope Cruz is perpetually wasted in American films and cosmetic campaigns, but in her native Spain she is allotted considerably more substantial characters. Here, her tempestuous Raimunda towers over any onscreen matriarch in recent memory.
Simultaneously hilarious, spooky, and life-affirming, it is genuinely unclassifiable. In my top five films of all time.
6. The Others
The Sixth Sense may have turned the tide in horror towards the de rigeur shock/twist ending, but M. Night Shamalammadingdong's one trick was perfected by Alejandro Amenabar's unlikely blockbuster hit, The Others.
Equal parts nursery rhyme and Turn of the Screw, the film relies on the power of suggestion and a meticulous sense of dread to ensure that its eventual jump-scares are satisfyingly earned. This elegant ghost story's dreamy aesthetic owes largely to Amenabar's native Madrid standing in for the post-WW2 English countryside.
As star turns go, Nicole Kidman has arguably never been better. Kidman is never acknowledged for her terrific range and here she slyly feeds into this publicly projected ice queen status. Prophetically channelling the Edith Head heyday of Grace Kelly imbued with the barely repressed hysteria of Deborah Kerr, it is clearly evident why Kidman owned Hollywood at the turn of the millennium.
Smart and scary.
7. The Master
Paul Thomas Anderson's The Master may be set in the '50s, but it is the kind of observational dissection that could only be made upon decades of distance from the subject at hand. That subject being more so a critique of the post-war decade itself than the red herring angle of Scientology that was highly publicized during the film's somewhat hopeless marketing campaign.
Hopeless in the sense that no mere poster or trailer could possibly convey the layers of mystery enveloping The Master's dark heart: a spiralling saga of two duelling archetypes rather than straight-ahead characters. In his last great role, Philip Seymour Hoffman portrays the titular figure of power; a icon for the culture of industry and capitalism as represented by debatably sinister behemoths like Orson Welles and L. Ron Hubbard.
Joaquin Phoenix's unhinged everyman evokes the great larger-than-life alcoholism of Montgomery Clift. His PTSD strangely in sync and the emerging on-the-road counter culture mentality. And Amy Adams as the Lady Macbeth Svengali behind the entire operation.
This is about as odd as Hollywood gets and is indisputably one of the great films of the decade.
8. The Wolf of Wall Street
Marty and Leo have had a checkered collaborative partnership. From the great (Gangs of New York) to the decidedly mediocre (Shutter Island), the two have continued to keep each other's careers afloat.
Scorsese's best work may be behind him and DiCaprio's Oscar eluded him for years (for good reason), but they can still help the other hone their skills. Like Goodfellas and Casino before it, The Wolf of Wall Street sees Scorsese once again mining his best subjects: power, corruption, and downfall. The excess of the ultra-materialistic '80s feels depressingly prescient to current sensibilities. Indeed, that incarnation of the true American Dream is one we have yet to wake up from.
It is strangely gratifying watching Leo play such a total a-hole. Margot Robbie impresses as the ultimate self-aware trophy wife who wields her perfect body like a weapon. This obviously feminist angle in a overtly masculine film went completely over the head of many viewers, who viewed the film's generally hideous treatment of women as misogynistic.
Well, of course it is. That is clearly the point. But it is crucial to remember in today's increasingly totalitarian climate towards media that the depiction of unsavoury activity is not an endorsement of it.