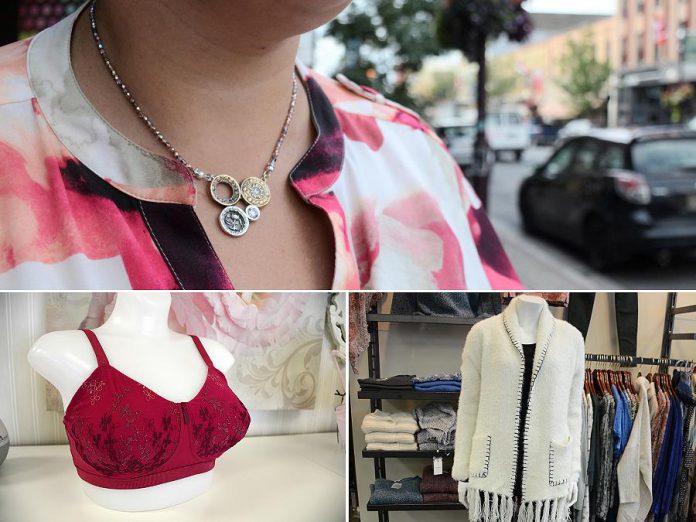 Welcome to kawarthaNOW's new style column. This is where we'll be featuring new looks and style tips from the region's fashion trailblazers. We look at the trends with a focus on independent local shops, people in our community who love fashion and want to share it with you.
In our first feature we're profiling some of the best independent jewellery from Hi Ho Silver, finding a bra that actually fits with My Left Breast, and embracing sweater weather with John Roberts Clothiers.
---
Think style, not trends: fall jewellery with the women of Hi Ho Silver
"There's a difference between being trendy and staying current."
Judy Byrne, owner of the popular Peterborough jewellery shop Hi Ho Silver, is never a slave to a trend. She and manager Glenda Passmore curate a shop full of enduringly stylish independently designed pieces, as the sign puts it, "superfine jewellery and fun stuff." Glenda explains their buying philosophy: "I think it always comes down to, we just buy what we like. We have to feel some connection to it."
When I asked about this season's trends Judy explained that "there's a difference between being trendy and staying current." Staying current is more personal: it's about choosing jewellery that speaks to you and looks good on you.
You choose what makes you tick
Judy began her retail career selling knockoff watches from a cart at Bay and Bloor street in downtown Toronto. "It was my brother's business and he brought me on to help. We were in the thick of it in the early 80s." It was the height of the trend for over the top watches, and that was the beginning of a path that took her from Bay and Bloor to George and Hunter.
Owning her own business was a natural fit. "I like the independence of doing something for myself." Also a natural fit? The many independent designers and small companies represented at Hi Ho Silver.
Here are four of Judy and Glenda's top designers that will help you to stay current on your own terms in fall 2016:
Alex and Ani
This Rhode Island based jewellery company is known for its charm bangles, a modern take on the charm bracelet with an adjustable clasp. All jewellery is manufactured in the U.S.A.
Karyn Chopik
Karyn Chopik is a Vancouver based designer. All of her jewellery is made in Canada from materials including copper, bronze, sterling silver, cubic zirconia and pearls.
Anne-Marie Chagnon
Anne-Marie Chagnon jewellery is hand made in Montreal by experienced artisans. Each piece begins as a wax model conceived by artist Anne-Marie Chagnon. Pewter, glass, gold, copper, bronze and resin come together to create distinctive wearable art.
Pyrrha
Inspiration struck when designers Wade and Danielle Papin found a box of old letters adorned with weathered and cracked wax seals from the 19th century. They used the seals to mold pendants, maintaining their cracks and imperfections. Accompanying each piece is an explanations of its heraldic symbolism. The Pyrrha line also features rings, bracelets, earrings, and a men's collection.
Hi Ho Silver is located at 392 George Street North in Peterborough, Ontario. Call them at 705-742-8903. You can also shop for Hi Ho Silver jewellery online at www.hihosilver.ca, or connect with them on Facebook, Instagram, or Twitter. Read more about Judy and Hi Ho Silver.
---
Your bra fit problems solved with My Left Breast
The struggle is real. Bridget Leslie, owner of My Left Breast, has met a lot of women who just haven't been able to find a comfortable bra. "Some people say 'I take it off on my way home', so they can't even stand it and they're taking it off in the car."
A breast cancer survivor, Bridget started her business after realizing how hard it was to find everything she needed. "I wanted to give women a great place to land where they could have peer support." In addition to bras and bra fittings, My Left Breast offers wigs, medical compression garments, bathing suits, modal clothing and more.
The staff at My Left Breast have helped a lot of women to find bras that fit. "They're really good fitters because they work with difficult situations all the time."
Every bra fitting begins with 3 measurements and a question: "What don't you like about your bra?" Here are some of the most common bra fit problems that the team at My Left Breast encounters and how to solve them:
"My straps keep falling down."
One quick fix for falling bra straps is the StrapDoctor, available at My Left Breast. It's a bead of silicone that sits on your bra strap and comfortably holds it in place.
Women with narrow shoulders frequently have problems with falling straps. Bridget suggests a bra with a narrower cut, so the strap sits comfortably between the neck and the shoulder. Belgian company Prima Donna makes a great cut for narrow shouldered women.
"Ouch! The underwire is digging in."
An ill fitting underwire can be very uncomfortable. For this problem, the bra fitters will look for a different shape of underwire or find a bra without one. At My Left Breast they have many attractive options without underwire.
Short waisted women often find underwire bras uncomfortable.
"The back is riding up."
This means that the band is too loose. You could be wearing the wrong bra size or it could be that the bra has stretched over time. Either way, it's time for a new bra.
"My breasts are popping out."
If your breasts pop out of your bra, you need a larger cup size. Large-breasted women know that this is easier said than done, but Bridget carries up to a J cup in store and often does special orders for her customers.
"This bra used to be comfortable, what happened?"
It's not your imagination, your bra actually is getting less comfortable with time. As the elastic in the bra wears out it won't sit properly. Bridget recommends replacing your bras every 12 to 18 months.
My Left Breast collects gently used bras to donate to Bras Around the Building, a local fundraiser for the Canadian Cancer Society, for breast cancer research. This year on October 28th, Bras Around the Building will be decorating Country 105 with donated bras and collecting donations.
My Left Breast is located in the Charlotte Mews at 203 Simcoe Street #3 in Peterborough, Ontario. Book your fitting by calling them at 705-876-3333. You can also visit them online at www.myleftbreast.ca, or follow them on Facebook, Twitter, and Instagram.
---
Four sweater styles to try this fall with John Roberts Clothiers
To me, there is no more quintessentially fall item of clothing than the sweater.
I remember once on the first day of school overheating but reluctant to take off my sweater, because I thought I looked fabulous (red face and all).
A sweater can look polished and fashion forward and feel like a decadent night at home. They are a woman's best friend.
"This is a great year for sweaters" says Gail Martin of John Roberts Clothiers, leading me toward a wall of clothing that I immediately want to disappear into with a cup of tea.
Here are four of our sweater picks for fall 2016:
The open front sweater
Gail explains that the open front sweater can be worn a number of ways. "You can belt it if you want to keep it closed, but it looks nice just open as a finishing piece." Depending on the weather you can also use it as a less structured alternative to a jacket. "It's a nice, soft silhouette."
The poncho
There's a reason that the poncho endures: when you choose the right one, it's a one step outfit fix. Gail says that it's easy to wear a poncho. "Pop it on over leggings and a plain top. It's an easy loose piece. You can wear it as outerwear or indoors. It makes every shape look good because it drapes."
The swazer
Technically the selection above could be labelled a shorter version of the open front sweater, but its clean and polished construction has thrown me into fits of portmanteau. The sweater blazer allows you to bring cozy comfort into more professional or formal settings. Gail says that this sweater provides exceptional versatility. "You can dress it up or dress it down. The winter white is nice and neutral, it goes with anything."
The opera coat
Not technically a sweater, the opera coat deserves to be included as a great alternative. It keeps you warm, but offers a slightly more constructed look than its knitwear brethren. It can also be lined, very helpful to those who have sensitive skin. We chose an example in green, a big colour for fall 2016. Gail says that the trend is for darker greens. "Green is big for this fall: dark greens, forest greens and olives. We're also seeing a lot of green and navy together."
John Roberts Clothiers is located at 321 George Street North in Peterborough, Ontario. You can call them at 705-748-5212, visit them online at www.johnroberts.ca or follow them on Facebook and Twitter.