The Peterborough Theatre Guild has kicked off its 2016-2017 season with a Al Tye's production of Frederick Knott's Wait Until Dark. A classic thriller, Wait Until Dark is an unusual, yet welcomed, play to kick off the Guild's 51st season.
Debuting on Broadway debut in 1966, Wait Until Dark is notable for the famous female leads associated with the show. Lee Remick was the first actress to bring the character's heroine, Susy Hendrix, to life in the original production at New York City's Ethel Barrymore Theatre. The role would earn Remick a Tony nomination. Simultaneously, a production opened in London staring Honor Blackman.
In 1967, the show was successfully brought to the screen featuring Audrey Hepburn in the starring role. Hepburn's portrait of Susy would garnish her an Academy Award nomination and the role is still considered one of Hepburn's most unusual.
Wait Until Dark brings a crime noir drama to the stage in an intense story about a blind woman caught in a trap between three cold criminals. Having recently lost her sight in a car crash, Susy Hendrix (Hilary Krysman Osborne) is still adapting to a life without sight.
When Susy's husband Sam (Chris Lee) is given a doll by a mysterious woman at a Montreal airport, little does he know that hidden inside the doll is a stash of heroin which he has just unwittingly smuggled into New York.
Days later the mysterious woman is dead, and three con-men show up at Susy and Sam's apartment: "Mike Talman" (Justin Boyd), "Sergeant Carlino" (Myles Chisholm), and "Roat" (Mark Paton).
Unable to locate the doll, the trio devises an elaborate plan to get Sam out of town so they can manipulate Susy into finding the doll for them. As Susy begins to put together the pieces of their ruse, things begin to get deadly.
A well-crafted drama, Wait Until Dark relies on the talents of a competent cast as well as an elaborate set and, most importantly, specific lighting design. Director Al Tye successfully weaves all the show's elements together.
In the role of Susy, Hilary Krysman Osborne is more a victim than a heroine. Still adapting to her blindness, Susy is both naïve and co-dependent which allows her to quickly fall into the trap of the three con-men. What makes the character interesting is how she must overcome both her physical and emotional weaknesses in order to survive the ordeal.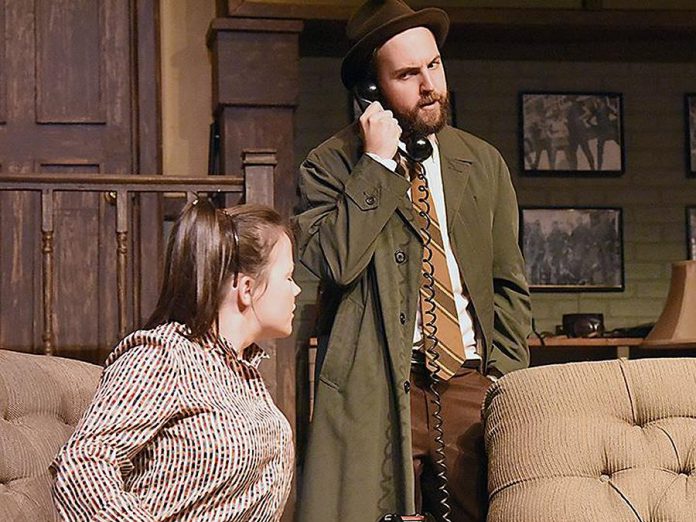 In their roles as the three con-men, Justin Boyd, Myles Chisholm, and Mark Paton get the chance to play multiple sorts of characters in their elaborate scam. In fact, the audience never gets to know their real names, with the only names given to them being the aliases of the roles they take on.
Yet despite the fact that we don't know their names, background is given on Boyd's and Chisholm's characters to make them interesting villains. Paton's character remains the enigma — and as a result the most dangerous.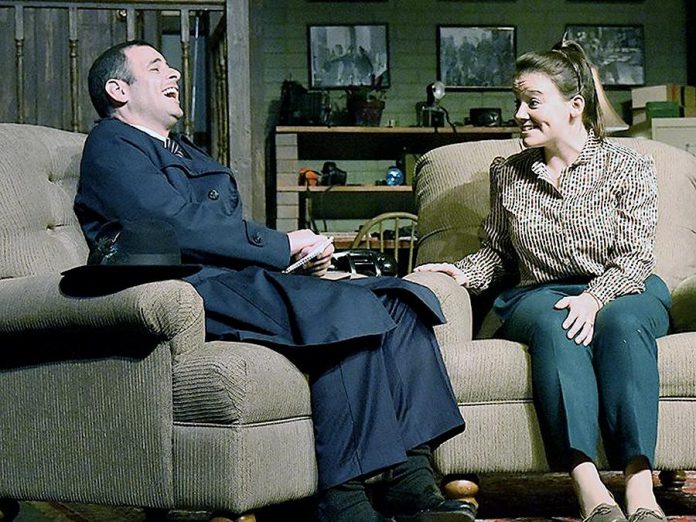 The men play their con well and each portrays his own individual attributes. Chisholm is the high-anxiety thuggish con man, while Paton is the smartest and cruelest. But it's Justin Boyd who plays the best con as Mike Talman. Making Susy believe that he is an old friend of her absent husband, Boyd plays the "nice guy" so well that eventually the audience wishes that he was legit.
However, when the deception starts and the reality of the con starts begins to bleed together, Talman's manipulation of Susy becomes difficult to watch.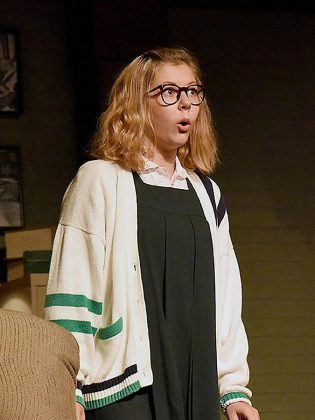 Wait Until Dark also features actress Talen Waller in a small but pivotal role of Susy and Sam's upstairs neighbour's tween daughter Gloria.
Impressing me with her scene-stealing performance in last year's Guild opener Ravenscroft, Talen continues to give the most interesting performance of the night as a kid who is both loveable and unlikeable at the same time.
Uncooperative and emotionally mixed up, Gloria is recruited by Sam to check in on his wife and help her with housework and shopping. However, an immediate disdain between the two female characters is immediately revealed.
Talen portrays Gloria as a truly weird little girl, which in itself helps build the tension of the drama. It's another fine performance from this young actress.
With Wait Until Dark, the show's company is able to assemble a tense thriller on the stage and the show hits its mark. Consistent throughout, the play continues to build towards a dramatic ending unlike anything seen at the Theatre Guild in a long while.
Wait Until Dark runs until Saturday, October 8th at the Peterborough Theatre Guild (364 Rogers St., Peterborough). Shows start at 8 p.m., with a 2 p.m. matinee on Sunday, October 2nd. Tickets are $20 for adults, $18 for seniors, and $11 for students, and can be ordered by visiting the box office from 5:30 to 8 p.m. on Thursdays and Fridays and one hour before curtain time on days of performances, or by calling the box office at 705-745-4211.
For more information about the Peterborough Theatre Guild and its 51st season, visit www.theatreguild.org.