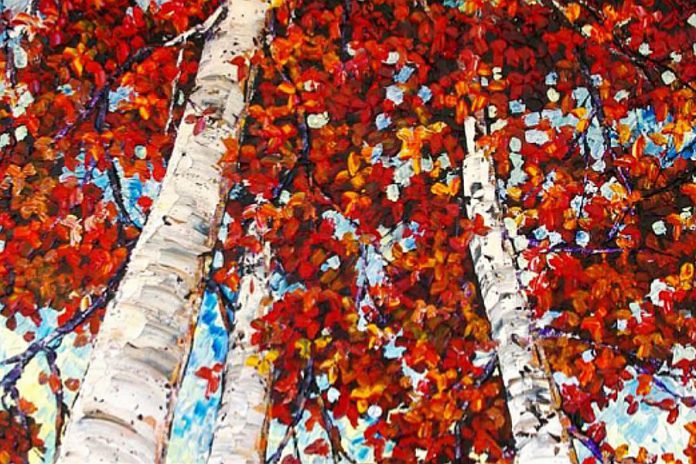 A chill is in the air and the leaves are turning, fall is here! Accordingly, a number of colourful collections of paintings by local painters and collectives will be on display this month, not to mention an outdoor painting festival happening in Cavan and Millbrook. These events, alongside some interesting shows in the area should make for a great excuse to get out into the beautiful fall weather.
If you happen to be in downtown Peterborough, stop in and see San Murata's delightfully whimsical paintings featured at Christensen Fine Art, or Alex Bierk's beautifully rendered monochromatic paintings at Artspace. One could also drop by the Art School of Peterborough to see some of Victoria Wallace's latest encaustic work, peruse their new Gallery Shop, and perhaps sign up for a class.
Up for a fall drive? Then head out to Gallery on the Lake and take in the landscapes of Andrew Cheddie Sookrah, complemented by a selection of colourful works for their annual Thanksgiving show and sale.
---
Artspace presents "Forerunners" by Alex Bierk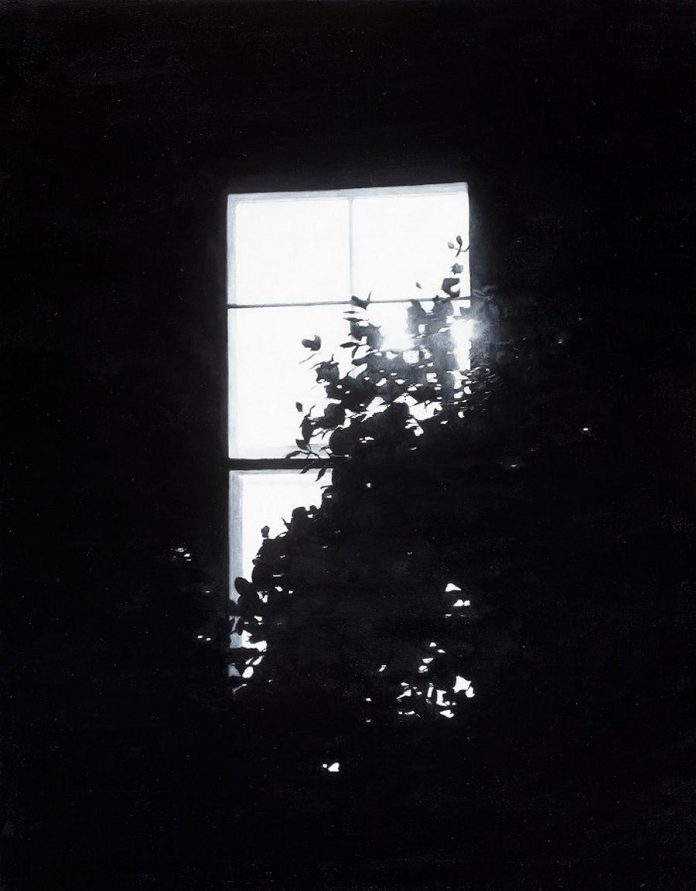 There will be an opening at Artspace on Friday, October 14th from 7 to 10 p.m. to celebrate the showing of "Forerunners" by Alex Bierk, and a show of new work by students from the Peterborough Integrated Arts Program on display in the adjoining Gallery space.
"Al's work is more so about his future in Peterborough, than it is about looking at the past, which I think is doubly reflected by the work being produced by the Peterborough Integrated Arts students," say Artspace director Jon Lockyer.
Artspace is located at 378 Aylmer St. No. in Peterborough. For more information, call 705-748-3883 or visit www.artspace-arc.org.
Christensen Fine Art presents recent works by San Murata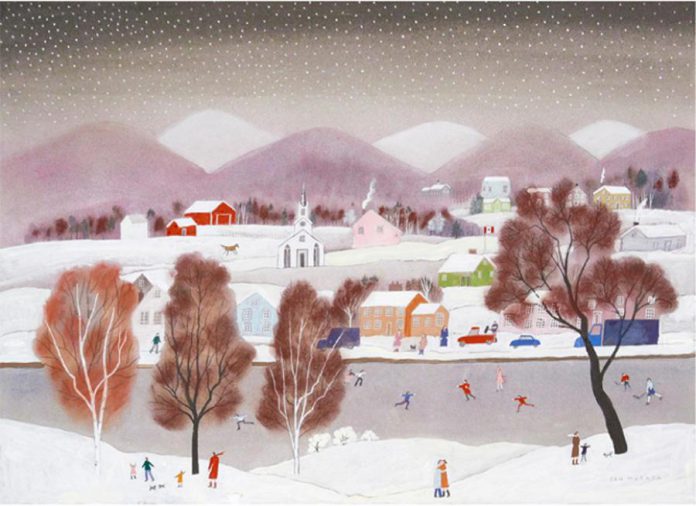 Christensen Fine Art is pleased to present the works of Grafton artist San Murata.
San's paintings of everyday life are depicted in a folk style, with a twist. They are exquisitely crafted with a lyric naturalism and a decorative goal. San's relationship with his world is one so in tune with the aesthetic we cannot help but succumb to its charm.
The exhibition opens on Friday, October 7th, with an artist's reception from 6 to 9 p.m., and will continue until October 29th.
Christensen Fine Art is located at 432 George St. N. in downtown Peterborough. Gallery hours are Monday to Friday from 10 a.m. to 5:30 p.m. and Saturday from 10 a.m. to 4 p.m. For further information, please contact Peer Christensen at 705-876-9623 or visit www.christensenfineart.com.
Gallery on the Lake presents "Current Connections" by Andrew Cheddie Sookrah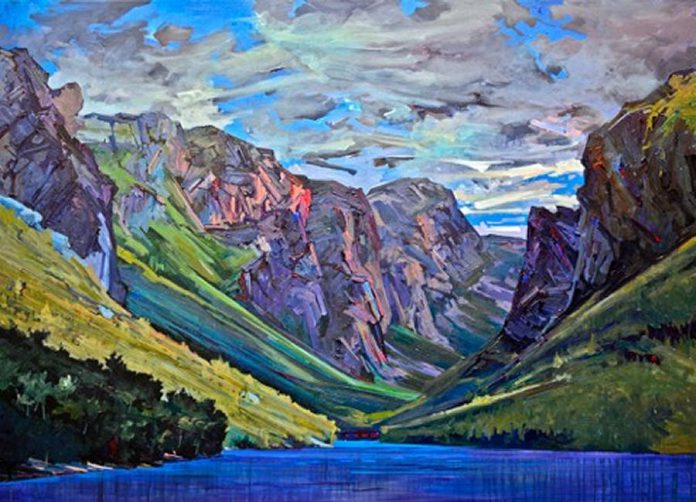 Painter Andrew Cheddie Sookrah's exhibition "Current Connections" will be on display at Gallery on the Lake from October 1st until October 28th.
An opening reception will be held on on Thanksgiving (Saturday, October 8th) from 1 p.m. until 4 p.m.
Sookrah's opening will coincide with the gallery's annual Thanksgiving show and sale, which runs from October 8th to 10th. Many of the artists will be in attendance.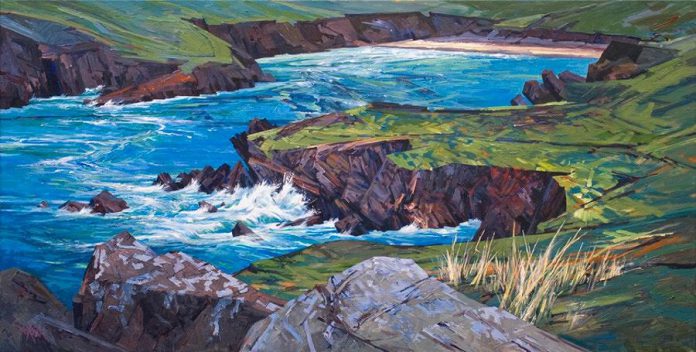 Gallery on the Lake is located at 65 Gallery on the Lake Rd. in Buckhorn. Find them online at galleryonthelake.com or contact them at info@galleryonthelake.com or 705-657-1108.
Launch Gallery at Art School of Peterborough features Victoria Wallace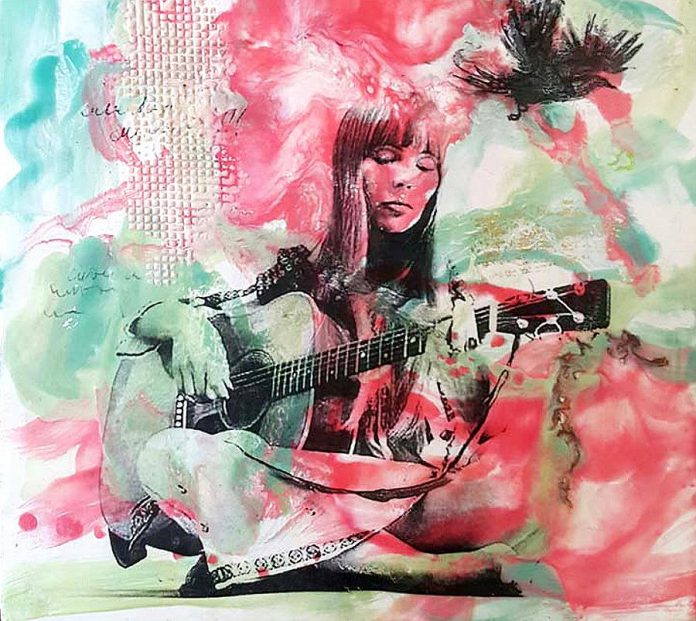 Have you considered taking any art classes? You can learn about working with new mediums, or maybe gain some inspiration from others, at the Art School of Peterborough. The school offers a number of courses featuring a wide variety of mediums. Ceramics, glass fusing, drawing, painting, and the ancient art of encaustic are just a few of these.
Encaustic uses beeswax as the medium that carries the pigment. It is one of the oldest painting techniques, dating back to ancient Greece, still in use today. The wax can also be used to transfer graphic images onto a surface.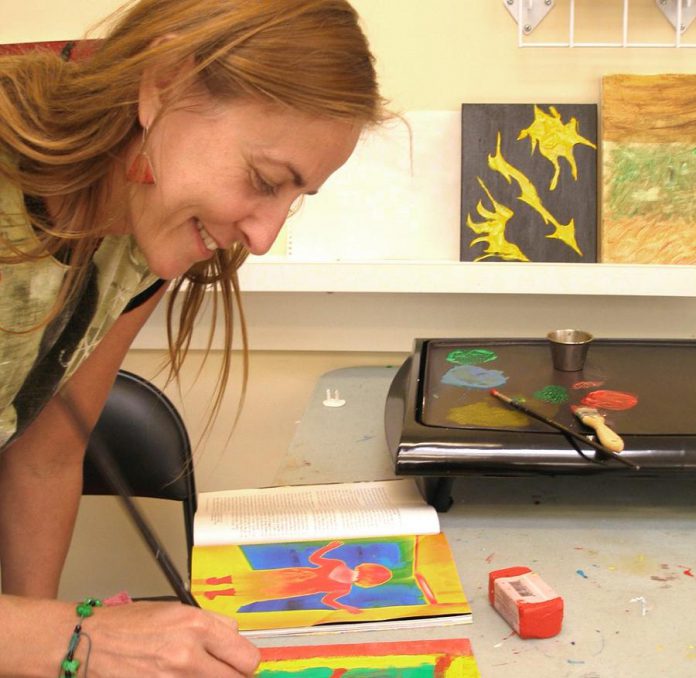 ---
Artist Victoria Wallace is experienced in the art of encaustic painting, as well as a great teacher to learn from. A seasoned instructor in various painting techniques, Victoria never fails to transmit her contagious enthusiasm along with her technical knowledge.
Pop by the Art School of Peterborough (174 A, Charlotte St., Peterborough, 705-742-3221) to see more of Victoria's work and to find out what the school has to offer. For more information on Launch, visit artschoolptbo.org/launch/.
Outdoor Painting Festival in Cavan and Millbrook on October 1 and 2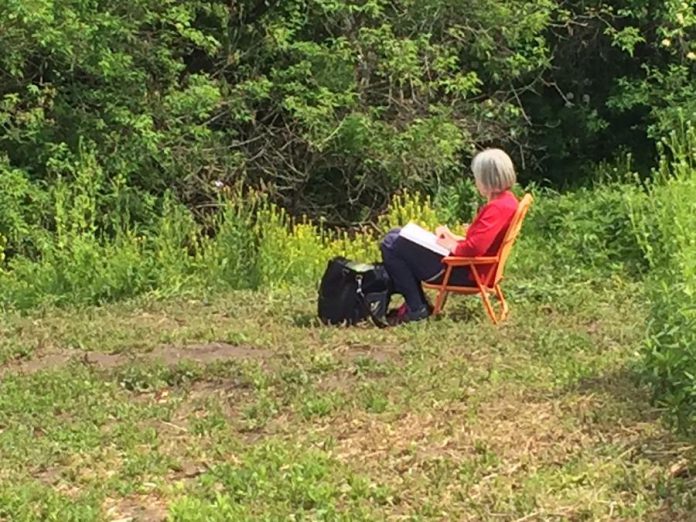 On the weekend of October 1st and 2nd in Cavan and Millbrook, there will be an outdoor painting festival! Artists from all around are going to descend upon the area armed with paintbrushes and palettes to paint outdoors for the festival.
Organiser and artist Valerie Kent took the time to fill us in on a few of the details.
At least 55 artists and counting will be outside painting for the duration of the weekend. There will be a contest wherein each artist submits their two best paintings for consideration by the jury. If this piques your interest and you like to paint, it might not be too late to become involved.
Open to the public, this will be a family-friendly weekend with refreshments, live music on Saturday, and children's art activities available throughout the weekend. A full breakfast will be provided by the Legion for only $7, with bag lunches available there as well.
There is parking available on side streets and parking lots within Cavan and Millbrook. Please be aware that parking on the side of the highway is not permitted.
There will also be opportunities to purchase paintings, and a quarter of the proceeds will be donated to Community Care Millbrook.
To register or to find out more about this event, please visit www.cavanarts.ca
Kawartha Artists' Gallery and Studio presents "Nature's Palette"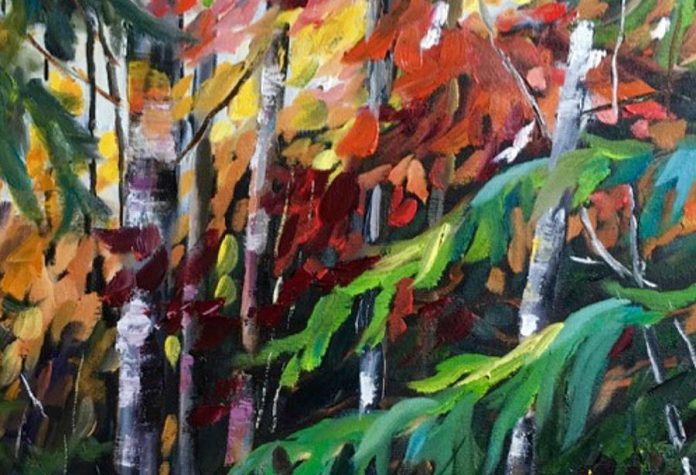 The latest members show and sale at the Kawartha Artists' Gallery and Studio, "Nature's Palette", is on now until Sunday, October 23rd.
There will be an opening reception on Sunday, October 2nd from 1 to 4 p.m.
Kawartha Artists' Gallery and Studio is located at 420 O'Connell Rd. in Peterborough. Gallery hours are Wednesday to Sunday from 1 to 4 p.m. and Thursdays from 1 to 7 p.m. For more information, visit www.kawarthaartists.org.
"New Kawartha Landscapes" by Gabe Robinson at Black Honey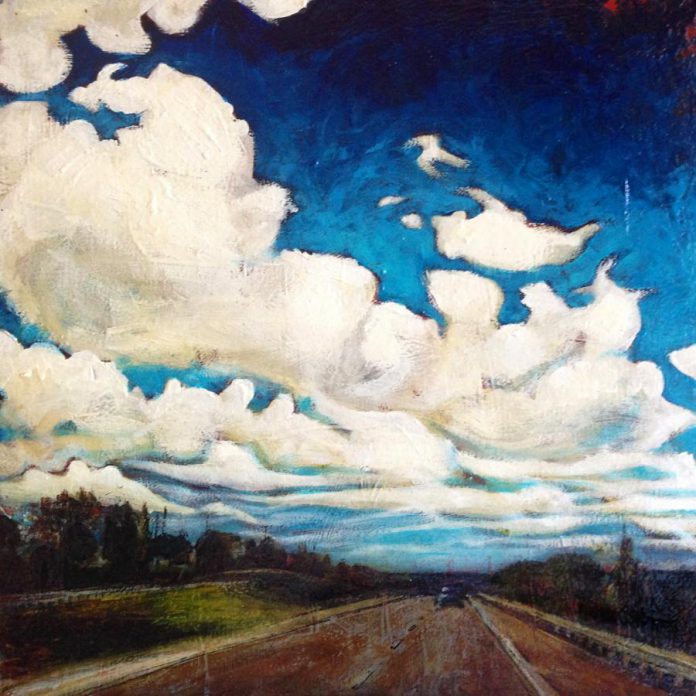 Stop into Black Honey in downtown Peterborough (221 Hunter St. W., 705-750-0024) for a coffee and a sweet treat, and treat your eyes to "New Kawartha Landscapes", Gabe Robinson's recent series of locally inspired paintings.
"These paintings started with quick snapshots taken while driving in the Peterborough area," Gabe says. "Struck by the shapes of the clouds and the not-clouds, and by the lines and forms of the landscapes below, I had to paint."
The show will be on display until mid October, so get out there for brunch or a coffee sometime soon!