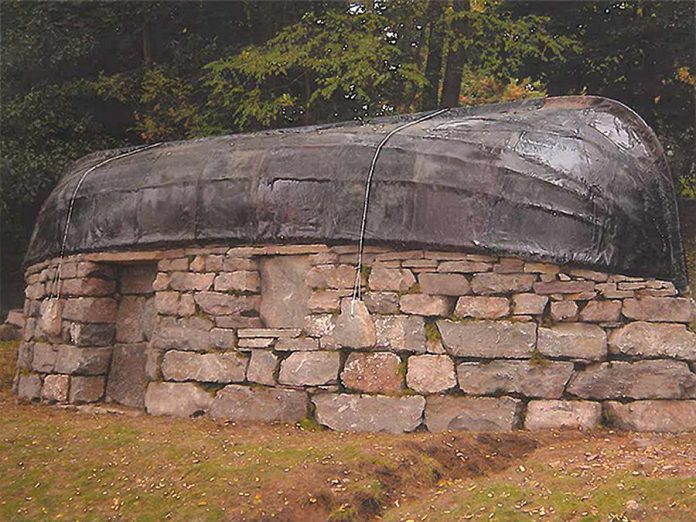 The world's largest monument dedicated to iconic Canadian writer Farley Mowat is about to have a new home in Port Hope.
This week, the monument to Mowat — commonly called the Boat Roofed House — will be dismantled and, in time for the Thanksgiving weekend, will be reassembled at a new location at Eastside Ganaraska Park, across the river from the Port Hope Library.
Mowat was a writer and fervent environmentalist best known for his books about the Canadian north. One of Canada's most widely read authors, most of his 42 books have been translated into 26 languages and have sold more than 17 million copies around the world. Mowat and his second wife Claire, also a writer, spent their later years together in Port Hope, where he died in May 2014 at the age of 92.
The boat roofed house monument was originally constructed in 2006 to honour the literary contributions of both Farley and his wife Claire and their connection to Port Hope. The monument was constructed using 39 tons of limestone and an overturned 24-foot walrus-skinned sail boat. It is currently located on private property at 20 Catherine Street in Port Hope and is considered the largest monument dedicated to Mowat in the world.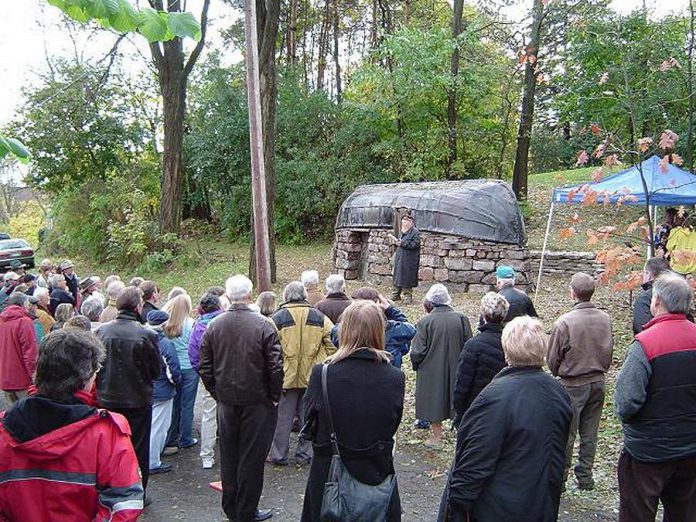 The boat roofed house is based on Mowat's 1998 non-fiction book The Farfarers, in which he speculates that North America's eastern coast was visited and settled by walrus ivory hunters from the northern British Isles, well before the Vikings. In the book, Mowat theorizes that these hunters created camp sites for overwintering in the treeless environment by placing their skin boats on top of stone foundations.
Mowat's book stirred controversy among archaeologists and anthropologists when it was published, with many dismissing Mowat's theories as speculative fantasy — although some acknowledged the book was a fascinating read.
During the week of October 3rd, a crew of professional stone wallers from Great Britain, the United States, and Canada will come together to dismantle the monument and reassemble it at the new location. Over the first few days, they will map and label the stones of the base. On October 6th, they will reassemble the monument at its new location and a re-dedication ceremony will take place on Sunday, October 9th at 3 p.m.
Port Hope is celebrating the relocation of the boat roofed house with a series of Mowat-themed events during the week:
"Farley on Film", where five Mowat films will be shown at Port Hope Library at 31 Queen Street: The Snow Walker at 6 p.m. on Monday, October 3rd; Ten Million Books – An Introduction to Farley Mowvat at 1:30 p.m. on Tuesday, October 4th; Lost in The Barrens at 6 p.m. on Wednesday, October 5th; and Never Cry Wolf at 6 p.m. on Thursday, October 6th.
A book launch and signing of How to Build Dry-Stacked Walls by heritage stone mason John Shaw-Rimmington on Thursday, October 6th at 7 p.m. at Furby House Books (65 Walton St.)
"True Stories, Told Well", a live reading by five Canadian storytellers on Friday, October 7th at 7:30 p.m. at Carlyle Inn (86 John St.)
A print and book sale from Port Hope Library and Furby House Books of books by Mowat and guest authors as well as signed prints on Saturday, October 8th from 10 a.m. to 4 p.m. at Port Hope Library (31 Queen St.), and again on Sunday, October 9th from 11 a.m. to 3 p.m.
Kids crafts and games on Saturday, October 8th from 10 a.m. to 4 p.m. at Port Hope Library (31 Queen St.).
A "wheelbarrow parade" on Saturday, October 8th at 11 a.m., where residents and officials will carry stones from the monument's existing location at 20 Catherine Street to the new location.
Live owls and other bird of prey from the Ontario Falconry Association on Saturday, October 8th from 1 to 2 p.m. at Port Hope Library (31 Queen St.).
A reading of works by Mowat by Canadian authors and friends (including Silver Donald Cameron, Ken McGoogan, and Farley's wife author Claire Mowat) on Saturday, October 8th at 2 p.m. at Port Hope Library (31 Queen St.).
"Taking Care of Crumley", a play for children ages 5 to 10 based on the book by Ted Staunton, on Saturday, October 8th at 3 p.m. at the Canadian Fire Fighters Museum (95 Mill St.).
The unveiling of the Farley Mowat Bust on Saturday, October 8th at 3:30 p.m. at Port Hope Library (31 Queen St.).
"Farley's Favourite Hike" along the Waterfront Trail, hosted by Pine Ridge Hiking Club, on Sunday, October 9th from 9:30 a.m. to 11 a.m., leaving from Port Hope Library (31 Queen St.).
A re-dedication ceremony for the Farley Mowat Boat Roofed House on Sunday, October 9th at 3 p.m. at Eastside Ganaraska Park (Mill St.)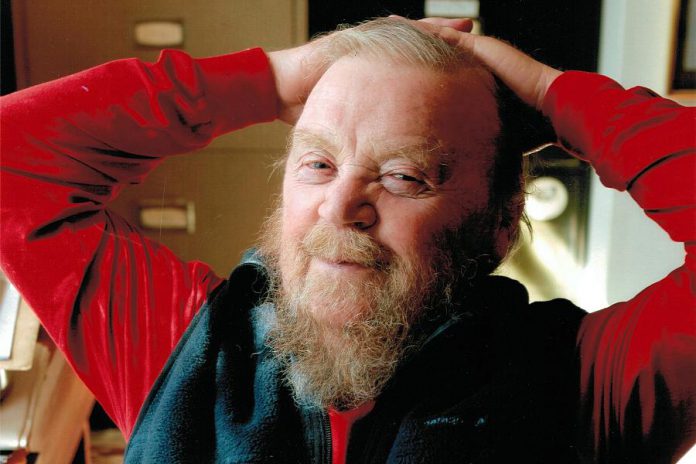 While the Municipality of Port Hope has donated the land for the monument's new location and will also provide labour and machines to help in the dismantling and reconstruction, and various sponsors have donated to the monument's relocation, the committee coordinating the project is still seeking community donations to assist with the costs associated with the relocation and the celebratory activities.
Most of these funds will be to cover the costs of the stone wallers who are dismantling, moving, and reassembling the monument. Donations are being accepted at Municipality of Port Hope, Finance Department, 56 Queen Street, Port Hope, ON L1A 3Z9 or by contacting donate@followingfarley.com (Reference: Farley Mowat Project).
You can donate online at www.followingfarley.com, where you'll also find more information about the project.