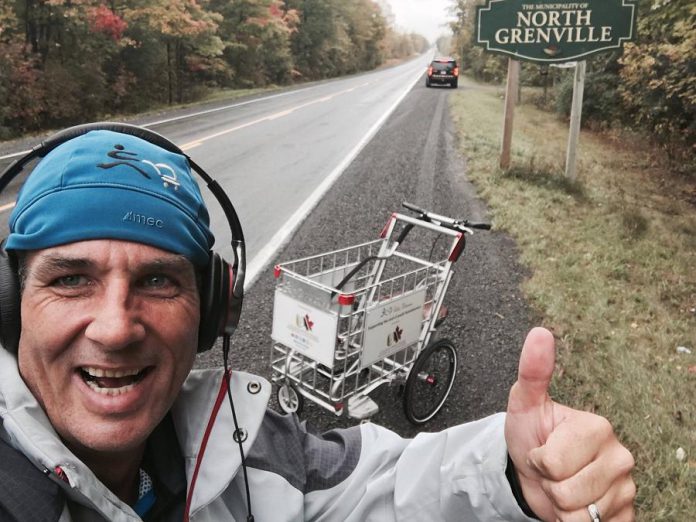 When it comes to homeless youth, Joe Roberts is pushing for change … literally. He's pushing a shopping cart — a symbol of homelessness — 9,000 kilometres across Canada over 517 days to raise awareness and funds and to advocate for the 35,000 Canadian youth who are living on the streets.
In the sixth month of The Push for Change journey, Joe is now in Ontario and you can hear him speak from noon to 1 p.m. today (October 16) at The Mount Community Centre (1545 Monaghan Rd. Peterborough), presented by YES Shelter for Youth & Families.
Joe knows about homelessness because he's been there. He started using drugs when he was just nine years old and, by the time he was a young teenager, had been imprisoned for drug possession and dropped out of high school. By the age of 18, he was homeless and, at the age of 23, he was an skid row addict living under a bridge.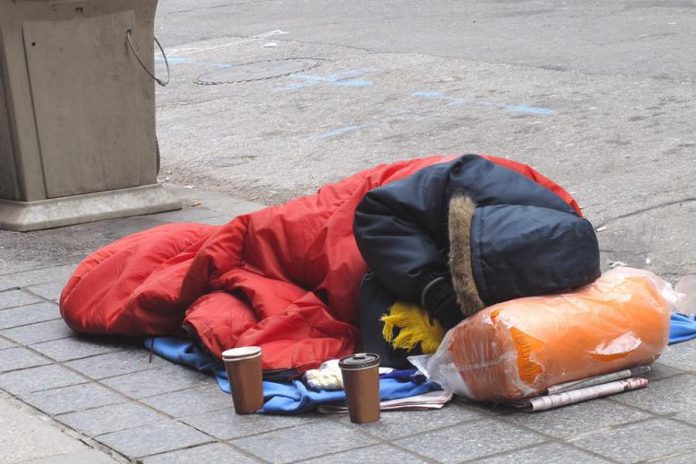 But at the age of 24, he turned his life around completely. He got clean, enrolled in college, and excelled in his academic studies. At the age of 31, he accepted a position with Vancouver multimedia development company Mindware Designs Communications and, in less than four years, increased the company's business by 800% — eventually becoming president and CEO.
He made his first million dollars before he turned 35, and was named one of Business in Vancouver's 40 Under 40 Outstanding Business People and one of Maclean's 10 Canadians Who Make a Difference. Since then, Joe has become a successful author and in-demand inspirational speaker. But he has never forgotten his life on the streets as a young adult.
In 2011, he co-founded The Push for Change with Sean Richardson, a former elite athlete with a PhD in performance psychology. A registered charity, The Push for Change is a national awareness and youth empowerment campaign to prevent youth homelessness.
Joe started his cross-country trek in St John's, Newfoundland on May 1st of this year and is slated to complete it in Vancouver on September 30th, 2017. His walk will include more than 400 community events in all 10 provinces and three territories. To date, he's pushed his shopping cart almost 3,000 kilometres across eastern Canada,
"I'm inspired by Canadians like Rick Hansen and Terry Fox and the proud Canadian legacy of bringing an important message directly to local communities with a cross-country adventure," Joe says. "I am blown away by the support I've received so far. It's incredible to see people come together to help."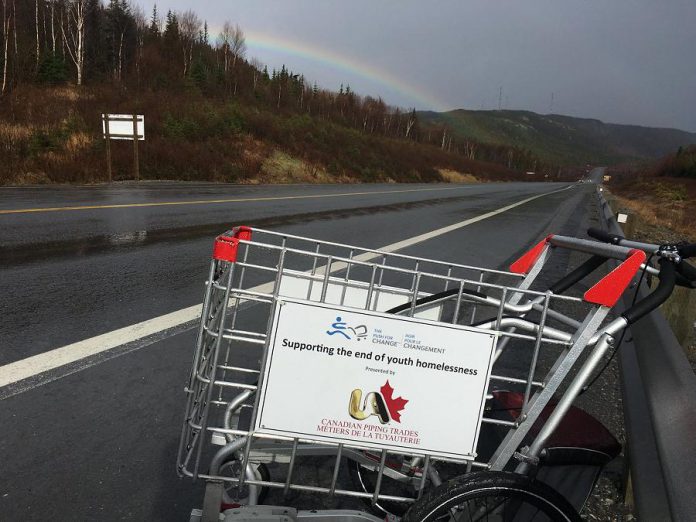 Joe's Peterborough presentation takes place just after a fundraising soup lunch from 11 a.m. to noon presented by the YES Shelter for Youth & Families. To partake in the soup lunch and hear Joe speak following the lunch, a minimum contribution of $10 at the door is requested, with all funds supporting The Push for Change, United Way of Peterborough and District, and YES.
Later today (October 16), Joe will also be at Caressant Care McLaughlin (114 McLaughlin Rd., Lindsay) from 3:30 to 5 p.m. to present his story to residents of the nursing home.
Next Sunday (October 23), Joe will arrive in Toronto for a public celebration at Yonge/Dundas Square from noon to 4 p.m. accompanied by Pinball Clemons and Degrassi cast members with performances by Jennifer Strype, Jully Black, and more.
For more information about The Push for Change or to get involved or donate, visit www.thepushforchange.com.
---
The Push for Change needs your support!