It's not every day you can get up close and personal with an owl. But that's what happened to Connie Blackwell and Richard Connolly of Lindsay.
Last Monday evening, Connie and her husband Richard were at home when they heard a loud bang from their front porch.
"When we opened our door, we found this beautiful owl with its wings outstretched and eyes closed, clearly stunned from the impact of hitting the window," Connie tells kawarthaNOW.
Fearing the worst, Connie and her husband wrapped the owl in a towel. Wearing gloves, Connie held the owl in her hands.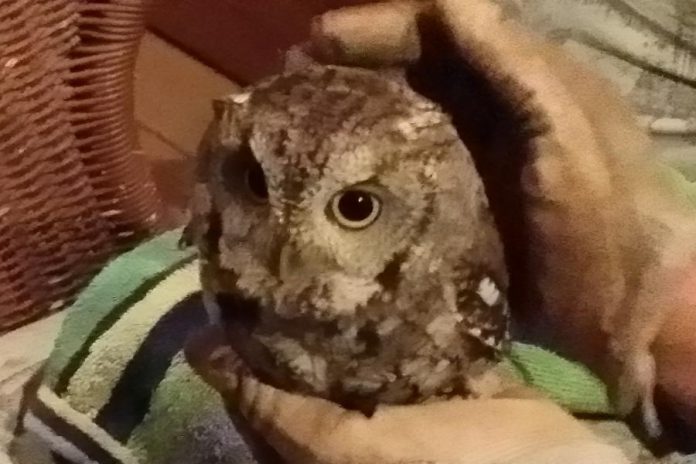 Fortunately, after several minutes the owl opened its eyes and, according to Connie, calmly assessed its surroundings.
"After posing for the camera and relaxing in the palm of my hand, its wings started to flutter," Connie says. "We knew it was time to set it free. What a beautiful sight watching it fly away into the night."
Connie and Richard were curious about the species of the owl (which they nicknamed "Baby Huey") and, after conducting some research online, found kawarthaNOW's 2015 article on owl sightings.
The small owl appears to be an Eastern Screech-Owl, a nocturnal bird that disguises itself by roosting in holes in large trees, either natural cavities or in ones made by woodpeckers.