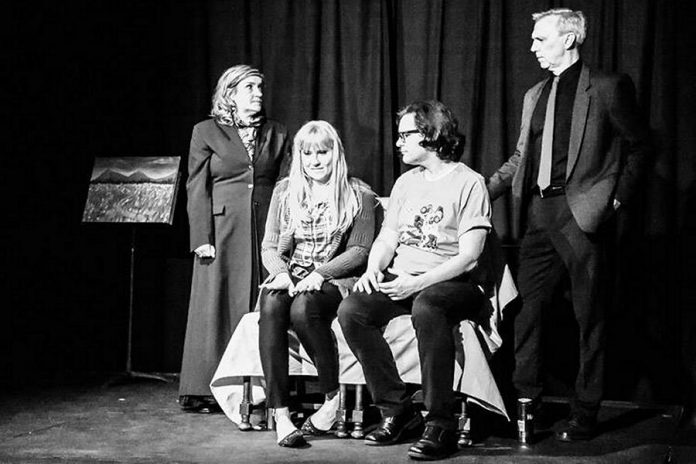 Each October, the Peterborough Theatre Guild opens up the Gwen Brown Studio to preview their submission to the Eastern Ontario Drama League One-Act Festival, which takes place from November 11th to 13th in Perth.
This year, the Guild is giving the audience something to really fall in love with. In his directorial debut at the Peterborough Theatre Guild, Hugh MacMillan presents Norm Foster's My Narrator.
Featuring Tina Johnston, Nicole Roy, Derek Weatherdon, and Mark Gray, My Narrator is an original love story that's modern, clever, and extremely relatable. It's a story about two people in survival mode — and about the voices in their heads. Simply put, it's one of the most charming and funny love stories I've possibly ever seen on the Peterborough stage.
One of Canada's most popular playwrights, Norm Foster first debuted My Narrator at the Lunchbox Theatre in Calgary in 2006. The one-act play tells the story of the relationship between Lacy (Nicole Roy) and Miles (Derek Weatherdon), two people barely surviving and prone to bad decisions. Lacy is an artist, albeit not a very original one. Miles is a men's wear salesman — at least this week, as he's never been able to hold down a steady job.
When Miles first sees Nicole walk into his store, he is immediately attracted to her. However, Lacy is not so sure about Derek. You see, Lacy has a voice in her head named Barb (played by Tina Johnston) who provides an ongoing dialogue to prevent Lacy from repeating mistakes and falling in potential traps. When Miles learns of Lacy's "narrator", he develops his own wise and sophisticated narrator named Bob (played by Mark Gray).
As Miles and Lacy start dating, their narrators develop their own unique relationship with each other … with surprising results. I don't want to say much more than that as I don't want to ruin the surprises, but what follows is a charming tale of human relationships, risk taking, and the connection between your inner voice and your heart and mind.
It's difficult to describe the dynamic between the characters of Lacy and Miles and their narrators Barb and Bob, but I'll try. While the action takes place on the stage, Barb and Bob stand just to the side of the stage, addressing the audience about what their characters are (and, more often than not, should be) thinking.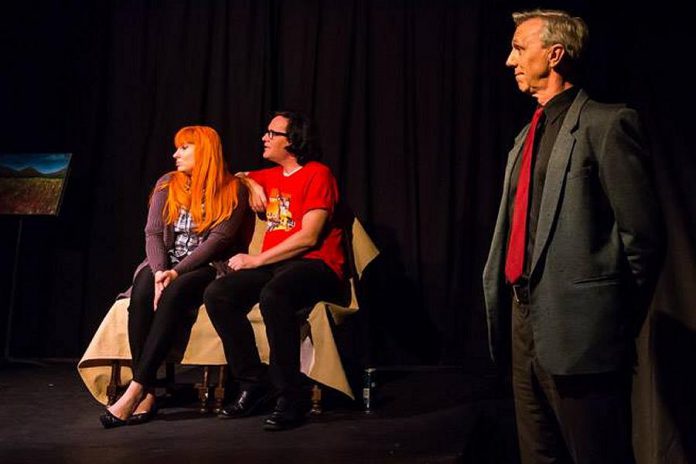 Meanwhile, Miles and Lacy are aware of how their personal narrators are influencing and not influencing their actions. The two characters and their personal narrators often interact, and the narrators are able to interact with each other. It may seem confusing but, when you see it, it all makes sense.
The true beauty of the show is the perfect casting and the warm and witty chemistry of both the characters and their personal narrators. It is this perfect combination of actors that makes My Narrator so delightful.
With her pink hair and bohemian looks, Nicole Roy is edgy and beautiful and embodies the poor artist living below the poverty line. With his long curls and dark-rimmed glasses, Derek Weatherdon is a modern Mr. Lucas (from the British sitcom Are You Being Served?), bumbling over his words and trying hard to impress a woman who is "out of his league."
Together they are mismatched and somewhat tragic, but absolutely adorable. Playful, spunky and full of witty banter and subtle double takes, the chemistry between Nicole and Derek is perfect in all its imperfections. It is such a joy to see these two on the stage together.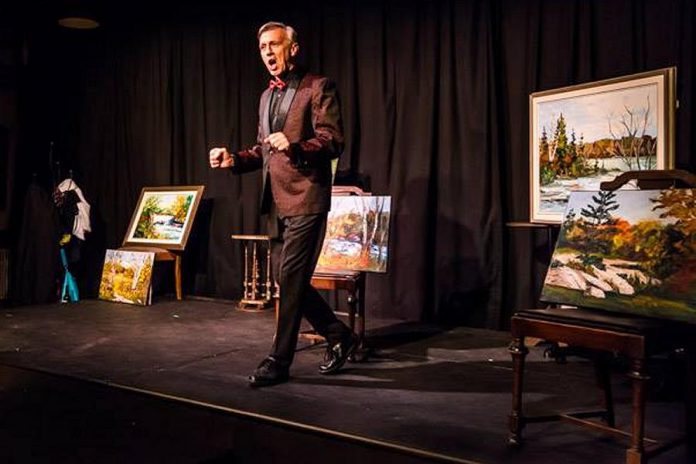 Their narrators also have their own unique chemistry. Matriarchal and sensible, Barb is out to save Lacy from herself. Meanwhile, Bob is dignified, worldly and smoot, much like a cross between Jiminy Cricket and Roger Moore. As entertaining as it is to watch Nicole and Derek together on stage, it is equally as entertaining to watch the sparks fly between Tina and Mark in the wings.
Together the four make a scrumptious quartet. If the characters don't find love in one another, they are going to find love from the audience who are immediately invested in them the moment they step on the stage.
A special mention goes to local artist Jane Hall who loaned her paintings to the production (which are all available for sale). But, as the cast says at the end of the play, if anyone wants to purchases the art they need to wait until at least the end of the run!
The annual entries into the Eastern Ontario Drama League One Act Festival are always interesting theatre, but I truly believe that My Narrator should take the award for the best entry. The play is relatable, delightful, smart, and hip. It's a perfect piece of theatre that you can't afford to miss and, with a ticket price of only $8.25, it's also very affordable. If you see only one show at the Peterborough Theatre Guild this season, I recommend this one.
My Narrator runs from October 19th to 23rd at the Peterborough Theatre Guild in the Gwen Brown Studio. Performances start at 8 p.m., except for October 23rd with a 2 p.m. show.
If you miss it in Peterborough, you can take the drive to Perth on the weekend of November 11th to 13th to watch this talented cast compete against other local theatres across Eastern Ontario. Visit www.theatreguild.org for more information.