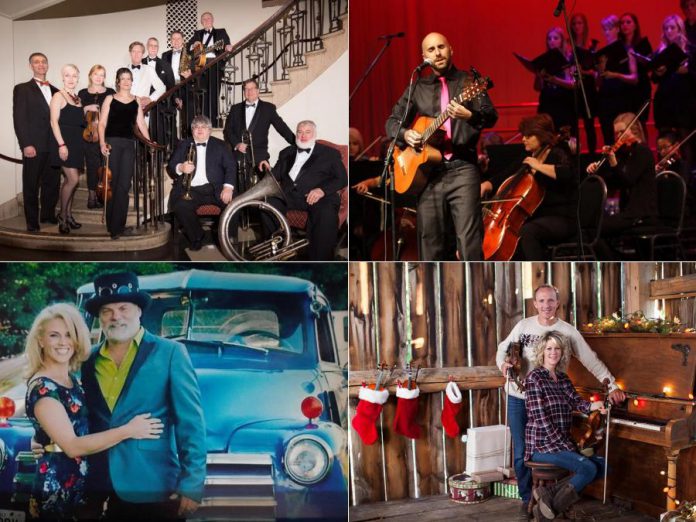 If variety really is the spice of life, then life at the Showplace Performance Centre is spicy … and about to get much spicier.
With its 20th anniversary season upon us, the 640-seat performing arts venue in downtown Peterborough (290 George Street North, 705-742-7469) is welcoming a number of diverse acts in the lead-up to the new year:
For Showplace marketing manager Emily Martin, these performers and others scheduled have her "very excited" but her enthusiasm is off the charts when it comes to "the amazing team" she works with.
"It's definitely a family," says Martin, who will mark three years at Showplace next March. "It's just so great to come in and work with Kait (Dueck) and Theresa (Foley) … and Ray (Marshall) is a dream to work with. Everyone is really focused and committed to Showplace, our mission, and what we do for the community."
"We have 140 volunteers. I know it's a cliché but we literally couldn't do this without the volunteers. They step up. It doesn't matter if it's Natalie MacMaster or a dance competition, they're here at six in the morning if need be or eight at night for a concert."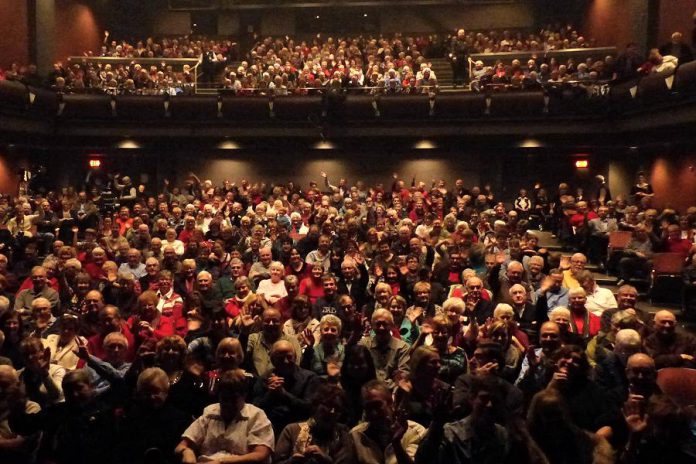 Martin notes the big challenge ahead, as it has been over the past 20 years, is remaining financially viable.
"We need community support in the form of donations, memberships, and ticket sales," she says. "We are a non-profit organization, so we need that support to stay open."
Not on the performance schedule below — but a coup nonetheless — is the Ontario Contact conference set for November 3rd to 5th. The event is described as an opportunity for those working in the performing arts touring and presenting sector to come together to network and to share information in a three-day conference featuring music, dance, theatre, spoken word, and youth-orientated programming.
"It's multi genre, so there's some singing, some dance, some acting … everything," says Martin, noting a limited number of free tickets for conference-related performances will be made available to the public.
Looking ahead, the final touches are being put on Showplace's post-Christmas performance schedule. Martin is mum on the particulars but promises "it's going to be pretty spectacular."
To view the complete Showplace performance schedule, complete with artist details and ticket information, visit www.showplace.org.
Here are some performance highlights over the next two months at Showplace:
---
The Wintergarten Orchestra on Thursday, October 27 at 7:30 p.m.
The Wintergarten Orchestra is a Toronto-based 11-member ensemble that showcases jazz and cabaret numbers that were immensely popular on both sides of the Atlantic through the 1920s into the 1930s.
"We're revisiting a time when The Cocoanut Grove was huge in Los Angeles," enthuses Bill Beecroft, a trombonist who founded the band in 2012. "You had Marlene Dietrich and the whole Weimar period in Berlin, where cabaret was critical of political mores and sexual mores, and they wrote fantastic songs about this stuff."
"You're taking a trip back in time to songs that haven't been heard for 90 years."
Asked what it is about the music of that era that still resonates with audiences, Beecroft's answer is quick and to the point.
"Happy. So many times people in the audience have come up to me and said, 'I was feeling rather maudlin but I couldn't stop tapping my toe when you guys started playing.' It's fun music. The lyrics mean something. It was a crazy time. The women were going nuts, you had the whole speakeasy scene, you had the emergence of the fantastic black bands, and white bands … there was a sort of integration going on."
VIDEO: "Puttin' on The Ritz" performed by The Wintergarten Orchestra

With arrangements by Brent Turner, Billy Bridges and Pete Coleman, The Wintergarten Orchestra performs songs composed by the likes of legends such as George Gershwin, Cole Porter, and Irving Berlin.
Fronted by singers Ted Atherton and Tanya Wills, band members are Erica Beston, Valerie Sylvester and Jane Woods (violins); Sandy Barter (trumpet), John MacMurchy (reeds); Herb Poole (tuba); Jordan Klapman (piano); Billy Bridges (guitar/banjo); Kevin Coady (percussion) and Beecroft.
What truly sets The Wintergarten Orchestra apart from other bands that perform period pieces is Beecroft's impressive knowledge of, and infectious passion for, the history of the Roaring Twenties into the following decade.
Beecroft's awareness of how personalities and events influenced the music of the period is key to not only what selections are performed but is also instrumental in transporting audiences back in time to what remains a truly unique period in popular music history. Still, he says, the goal is to entertain.
"It's the music that grabs you first," Beecroft says. "At the end of the day, the story might be great but the music is what it's about."
Tickets for The Wintergarten Orchestra cost $38 at the Showplace box office, online at www.showplace.org, or phone 705-742-7469.
---
Strings Attached: Michael Gabriel with The Peterborough Children's Chorus on Friday, October 28 at 7:30 p.m.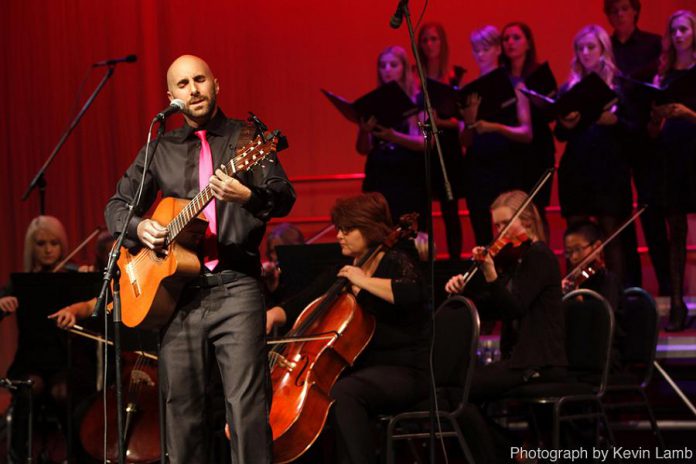 Singer, songwriter, guitarist and recording artist Michael Gabriel presents his widely acclaimed "Strings Attached" showcase of original material.
First performed in 2011, Strings Attached will see Gabriel performing (as the concert's name suggests) with a string section.
VIDEO: Strings Attached with Michael Gabriel preview

For his Showplace performance, Gabriel will also be joined by 25 singers from The Peterborough Children's Chorus. This is part of his tradition of involving local performing arts groups wherever he headlines.
Tickets for Strings Attached with Michael Gabriel cost $24 ($15 for children) and are available at the Showplace box office, online at www.showplace.org, or by phone at 705-742-7469.
You can also catch an advanced, intimate performance by Gabriel from 2 to 4 p.m. on Sunday, October 23rd at Chapters (873 Lansdowne St, Peterborough).
---
Classic Albums Live: Abbey Road on Saturday, October 29 at 8 p.m.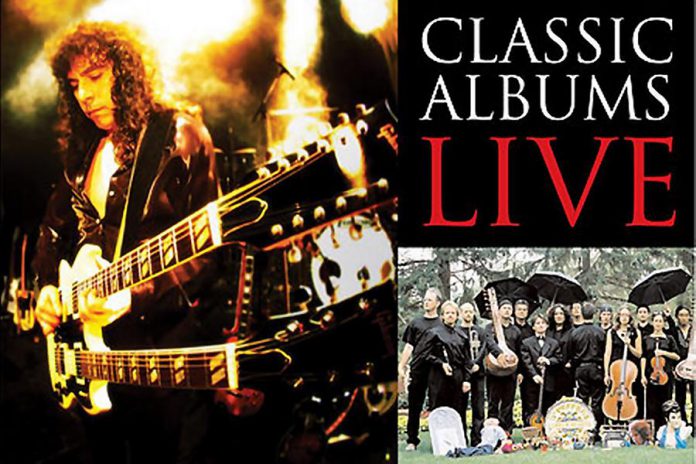 Classic Albums Live returns to Showplace with a song-by-song, note-for-note re-creation of Abbey Road, The Beatles' still very popular 11th studio album.
VIDEO: "Here Comes the Sun" by The Beatles performed by Classic Albums Live

Released on September 26, 1969, Abbey Road's timeless tracks include "Come Together", "Something", and "Here Comes The Sun". It was the last album for which all four members of the band — John Lennon, Paul McCartney, George Harrison and Ringo Starr — got together.
Tickets for Classic Albums Live: Abbey Road cost $35.50 at the Showplace box office, online at www.showplace.org or by phone at 705-742-7469.
---
Collabro on Sunday, November 6 at 8 p.m.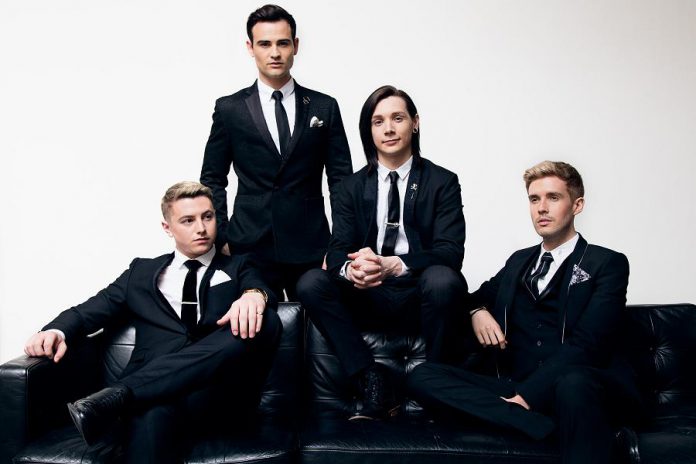 The winner of Britain's Got Talent in 2014, Collabro — Michael Auger, Jamie Lambert, Matthew Pagan, and Thomas J. Redgrave — make a rare Canadian appearance.
Billed as a musical theatre "boy band," Collabro has two albums to its credit, with 2014's album Stars having debuted at #1 on the U.K. music chart.
VIDEO: "A Thousand Years" by Christina Perri performed by Collabro

Tickets for Collabro cost $45.40 at the Showplace box office, online at www.showplace.org or by phone at 705-742-7469.
---
Elite Blues Series presents Tas Cru on Thursday, November 10 at 8 p.m.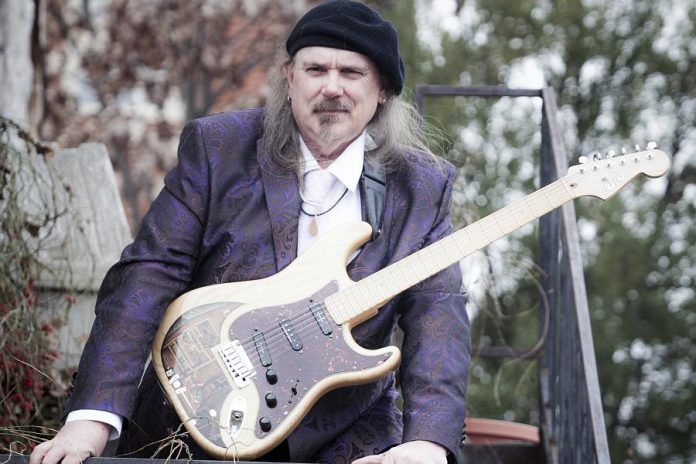 Acclaimed blues music singer/guitarist Tas Cru's arrival in Peterborough coincides with the release of a brand new album, Simmered And Stewed. It's the follow up to 2015's You Keep The Money, hailed as the hottest debuting blues album of that year.
Honours that have come Cru's way include the 2014 Blues Foundation's Keeping The Blues Alive Award (KBA) for Blues Education and being named 2009's Blues Artist On The Rise by Blues Festival Guide Magazine.
VIDEO: "Month of Somedays" by Tas Cru

Elite Blues Series performances take place in the Nexicom Studio.
Tickets for Tas Cru cost $32 at the Showplace box office, online at www.showplace.org or by phone at 705-742-7469.
---
Fred Eaglesmith with Tif Ginn on Saturday, November 12 at 8 p.m.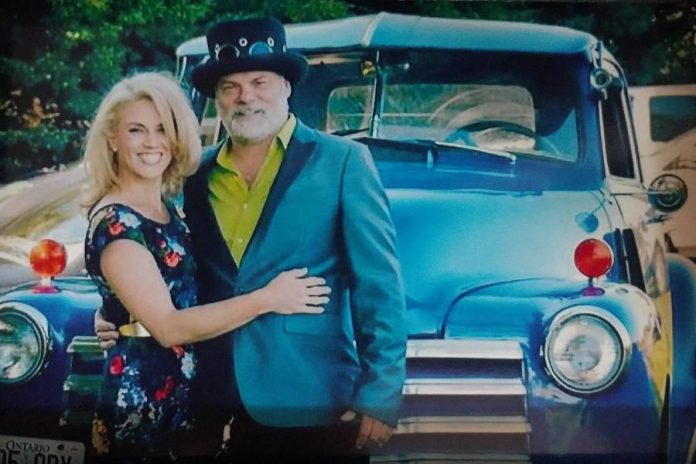 Legendary Canadian alt-country singer and songwriter Fred Eaglesmith gives local "Fredheads" cause to rejoice, bringing his extensive repertoire to Showplace, joined by his wife and music partner Tif Ginn.
VIDEO: "Careless" by Fred Eaglesmith on The Late Show with David Letterman

A frequent collaborator with the late Willie P. Bennett of Peterborough, Eaglesmith has fronted numerous bands with colourful names, among them The Flathead Noodlers.
Eaglesmith's live shows are well known for the stories he shares, all culled from experiences on the road.
Tickets for Fred Eaglesmith cost $31 at the Showplace box office, online at www.showplace.org or by phone at 705-742-7469.
---
Elite Blues Series presents Al Black and Rezonator on Saturday, December 17 at 8 p.m.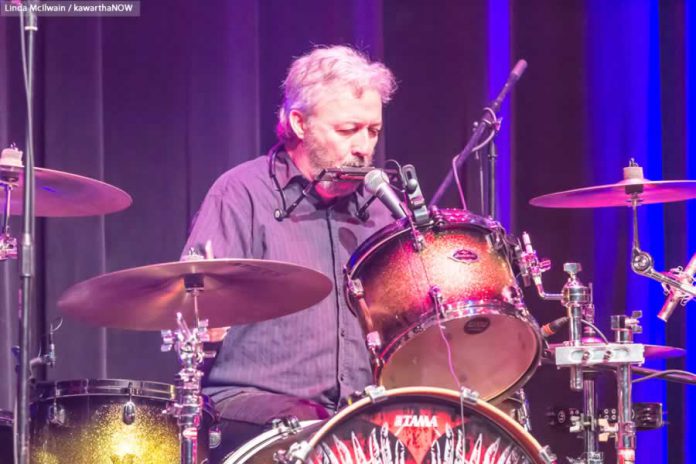 If it's local musicians you want, it's local musicians you'll get as drummer/singer Al Black of Jackson Delta fame joins Rezonator — Frank Watt, JP Hovercraft, Brent Farrow, and Chris Hiney — for an evening of classic rock with a bluesy edge.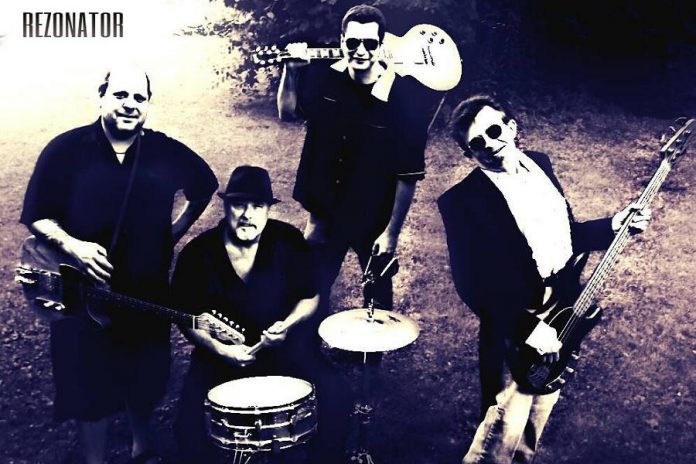 Formed in 2011, Rezonator covers the music of many bands, among them Steely Dan, The Rolling Stones and ZZ Top.
Elite Blues Series performances take place in the Nexicom Studio.
Tickets for Al Black and Rezonator cost $28 at the Showplace box office, www.showplace.org or by phone at 705-742-7469.
VIDEO: "Howling For My Darling" – Al Black and The Steady Band

VIDEO: "Haitian Divorce" performed by Rezonator

---
Natalie MacMaster and Donnell Leahy: A Celtic Family Christmas on Thursday, December 22 at 7:30 p.m. and Friday, December 23 at 2 and 7:30 p.m.
Arguably two of the world's finest fiddle players come together once again to present their heart-stopping, hand-clapping, foot-stomping homage to the holiday season.
Douro-raised Leahy and Cape Breton-born MacMaster form an explosive, high-energy duo that entertains from start to finish with jigs and reels and everything else in between.
The two musicians are releasing a branch new Christmas album, A Celtic Family Christmas, on October 28th, so you can expect to see an incredible array of talented musicians — including their own children.
"We've taken some classic Christmas songs and flavoured them with our own brand of Celtic tradition,' McMaster says. "We have celebrated Christmas in a big way our entire lives and finally have recorded the music."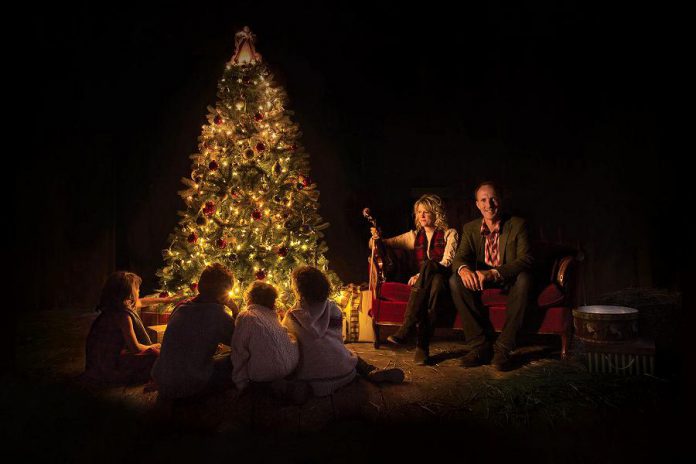 As only a few tickets are still left for the evening performances, the husband-and-wife virtuosos have added a third, matinee performance at 2 p.m. on Friday, December 23rd.
All three Showplace appearances last year sold out very quickly — a fitting testament to the duo's enduring popularity.
Tickets for Natalie MacMaster and Donnell Leahy cost $68.50 at the Showplace box office, online at www.showplace.org or by phone at 705-742-7469.
VIDEO: "The Chase" – Natalie MacMaster and Donnell Leahy