In our new real estate column, we feature tours of some of the most unique properties available for sale in the Kawarthas.
This month we tour a home on a breathtaking 1200-foot point, a horse farm in the heart of cottage country, and a heritage building home to renowned designer Angela Mark's fashion house. We will also look at some of the most common problems found by home inspectors.
---
Unique 1960s home available on a magnificent 1200-foot point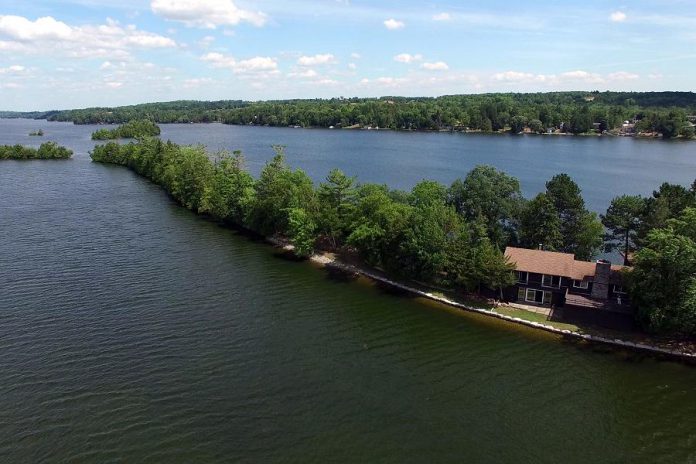 The story of this home begins with a point. Pigtail Point, a beautifully winding natural point in Chemong Lake.
Doctor Donald Aitken, one of the founding doctors of the Medical Centre in Peterborough, purchased the property at the very end of Fife Bay Marina Lane. According to listing agent Jo Pillon, he would bring his children to the property and plan, envisioning everything before it came to be.
The property now features a home, a bunkie, a boathouse, and a large potting shed.
Mid century modern design
The round log home features many original elements from the '60s and '70s, including a gorgeous copper acorn stove on the lower level, still in use. The great room still contains the original pegged oak floors. Certain rooms feel as if they could have been pulled from a Wes Anderson film.
The great room is open concept, with a cathedral ceiling and a stunning decommissioned stone fireplace. Jo says that an open concept floorplan was unheard of in the early '60s. "Dr. Aitken was miles ahead of his time."
The house was built with futuristic-for-its-time features like an intercom system connecting the house, the boathouse, and the bunkie. The lights were all wired with switches at the bedside of the master bedroom, so you could turn them all off before going to sleep.
The house also contains a plumbed greenhouse with plexiglass walls. Jo says that returning it to its former purpose is fairly simple. "It's just a matter of replacing the roof."
The wetslip boathouse has been plumbed and wired, and has a large games room, a sunporch, a toilet and a kitchenette.
Gorgeous natural shoreline
Underpinning the property is its most striking feature, the point itself. Beautifully treed with a trail running right down to the edge, Jo says that wildlife sightings are not unusual. "The last time I walked there I sat with a huge osprey who was nesting there. It's a really good nesting ground for wild birds."
A total of 2400 feet of breathtaking shoreline surrounds the home. Sitting in the great room, the cathedral ceiling appears to shimmer with light reflected off of the lake. With large windows on either side of the home overlooking the water, that's probably just how Dr. Aitken planned it.
Find this and more of Jo's listings on her website at www.lookingforahome.ca. She can be reached by phone at 705-748-4056, and you can sometimes find her in the Royal LePage office at 244 Aylmer Street in Peterborough.
A virtual tour of 868 Fifes Bay Marina Lane

---
A dreamy 36-acre horse farm close to Paudash Lake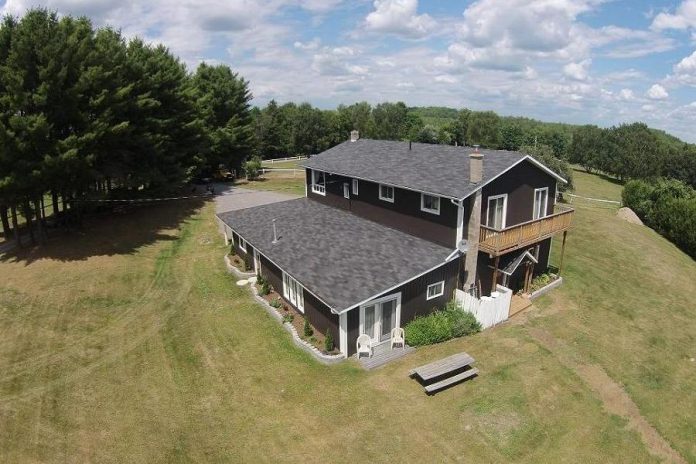 Imagine, after a morning riding your horse on the trail, you cool your horse down, untack, and take a quick dip in Paudash Lake.
"There is none like this property in the area," says Emma Kearns, real estate agent with Century 21. The property that she refers to is a spectacular 36-acre horse farm at 1422 Upper Paudash Road, a five-minute drive from Silent Lake Provincial Park.
The house features three bedrooms, a four-piece bathroom, a balcony with beautiful views, and an attached one-car garage. There is a two bedroom in-law suite with a private entrance, barnboard ceilings, and a cozy gas stove.
A beautiful natural setting
The Paudash Lake area is home to a variety of wildlife including moose, otters, and turtles. The pink granite cliffs in Paudash's North Bay are popular with swimmers.
In the winter, the Paudash Lake area is known for its snowmobile trails and its ice fishing. Nearby Silent Lake Provincial Park features over 40 kilometres of cross-country ski trails, with warming huts heated by wood fire along the way.
A place that you and your horse can call home
The farm currently hosts 12 horses who board there. Emma says "this is a place your horse can call home." The farm features a barn with 15 stable comfort stalls, which require less bedding than a conventional stall and are easier to muck out. There is also a heated tack room, indoor and outdoor riding arenas, a round pen, 12 fenced paddocks, and trails.
When I asked Emma what someone considering purchasing a horse farm should keep in mind, she joked that you should "watch your step!"
The property features mature trees, perennial gardens, and a pond. There is also a large drive shed with a workshop, ideal for the person who always has a project on the go.
View this property and more on Emma Kearns's website at www.bancroftwaterfront.com. You can also find Emma on Facebook and Twitter. She can be reached by phone at (613) 332-9080, or look for her in her office at 2 Hastings St in Bancroft.
A virtual tour of 1422 Upper Paudash Road

---
What to expect when you're inspecting: common home inspection problems demystified with County Home Inspection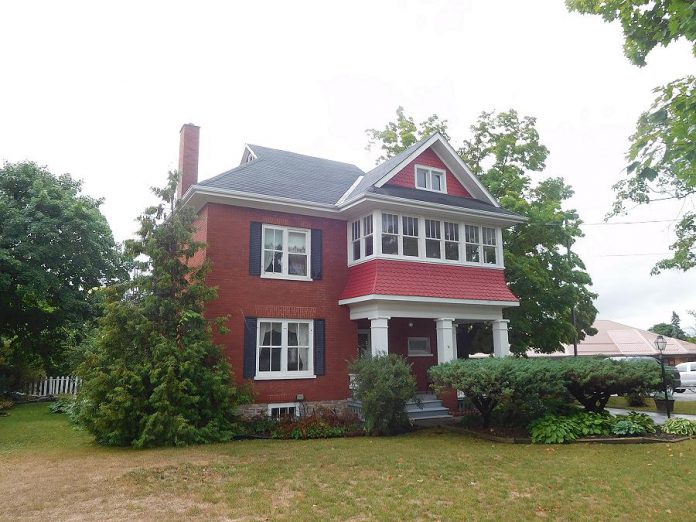 Registered Home Inspector David Sharman, owner of County Home Inspection, has seen a lot of properties in the Kawarthas.
He has wriggled through crawlspaces, climbed through dusty attics, and seen the view from rooftops throughout the region to give home buyers a better picture of what they are planning to buy.
A typical report from David includes information about the structure and roof, electrical and plumbing, heating and cooling, insulation and ventilation, and interior (doors and windows) and exterior (grading) of a home.
Common issues found during a home inspection
So what are some of the most common issues that David finds?
According to David, grading is a big one. "Grading is a really common issue, both in older and new build homes." Grading refers to the way the soil is sloped around the base of the home. A property that hasn't been graded properly can direct water to the home's foundation, which can lead to problems with moisture in the basement and possibly to issues with the foundation.
Minor electrical issues are another common problem, and one that can vary in severity and cost.
Problems with the roof can mean water damage to the home. David says that "the condition of roof shingles can be really variable."
According to David, condensate leaks in high efficiency furnaces are something that are becoming more and more typical. This results in water leaking around the furnace, which could damage the furnace, finishes, and even the structure.
These problems don't necessarily mean that you shouldn't buy a home, but knowing about a property's issues ahead of time and planning to address them can help you to prevent nasty surprises in the future.
David recalls one property in particular, a flip, which looked like a great value on the surface. "During the home inspection, we found issue after issue with the quality of the seller's workmanship, which probably devalued the home and most definitely put off the buyers."
How to choose a home inspector
If you're interested in hiring a home inspector, David recommends speaking to several before you make your decision. "make sure you ask enough questions and get a good feel for them. Ask about their experience, if they are full or part-time, ask to see a copy of the report you will receive, ask about which professional associations they may be members of and to see testimonials from previous clients."
No matter what property you are looking at, the right home inspector can help you make sure you're making the right decision and avoid costly mistakes.
You can reach County Home Inspection by phone at 705-957-3642, or look for them in their office at 459 George Street North in Peterborough. They are online at www.countyhomeinspection.ca, or find them on Twitter, Instagram and Facebook.
---
Bright heritage commercial building is a fashion landmark in the heart of downtown
The red brick building at the corner of King and Aylmer in downtown Peterborough isn't just a prime commercial location, it's a piece of Peterborough history. The heritage building at 231 King Street was home to talented local designer Angela Mark's fashion house for the past 25 years.
Angela, who is closing her fashion business in pursuit of other ventures, says that the building has lots of character. "I think that whoever has it will be quite happy here. It's a great building. It's got a lovely feel to it. It really does have its own personality. It's a happy place."
The showroom is beautifully lit, with gleaming hardwood floors. The second and third floors are currently used as a fashion design studio and office, but the space could be rented as apartments as an additional income source.
Updates with a designer touch
When Angela bought the property it was known as the Bird Cage Emporium, an eclectic bed and breakfast. During her time at 231 King Street, she made a number of improvements.
The front entrance was recently redone with interlocking brick. An ironsmith from Toronto created a railing incorporating the fleur de lis, a classic French touch and a nod to Angela's Quebec heritage.
She also painted the door red. Since then people have come with paint chips trying to match the colour, but according to Angela "it was just something I conjured up." It must be nice to have designer taste.
The attic has exposed trusses and an open floorplan. It's currently being used for storage and fabric cutting.
A commercial location with great potential
Lorrie Tom, Sales Representative for The Galvin Team, says that the busy location is a key advantage of this property. "There are people who drive by it every day. It has optimum exposure for a business."
Angela installed large bay windows at the front and side of the building, taking advantage of the building's great exposure.
Entrepreneurs will drool over the C6 zoning, which according to Lorrie is "the most liberal commercial zoning."
The location also has great access to parking, with three spaces on site, street parking, and a parking garage nearby.
The Galvin Team at RE/MAX Eastern Realty Inc. can be reached at 91 George St. N., Peterborough, or by phone at 705-743-9111. Visit their website at www.thegalvinteam.com to view this and other listings, or find them on Facebook.
You can also take a 3D tour of the property here.