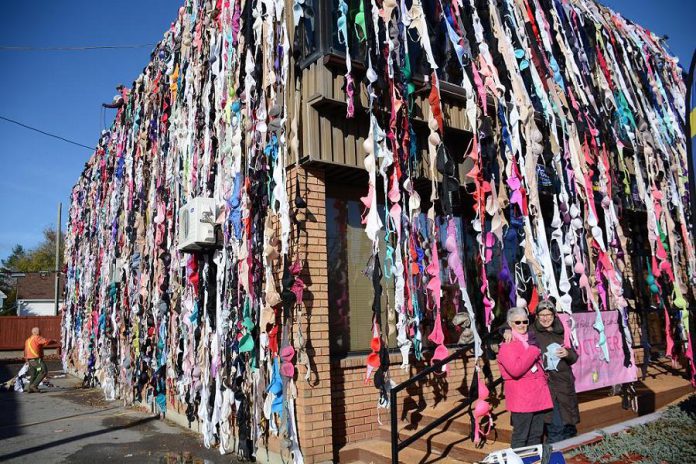 91.9 BOB FM, Energy 99.7, Country 105, and Shorelines Slots At Kawartha Downs have wrapped up the 6th annual "Bras Around the Building" campaign.
With the support of the community, the campaign collected 7,000 bras in Lindsay and Peterborough. And thanks to a generous contribution of $8,000 from Shorelines Slots at Kawartha Downs, along with other monetary donations from local businesses, organizations, and individuals, the 2016 Bras Around the Building Campaign has raised over $16,500.
The funds will be donated to the Canadian Cancer Society for breast cancer research, bringing the total raised by the campaign over the past six years to more than $100,000.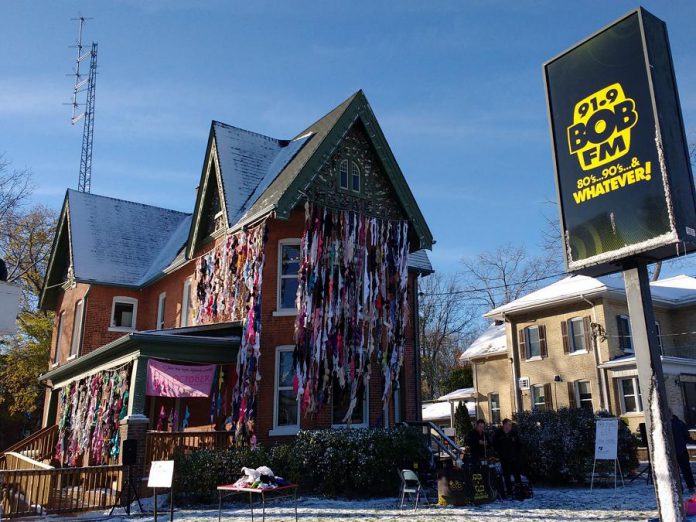 For the past month, women in Peterborough, Lindsay, and the Kawarthas have been donating their gently used bras, and many local women and businesses also took up collections from family and friends for the campaign.
One of the big heroes of the day was Donna Chamberlain, who alone collected 1,953 bras. Denise Vallee and Associates donated collected 133 bras and donated $1,250. My Left Breast collected 265 bras and gave a $400 donation.
"I think it's our fifth year being involved with Bras Around the Building," says owner Bridget Leslie. "We were excited to help to exceed their goal of raising $100,000 over the six years that this fundraiser has been going on for. We'd like to thank our customers and the community for all of their support."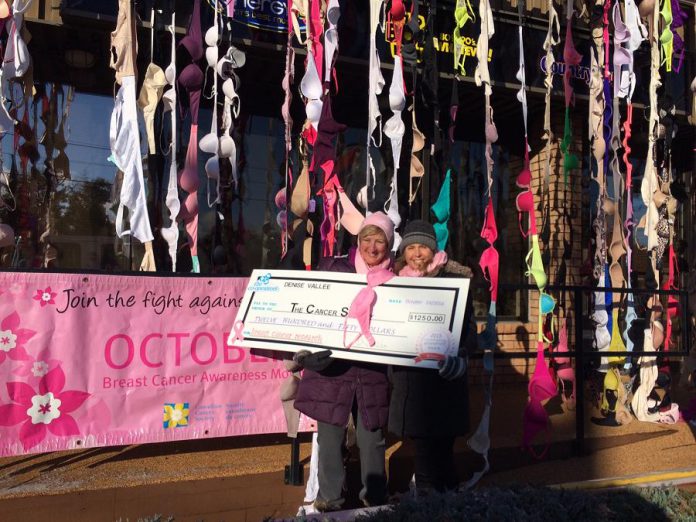 The collected bras are currently wrapped around the BOB FM building at 249 Kent Street West in Lindsay and the Country 105/Energy 99.7 building at 59 George Street North in downtown Peterborough. MC Tree Service and the Kawartha Lakes Fire Rescue Service helped place the bras on the building, and McDonald's fed the volunteers.
The public is encouraged to take some pictures over the weekend. The bras will remain on display until 9 a.m. on Monday, October 31st. They will then be dry cleaned courtesy of Rocky's Cleaners in Peterborough and Cintas Uniform Services in Lindsay and delivered, courtesy of Brinks Peterborough, to Seeds of Hope as part of their relief efforts in Haiti and the Honduras.